I don't know how the heck he did it, but my boyfriend just texted me a pushpin from his iPhone and when I tapped on it, it transferred the point to my iPhone map application. I want to be able to do the same, so can you enlighten me please, Dave? You're my last hope of saving face!
Well, I can't have you feeling like your boyfriend has an edge in the technology department, so I'll share the secret technique with you. The thing is, you have to swear never to tell him about this site, so you can tap into all of the many tips I have and impress him with your geek prowess. You can tell your mates, but not him. Deal? 🙂
Now, before I get accused of inciting trouble in your young relationship, I will point out that the way I figure out how to do things on my iPhone is to just dabble, play and experiment. There are tons of barely documented features you'll find!
But, starting with this task, you'll want to launch the Map application on your Apple iPhone.
It'll look like this: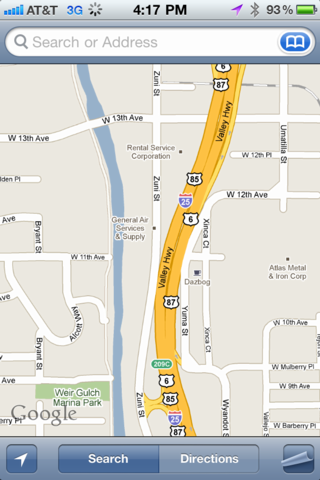 Want to speed up the Map application finding where you are? Tap on the small triangular arrowhead icon on the lower left corner of the app and it'll recenter itself on your current location:


The first step is to tap on the folded paper icon on the lower right corner to drop a pushpin. If you've never done this in the Map app, you'll find that it shows a number of quite interesting options:


For this task you'll want to "Drop Pin". Now on the map you'll see both the blue indicator of your current location and a purple pushpin that you've just added.


Now that you have a Dropped Pin, tap on the ">" just to the right of the address in the balloon and you'll see more information about that spot: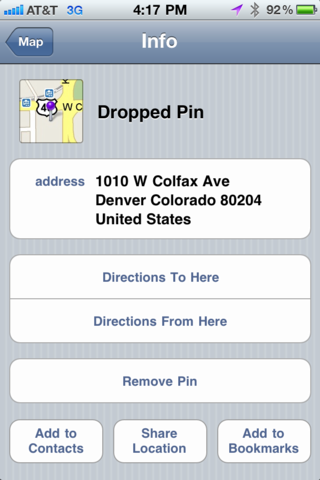 You can guess what to do here, I bet. Click on "Share Location" on the bottom and…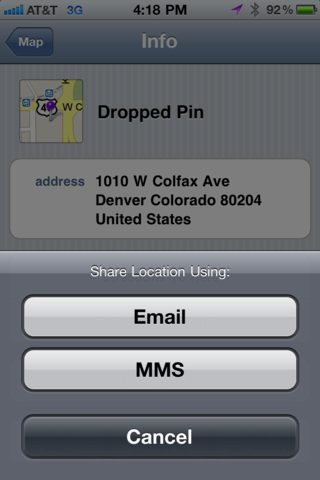 There ya go. You can email the map location and information or you can send it via text message (known as "MMS" or multimedia messaging service). Since your goal is to duplicate what your boyfriend did, you'll want to tap on "MMS" here.
Now you'll see it pop up as a special sort of text message: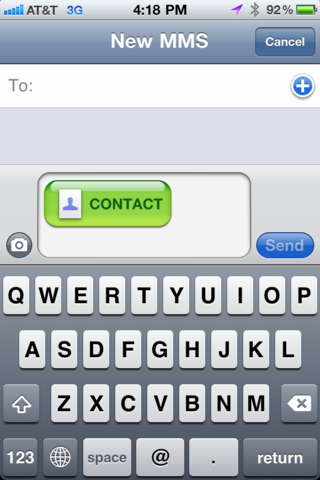 Enter the recipient's name — in my case, it'll be my friend Steve Oatney — and you're just about read to go: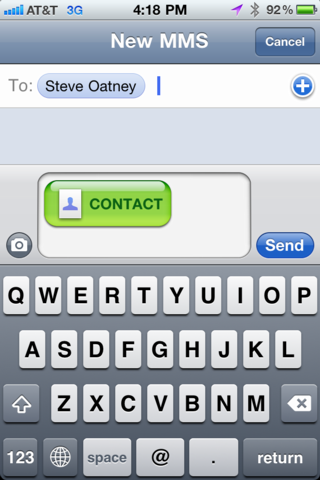 A tap of the "Send" button and not only is the map pushpin sent, but it shows up within the stream of text messages between you and the recipient, as shown here: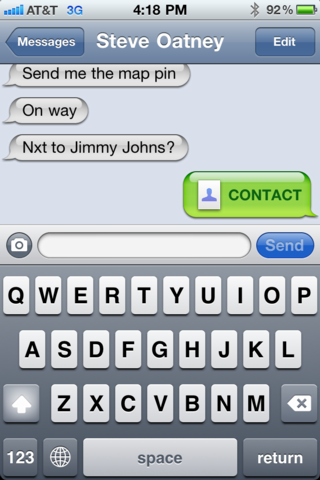 That's the secret. I hope you are not only satisfied that you know how to do this particular trick, but that you're inspired to experiment a bit with your iPhone too!