I read that Facebook tracks everywhere I go on the mobile app. That's outrageous. Is it true? And if so, how can I turn it off immediately?
Sorry to say the rumor is actually true and Facebook does indeed track your location day by day on your iPhone or other mobile device. Which is pretty creepy, when you think about it, even if the photos you take all have geolocation tags and also offer a pretty specific map of your travels by day, hour and minute. The difference is that by the time those photos are posted to the Web, the information is stripped out, but the Facebook information? Well, let's have a look.
Before you get too panicky, though, realize that the Facebook app is set up to have your location history be marked as private and not shared with anyone else. Except it is still knowledge that Facebook itself knows and tracks — otherwise it wouldn't be part of the iOS 9 mobile app.
Anyway, let's go through the steps needed to see your own location history in Facebook, then I'll show you how to disable this feature completely if you don't feel comfortable with Facebook stalking you. 🙂
To start, go to your own profile page in the Facebook app on your iPhone. Mine looks like this:
The key here is the Activity Log, just below the profile photo, though there might be other things you want to tweak and poke around with while you're here. Stay focused, though! Tap on "Activity Log"…
And it still looks pretty innocuous, a running log of everything I've done on Facebook in the near past:
But tap on Filter to see just location information.
Once you've tapped on that, you'll need to swipe down to find the key element:
No huge surprise here, you'll want to find and tap on Location History.
Do so and the location history appears: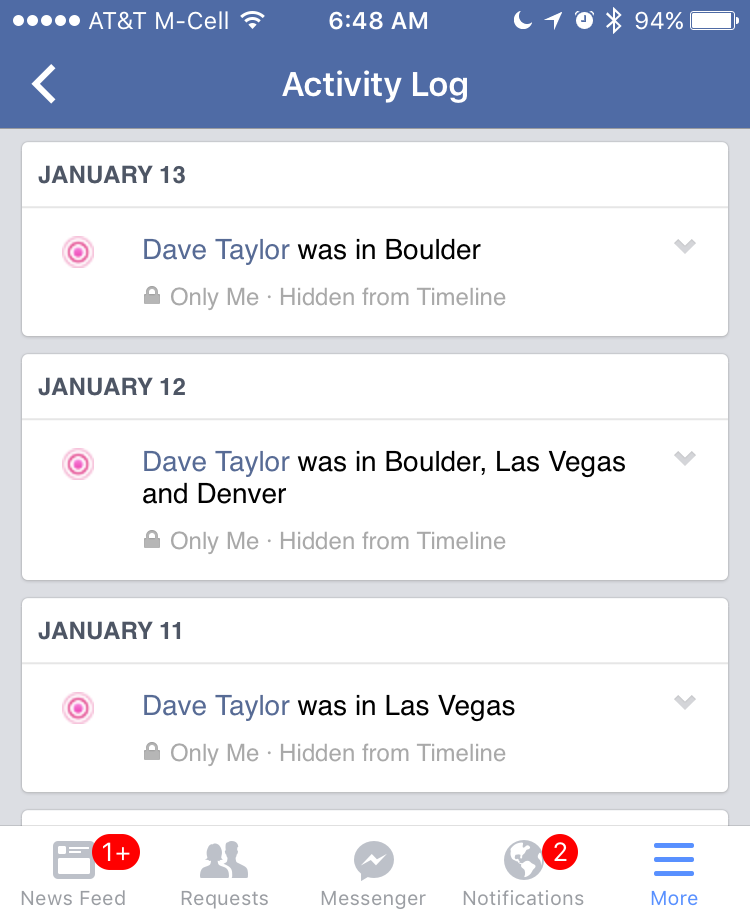 That's troubling to me from a privacy perspective, even if its sharing is "Only Me" and it's "Hidden from Timeline", as shown.
The question is really what's Facebook doing with this information in the first place? and that's a good reason by itself to disable location tracking in the Facebook app on your Apple iPhone or other iOS device.
So let's figure out how to disable the location history "feature".
To do that, tap on "More" on the lower right corner of the Window.
Now swipe down to find Settings: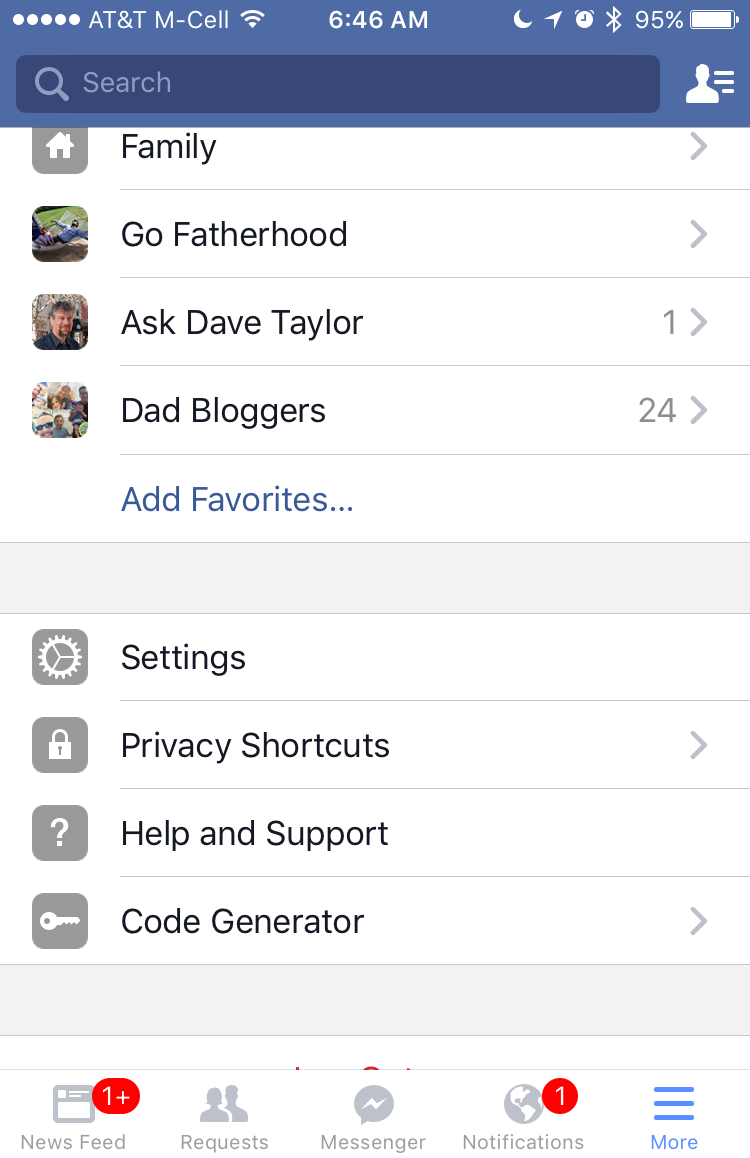 Tap on "Settings" to proceed…
You'll want to choose "Account Settings" here, partially because it's just a great chance to remind yourself of all the different settings you have access to within the Facebook app. In fact, it's a good time to go through some of your other settings too. Well, in a minute or two. First, find "Location":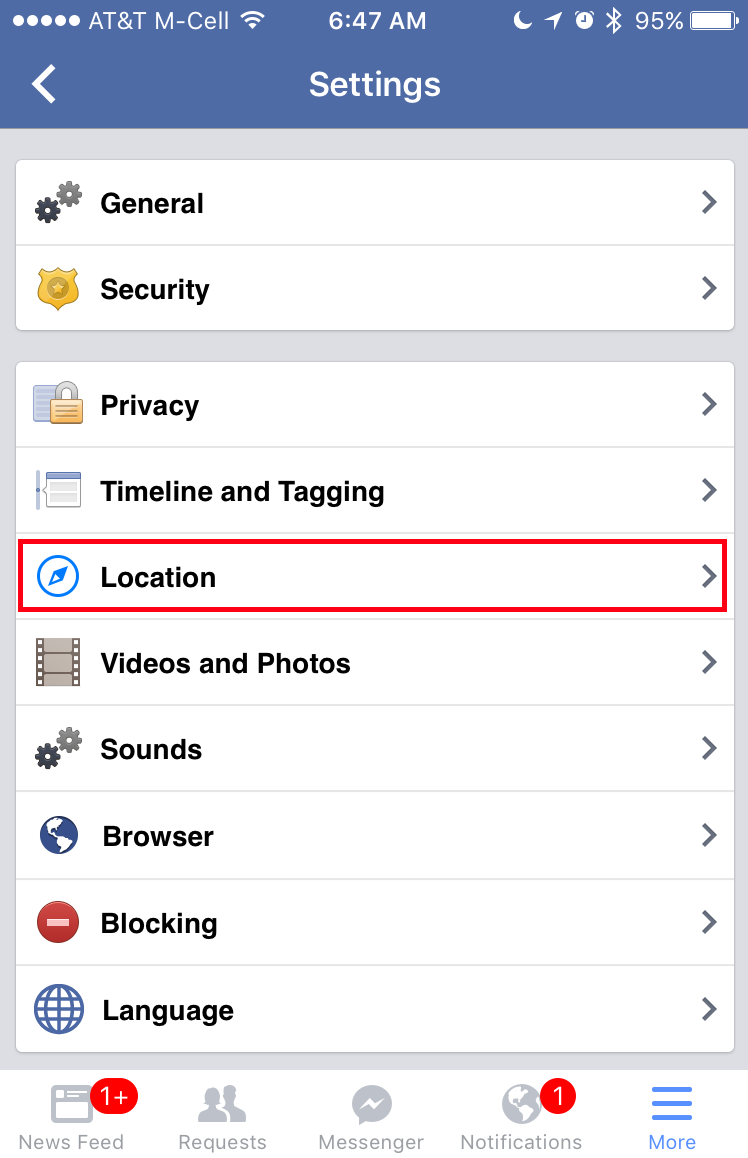 That's just about your last tap.
Now you'll see exactly how to disable location history tracking in the app:
That's it. Tap on "Location History" to disable it and you're done, it's disabled. And while we're here, note how Facebook explains this "Turning on Location History allows Facebook to build a history of precise locations received through Location Access on your device." What it doesn't indicate is why they want this data…