I signed up for MySpace and Facebook because, well, everyone does here at UT, but I'm not really sure I understand how it all works. Now I just got an email message that "Jerry would like to be added as one of your friends" from MySpace and I still don't really know what it means and what I am supposed to do at this point. What if I don't like Jerry and don't want to connect to him, for example?
Good timing. I just had a new friend invite me to connect with him on MySpace, so I have all the messages and images handy too. First off, what happened was that either your friend Jerry searched for you and found you on MySpace (which is likely since you said you have an account) or he just entered you email address into the "invite" box. Either way, you got something like this:

It's fairly self-explanatory and notice that there's a handy link you can click on to actually decide whether or not to link to this person on MySpace. But scroll down a bit and you'll see:
That's how you can turn off all of these requests if you're tired of people wanting to be your friends. If you want to accept or reject just the one person, however, you need to click through, at which point you'll get here: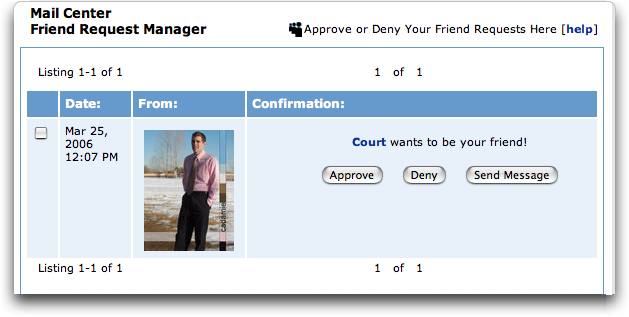 Notice that in addition to either approving or denying this particular connection, you can also simply send them an email message where you might ask how they found you, if you have no clue who they are. For me, however, I like Court, so I'll accept him as a friend.
Then, oddly, my home page still doesn't list him (I think it takes a while for the MySpace system to catch up with changes, actually) but if I click on "Show All Friends", I see: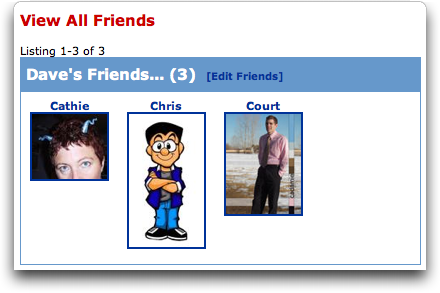 And there Court is. Now we're friends forever on MySpace, or at least until we're not. 🙂
Hope that helps clear up some of your confusion about MySpace invitations.