Smart homes are built atop of what's become known as a "Smart Grid". Governments and utilities are spending a lot of cash on upgrading our power grids to make them smart. Now, how do I leverage this to be greener, save significant amounts of money, and perhaps have a little fun along the way?
Home Energy Management (HEM) is going to be very important to you in the future, whether you like it or not. You see, in just a few years most if not all of us will have variable electricity pricing. The cost of retail electricity per kWh will vary throughout the day and will not be fixed like it currently is for most of us.
Depending on where you live you may have two or more tiers of pricing (eg. high and low rate), or a constantly fluctuating price that more accurately tracks the prices in the electricity wholesale market. Wholesale prices can vary by 300% or more in one day. If you could save three times the cost of running your washing machine during a low-peak period, would you? I don't think my jeans will care at what time they were washed.
As if your life wasn't complicated enough! Now you'll have to take into account the cost of power when you go to use it.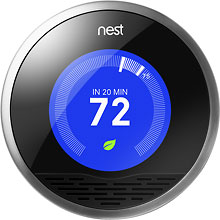 Thankfully, tools are emerging which will not only make this easier, but when used well they could save you a lot of money. Utilities around the country have been running trials and believe that the average homeowner could save up to 30% on their energy bill by implementing home energy management.
Energy savings could simply come from installing (and remembering to program!) a programmable thermostat.
For those who find programming a challenge, a smart thermostat may be appropriate such as the one from Nest, which senses your occupancy habits and automatically sets your thermostat to a more economical mode when you are out. [ed note: We have one of these that we're installing at the AskDaveTaylor headquarters, now that you mention it! — DaveT]
However, real power will come to those of us who use devices that are linked to the Smart Grid (it is rumored that Nest may include this functionality in the future). Appliance manufacturers are designing their new products with smart switches integrated, and there are add-on switches for older appliances. The appliance will receive advance notification of rate changes from the utility and decide when to switch on. Home automation technologies such as ZigBee are being used so that lighting, heating/cooling, and appliances can be controlled from a central server either in the home or at a central location.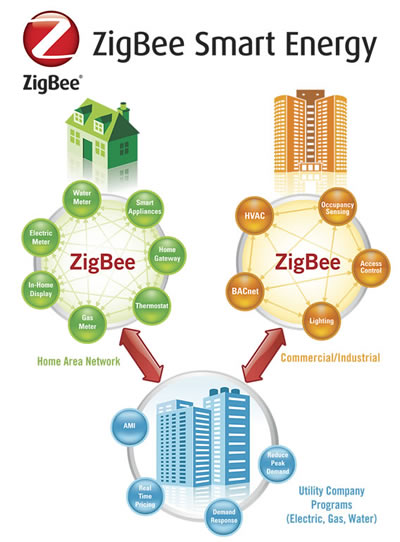 ZigBee SmartEnergy 400
One of the first Smart Grid services to be deployed by utilities is the Energy Information Display (EID). This is a very simple device (and/or web site) that tells the user how much energy their home is using, often in terms of dollars per hour. Onzo is one of a growing number of companies making EID's.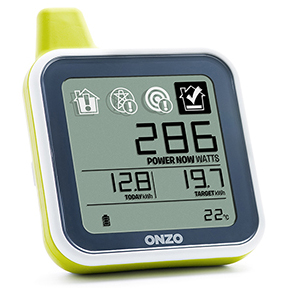 EID relies on Advanced Metering Infrastructure (AMI), or in other words an intelligent power meter installed at your home that has two-way communication with the utility (typically over a custom radio network technology). The idea is that by knowing how much power you are consuming at any one time, and especially knowing it in terms of dollars, you will modify your usage/spending habits.
The other current Smart Grid technology gaining traction is Demand Response (DR). With DR, the utility can directly control an appliance in your home. Typically this is an air conditioning system, and the utility will disable it for a short period of time (say, 30 minutes) during peak periods on a maximum number of occasions (say, 6) per year. Homeowners are given a financial incentive to agree to use DR, and theoretically they should not notice any difference.
I've been using DR on my air conditioning for a few years and have never noticed it (so much so that I'm concerned that it may not even be active!). Here's a photo of the smart switch that my utility, Xcel Energy, fitted to my air conditioning unit.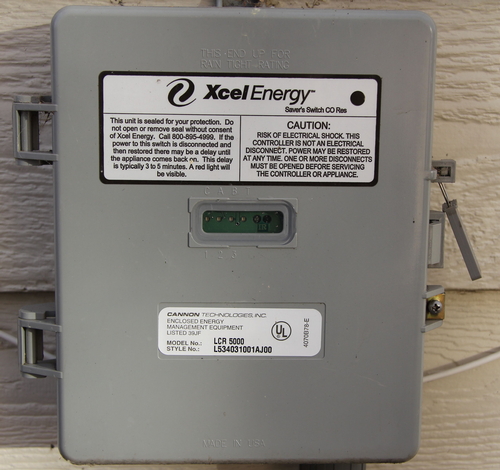 Xcel DR Demand Response Switch
So, EID's and DR are a good start, but as technology moves forward we will be seeing much more innovative uses of HEM which should make for an even more effective result. One problem with the EID is that it relies on the homeowner to take action. I know how much gas my car uses in real time, but that hasn't really changed my driving habits… I just complain about gas prices more. DR has its problems too. Many people don't want Big Brother controlling their homes.
I believe that what will emerge is a more intelligent system that addresses both of these issues. A system that will give complete control to the homeowner to say when DR may be used (such as only when I'm out), and which gets around my laziness by taking action on my behalf (such as turning the lights off when the house is unoccupied). What I'm talking about here is a hybrid home automation / home energy management system. It'll almost certainly have security alarm features too, as all those occupancy sensors will come in handy for energy management.
OK, disclaimer, I believe in this future so much that I run a company that is making such a system… But I welcome others to join me. Despite it's many advantages, the biggest hurdle for home energy management is public awareness. As the industry grows and innovates, and as fuel prices continue to rise, this will change.
A number of "connected home" technologies are emerging which are enabling technologies for the energy-smart home, and I'll be showcasing some of them in future articles in this series starting with what's hot in the space from the 2012 Consumer Electronics Show.
Tim Moore is a contributing editor to Ask Dave Taylor and the CEO of
Bluebird Residential
, a company that is developing a home energy management platform. Tim was previously a co-founder of Parallel, the company behind
SatManage
, a satellite communications management suite.