I noticed that someone I follow on Instagram posted an "On This Day" entry on their Stories. Nice. How do I access the On This Day archival content on my own Instagram account so I can do the same?
Instagram has been dabbling with allowing you access to historical content for quite a while now, but I think the company has been a bit reticent lest people realize that everything's archived when the site seems to be so otherwise ephemeral. And obviously 10x so with Stories, right? A few years ago it offered access to your old saved stories through your Profile > menu > Archive (and it's still there) but it's pretty awful and very poorly implemented. More recently the Instagram app does now have an On This Day feature you can access while creating a Story of your own.
Having said that, it might just be for Creators, and I did notice I couldn't find it until I upgraded to the very latest version of Instagram on my iPhone running iOS 14.7.1; you might also need to upgrade before this will work. But let's find out by digging into this feature, shall we?
HOW TO FIND ON THIS DAY IN INSTAGRAM STORIES
When I go to my Instagram main feed, it's all as usual, with edge-to-edge images (a feature coming soon to Twitter, from what I hear!) and a parade of tiny profile circles denoting who has new Stories for me to view: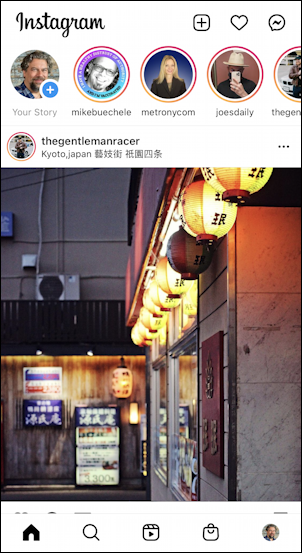 Notice that the most recent post is from @thegentlemanracer, while the latest stories are from @mikebuechele, @metronycom, and @joesdaily. More importantly, notice that my little icon along the top does not have a circle around it: I do not have a recent story. We'll fix that.
To create a Story, as you know, simply swipe from left to right. You'll move to the Creator screen. Tap on the "Aa" Create option (it might just be unlabelled icons). You'll get here: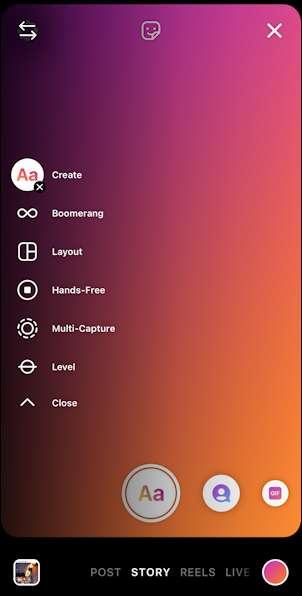 There are a number of interesting options, but for our task, swipe along the icons near the bottom until you find the stopwatch. That's "On This Day". Instagram will pick an older post and offer that as the basis of your new Story: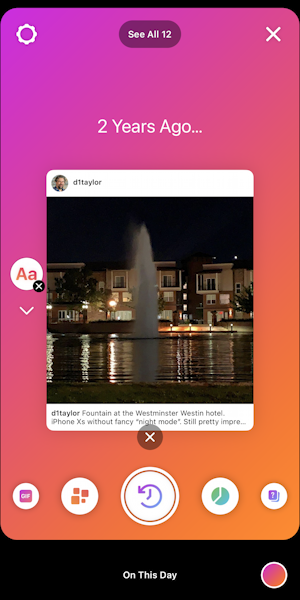 What you need to notice, however, is the tiny "See All 12" (or whatever number you have) link at the top. That lets you access your entire archive of previous posts that were from around this day years into the past…
ACCESSING YOUR FULL HISTORICAL INSTAGRAM POST ARCHIVE
Tap on that "See All" link and it'll show you a very attractive gallery of your earlier posts: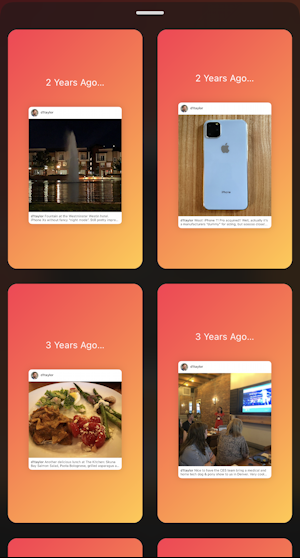 It's fun to go through your history and see what you posted 2, 3, 5, or more years ago. Pick the one you want to use — I'll stick with that nighttime fountain photo — and you can proceed: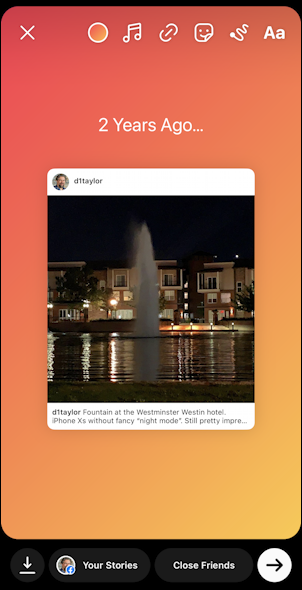 At this point you can use all the tools along the top to make it interesting. I'll use the "Aa" text tool to add a relatively mundane comment, as you can see: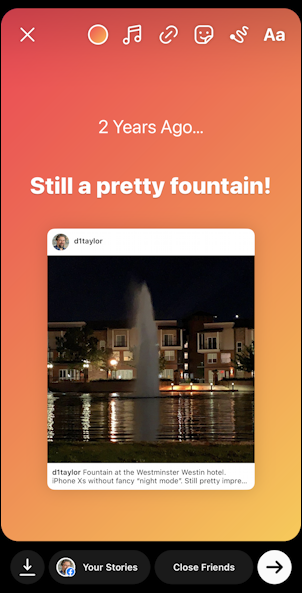 Looks good. I'll share it with my followers and friends by tapping on the arrow on the lower right. You already know how to do this as an Instagram Creator, right? It offers up some possibilities for how I share this new Story: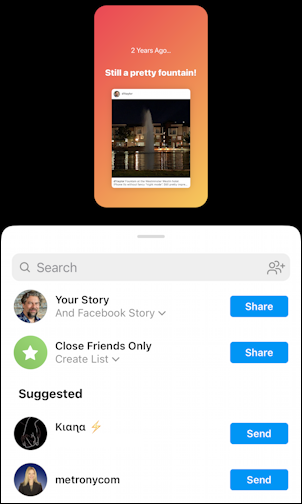 I'll go for the big dissemination and choose "Your Story" and have it shared on Facebook too. That's done with a tap on "Share". Easy enough.
Now here's a subtlety; because I now have a new Instagram Stories entry, my circular profile icon along the top gains a ring:
Compare that to the earlier image, where it had a tiny "+" superimposed instead.
And that's it. That's how you get to "On This Day" in Instagram, where it's a feature in Stories, but shows you previous Posts. One can only hope that at some point it will be similarly easy to Post an earlier photographic memory rather than make it a Story!
Pro Tip: I've been using Instagram for quite a while and have a lot of Instagram help articles here for you to check out. But why not follow me on Instagram too? Just click or tap on @d1taylor. Thanks!