I am a recent new user to MySpace and I've asked this question many times to various sources, including MySpace without a response from anyone. My question is this: What function on Myspace do I use to send a new friend request to someone that I see on MySpace? Here are what I assume are the choices, but which one do I use, Invite, Send Message, Add to Friends, Add to Favorites, or Friend Requests?
I've pretty much resigned myself to the fact that this probably is a pretty dumb question, since so many people are successfully using MySpace so I'll understand if you don't respond.
Actually, this is a great question because it highlights the problem with the many inconsistencies of the MySpace interface. Btw, really, there are no dumb questions. Well, maybe a few, but this isn't one of 'em. 🙂
Generally, I add friends by finding their profile then clicking on the "Add to Friends" link on their profile page. It then asks me to confirm that I want to request that connect and sends out the request.
Even when I use a search to find someone, I'll get to their profile to ensure that I'm asking the right person, not someone else with a similar name.
On the list you have, "Invite" is basically how you invite someone to *join MySpace* and be listed as a friend: if they're already on MySpace it should function identically to "Add to Friends". If they're not, well, you've just sucked 10 hours out of their life. 🙂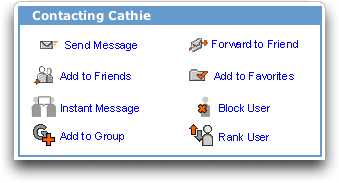 A Typical MySpace Contact Box
"Send Message" is how you would send an email message to that particular person, and you don't have to be friends with someone to send them a message, though I often see people send a message then a few minutes later send a friend request too. I guess they decide that they like my profile or something.
"Add to Favorites" is a bookmarking feature in MySpace that lets you remember those profiles you visit that you think are particularly cool or interesting. You don't have to be friends with these people, however, and you can add favorites when you're looking at groups, bands, or just about anywhere else in MySpace. Very helpful, actually.
Finally, "Friend Requests" is where MySpace shows you a list of people who have requested to be friends with you. You can approve or deny them based on whether you know them and/or like them. I approve about 95% of my own friend requests, but sometimes I get porn ads, nauseating scams, or even the occasional hatemonger or freak that I pass on, but you'll probably find that, as I do, the vast majority of people on MySpace are pretty nice folk.
Hope that helps clear everything up!
Remember, too, that I have a lot more
MySpace Help
on this site and I also invite you to pop over to see my own
MySpace Profile
and even click on that "Add to Friends" link.