I would like to know how to save the number of a person that has sent me a text message on my iphone 4! Thank you so much
This is easier than you think, actually, and I'm kinda surprised you have to ask. Then again, I am constantly messing around with my iPhone 4, trying to figure out what this that and the other button or feature actually does, so maybe it's just that I'm the trailblazer and forget that most people just use a device instead of seeing it as The Great Unexplored Wilderness. 🙂
Anyway, I have a huge address book so it was a bit tricky for me to find a text message from someone who wasn't already in my contacts list. I succeeded, though, and here are all the steps I took to turn their number into a known contact…
First things first, I'm assuming you know how to get to your contacts. If you're not sure, it's a green icon labelled "Messages". Tap on it.
Now, along with the text messages from your friends and compatriots, you'll see one that's just a number, a la: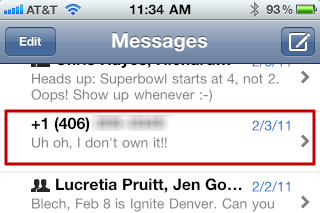 (I've blurred out some of the number for my friend's privacy. Your screen should hopefully not look quite exactly like that!)
Tap on the entry in the Messages list that has the text message or messages you want to associate with a specific Contact entry, and you'll see the full back-and-forth discussion: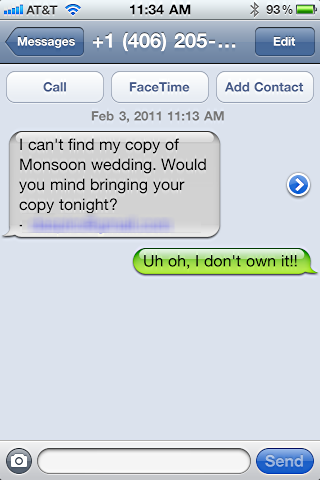 It's the button "Add Contact" on the top right of the screen that you want to tap. Do so and it'll ask if you want to add this mobile number to an existing contact or simply create a new person in your Contact database. If you have other info already on your iPhone, definitely consolidate it all into a single entry!
Make your choice – in this case I tap on "Create New Contact"…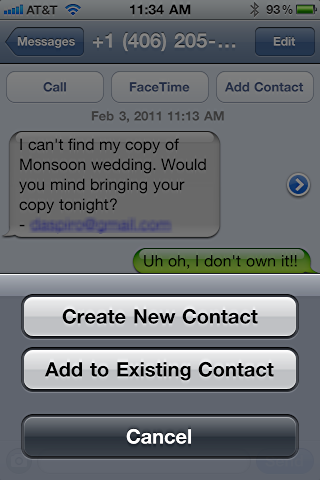 The iPhone will now drop you into the middle of editing a new Contact entry, with the phone number already filled in as a mobile number: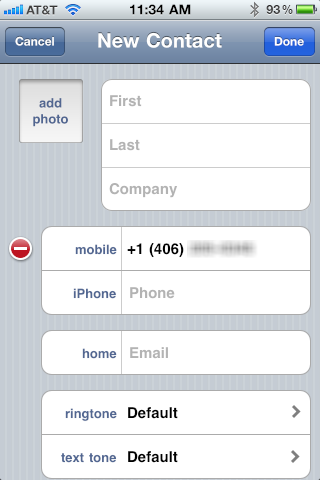 Now it's easy, just enter the information you know, especially including name. If you know their address, Web site URL, or their cat's birthday, you can add it here too, as appropriate.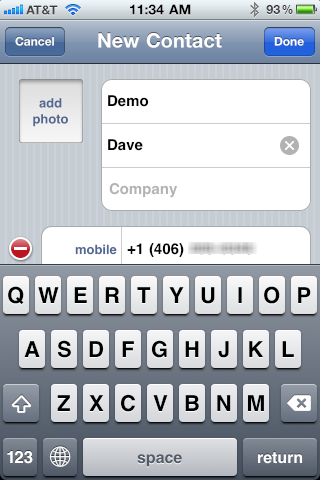 When you're done, tap on "Done" on the top right and you'll go back to the Messages app, but now instead of showing the phone number, it shows the name of the new contact, as you'd hope: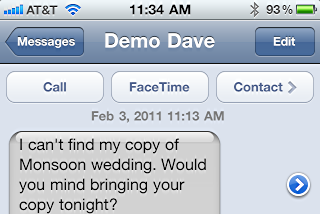 From this point forward any time you get a text message from that number, the iPhone will automatically display their name instead of the number itself.