I have some precious voice mail messages that I want to pull off my phone and save. Is there an easy way to copy them off my iPhone and onto my PC? I'm running Windows 10.
While voice mail messages are an important part of the phone functionality of your Apple iPhone, they aren't particularly easy to work with in the post-iTunes world. Heck, even in iTunes there was always a lack of access to text messages and voicemail both, something that again made me wonder if Apple employees actually use the gear they sell. Just kidding. Mostly.
Fortunately third party companies have filled in the holes and there are a lot of different apps you can download that will offer complete and comprehensive access to everything that's on your iPhone or iPad, from music to movies, photos to videos, and yes, text messages to voice mail recordings. For this article I'll be demonstrating MobiMover from EaseUS, a program that lets you have some functionality without a license and lots more if you pay for the full package.
Start by grabbing yourself a copy: Download MobiMover for Windows. It's available for your Mac too, if you're tired of wrestling with Apple's latest "improvement" of the phone showing up as another drive (sort of) in the Finder. Launch the program, connect your phone to your PC and you'll be prompted to grant permission on your phone for the program to work: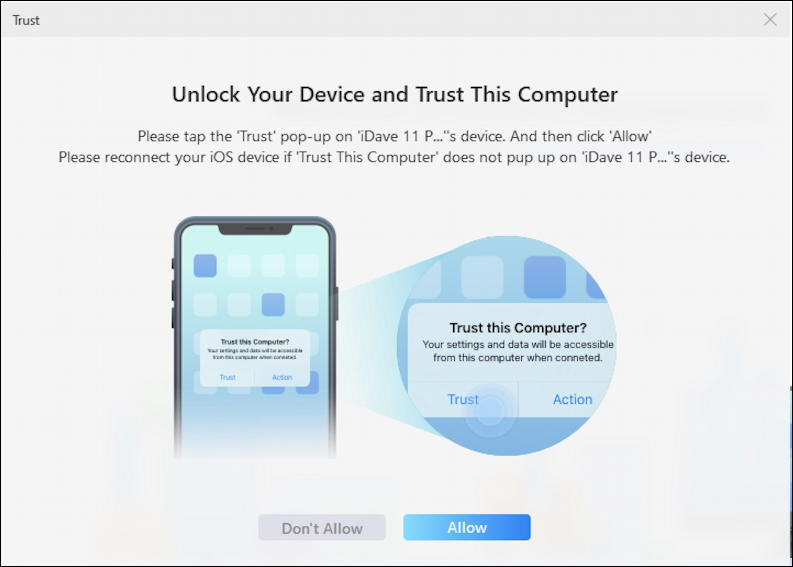 Meanwhile, on your phone, this will pop up:
Click on "Trust" to proceed. There's no way around it; if you want to use a program that lets you easily access your phone data, you need to grant it permission to access that data!
Once you've granted that permission MobiMover starts right up by analyzing the phone's data and files: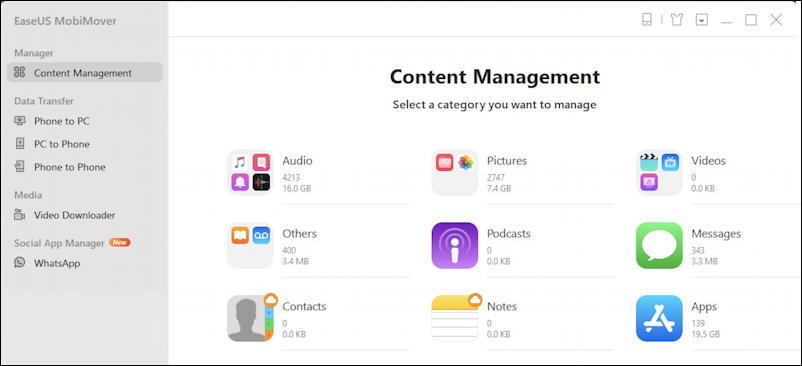 Don't be thrown off by the confusing file counts here. Some of these require that you temporarily disable iCloud to access, notably Notes and Contacts, but the program explains how to proceed and my tests showed it was safe and easy to accomplish.
To get to voice mail messages, however, we need to go to the Data Transfer section and click on "Phone to PC" on the left side.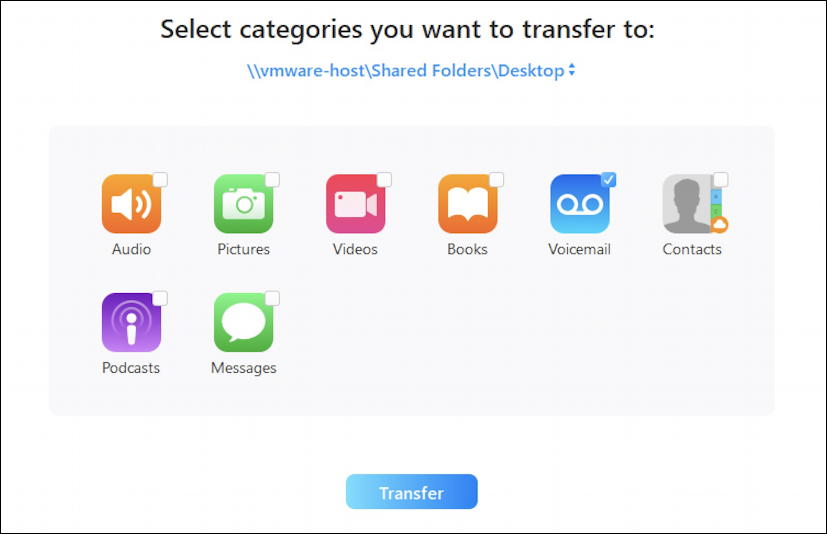 In this case, I just want to grab all the voicemail messages — notice it supports a wide variety of transfers, including how to transfer photos from phone to computer – so I'll check the rather tiny checkbox on the Voicemail icon and click the blue Transfer button.
After just a few seconds I got this rather surprising transfer complete update:

397 voice mail messages? Turns out that's part of how your iPhone lets you "delete" a voicemail then change your mind and recover it: they're not actually deleted, just moved into a "to delete" subfolder. MobiMover gets 'em all, even those scheduled to be deleted!
Opening the destination folder on my PC, here's what I find:
Each file is in AMR format (AMR = Adaptive Multi-Rate, if you're curious) which the Groove Music Player in Windows 10 can play without a problem. Each file is named for its caller's number and the date and time of the voicemail message. Logical, if a bit confusing at first glance.
Done. Mission accomplished. Not too difficult at all. Now you just have to wade through all the messages to find the few you want, but if you know the caller's number and an approximate date of the messages, it should be just a minute or two to find and rename those gems you'll be keeping for posterity.
DOWNLOAD VIDEOS FROM THE WEB TO YOUR IPHONE
While we're looking at MobiMover, I want to also show my favorite feature! Video Downloader lets you copy and paste video URLs from YouTube, Vimeo, BBC, Dailymotion, and dozens more and have the program automatically download the videos and save them on your mobile device. So easy.
For example, I grabbed the URL of one of my review videos on my AskDaveTaylor YouTube channel:
Notice that I've already chosen to "save video to iDave 11 Pro", my iPhone. A single click on "Download" and MobiMover does all the work. Here's the process about 20% completed:
Remember, when it's done, the final video will be on my iPhone, ready to watch and enjoy. Since Apple also changed the iOS app suite in the last year or two, you'll find the downloaded videos in the TV app library. Here's my download:
That's pretty cool and if you're poised to get on an airplane or otherwise be offline, being able to grab some videos from your favorite sites is a nice boon to the useful featureset of MobiMover. The app now supports WhatsApp backup too, which can be super helpful if you're a big WhatsApp'er.
MobiMover, from EaseUS. Available for Mac or Windows. $29.95 for a one year license on either platform.
Pro Tip: I've written about quite a bit of Mac and Windows software. Please check out my Windows help and Mac help to find more tutorials, whether they can be accomplished with native apps or require third party programs like MobiMover. Thanks!