Imangi Studios' iOS run-and-jumper Temple Run had fantastic success in the past, becoming one of the most downloaded games in the App Store. Now they're back with Temple Run 2, and they've made a plethora of great changes.
Nearly everything that the first Temple Run had to offer is intact and present in its sequel. The premise is merely this: You, a bold adventurer possessing the name "Guy Dangerous" have dared to steal some sort of generic, sacred idol from a temple… in the sky. Some sort of generic beast doesn't like that, and proceeds to chase you down through an infinite, floating obstacle course riddled with traps and pitfalls.
It's not a question of "if" you die. It's a question of when and how.
Tripping over a collapsed roof or accidentally sliding into a wall that you're parallel to will only slow you down, giving the big, black beastie behind you a moment to catch up (meaning that a second error on your part means sure death, you just don't have that much slack!)
Most obstacles, however, ranging from spinning, spiked rods to low-hanging arches to rushing rivers, will instantly result in your comical demise.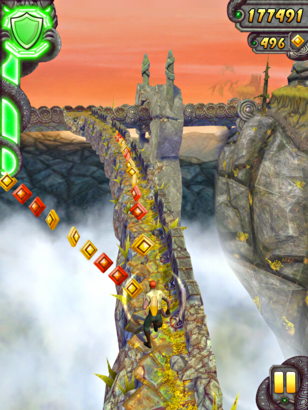 The high-altitude scenery definitely creates a fresh atmosphere.
Of course, you can never "win." It's all about the score. That said, there is a run-of-the-mill upgrade system to keep you playing. The obstacle course holds an equally infinite supply of coins, which you can spend on either upgrades such as double and triple value coins and temporary invincibility, or on new characters.
One of the key differences lay in the characters. In the first game, coins increased a persistent score multiplier. In Temple Run 2, coins also build up a "power meter," and when that meter fills, you can double-tap the screen to unleash whatever your innate powerup is (your first one is a temporary obstacle shield, hardly worth using in the first place). When you buy a new character, you unlock a new innate powerup.
Ziplines, gentle curves and segments in which you steer a minecart through
a tunnel add welcome variety to Temple Run's simple gameplay without making
things complicated
The old objectives system is present as well — completing listed objectives such as "collect x powerup" or "run 1000 meters without collecting any coins" grant you progress on an experience bar, and every time you level up, you get some extra coin to spend on upgrades.
I'd certainly be lying if I said that Temple Run 2 isn't both fun and addictive, especially considering its whopping price tag of nada. However, avid iOS gamers may find themselves worn out on the well-used "play, die, play, die, play, die, upgrade, play" gameplay model. Then again, Imangi did make it free.
What's the worst that could happen by downloading it to your device?
While not constantly leaping to his death, Zach Comm writes insightful game-related articles for
GameCheetah.com