While there's a lot to like about Apple's design of iPhones and IPads, there are still a few things that are a pain to accomplish, notably gaining access to data that's on your computer or sharing large files with friends, particularly if their devices aren't sync'd to the same computer as yours.
Sure you can use something like Dropbox, and that's a good solution, but what if you just want more space for more files, more movies, more music, more documents, without reverting to the Cloud or otherwise needing to be online?
Enter the slick, innovative Kingston Technology Wi-Drive, an external hard drive that can be plugged into your computer for data management, then connects wirelessly, via wifi, to your Apple iOS devices for access and perusal.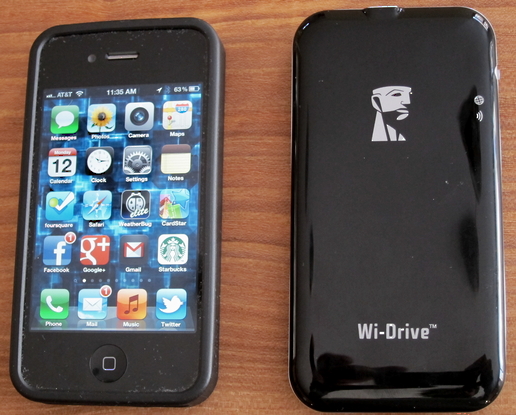 About the size of an iPod Touch, it's a very interesting gizmo…
At it's most basic, the Wi-Drive is a small 32GB flash drive that you can plug in to your USB port on your computer and connect via Wi-Fi on your iPhone or iPad. But there's more to it than that, not the least of which is that five people can be connected to the device at the same time. This makes it a great way to share a movie with a few friends during a break studying at school, or quickly copy data files or documents onto multiple iOS devices.
To use the Wi-Drive on your iPhone / iPad you'll need to get the Kingston Wi-Drive app from the App Store, but it's a free download and they're updating it all the time: it went through one significant update during our evaluation period.
If you want to use it as a slim 32GB external USB drive, however, there's nothing to download or install. Turn it on (it's battery powered and lasts about 4hrs on a full charge), plug it in and you've got a new drive on your desktop: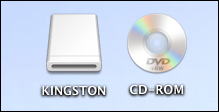 As you can see, it actually shows up as both a hard drive called "KINGSTON" and a CD-ROM drive. In my experience, you can safely ignore the CD-ROM drive icon.
Double-click on the hard drive and you'll see what's inside: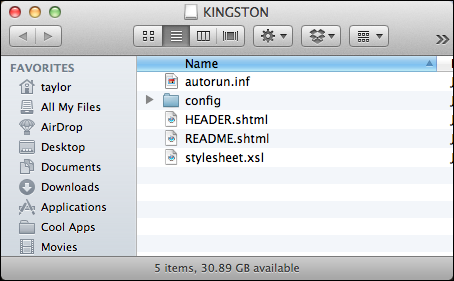 Most of the software included is for Windows users, particularly the "autorun.inf" which automatically launches a utility app on the PC. On the Mac we can safely ignore it all and instead just jump in and create a few useful directories, then drag and drop some media files onto the device too: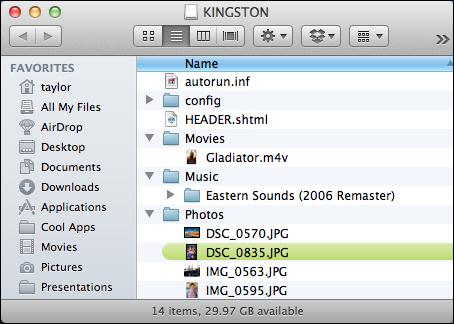 Should be a good test.
Gladiator
is a terrific movie, the classic Yusef Lateef jazz album
Eastern Sounds
and a bunch of random pics completes the test data.
Now I simply eject the drive and unplug the device from the Mac system and push the blue button on the side to power up the wifi system. Before we can launch the Wi-Drive application, however, we need to switch the wifi connection on the device from the usual Internet connection to the Wi-Drive itself.
Think about that. It's necessary, but it's one of the most disappointing things about the Wi-Drive: to use it from your iOS device, you have to be offline because the devices can't support two simultaneous wireless connections. Want to watch a movie off the drive? Then you can't be on the wifi network simultaneously. This is true of computers too, now that we're talking about it and to some extent is logical, since you can't connect to two networks simultaneously from a single wire either, can you?
Still, using the Wi-Drive, one can't help but wish there was a different approach possible, perhaps a high speed Bluetooth connection or even a wire that you could just plug in to the device if you also need to be online. For now, however, it's not an option.
Step one then is to go into "Settings" -> "Wi-Fi"…
If the Wi-Drive is working properly, you'll see "Wi-Drive" show up as one of the Wi-Fi Network options:
Choose it and go back to the iPhone / iPad home screen. Now we're ready to launch the Wi-Drive app:

Launching it produces…
The drive at 192.168.200.254 is what we seek. Tap on it:
Kinda of a strange color choice, aquamarine tetx on a dark grey background, but it works. And it's easy enough to navigate. For example, here's
Gladiator
…
Music is displayed on a per track basis:
And the CD cover art is displayed when the music is actually playing, which is nice: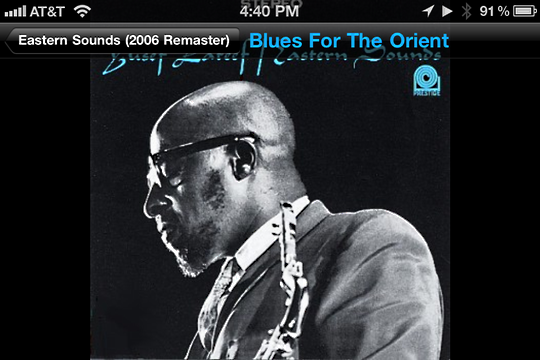 Photos? They display beautifully too:
Note throughout that we're still within the Wi-Drive app for all of this. The data isn't integrated into the Video app, Photos or iTunes on the iOS device. On the other hand, you
can
copy data from the Wi-Drive onto the iPhone or iPad, something that makes it a great way to copy data.
Simply swipe left to right while looking at a list of data items and an "Action" button appears:
Tap on it and there are a couple of useful actions from which to choose: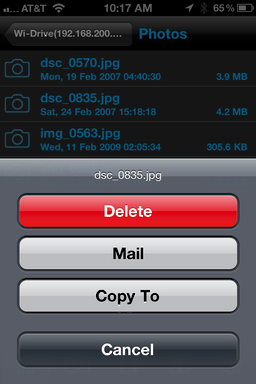 So if you want to add data to an iPhone or iPad but don't want to fuss with iTunes syncing (or if the computer that you've used to sync the device isn't available) you can see that the Wi-Drive is a straightforward tool for copying data, even something as large as a movie.
Finally, if you're worried about other people also connecting to your Wi-Drive and grabbing data without authorization, the network configuration of the app lets you specify a password under "Security", along with the ability to hide the device: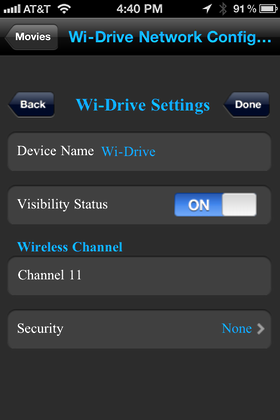 The 16GB drive costs $125 (though street price is $59 through Amazon) and the 32GB drive costs $200 (street price $119). If you've ever wished you could have just a bit more storage space on your iPhone or iPad, or find yourself constantly wanting to share data with other iOS devices, the Wi-Drive really is a pretty slick little gizmo and well worth the money. Make it 1TB and it'd be a home run, though I'd be a bit anxious to see how much it'd end up costing…
Note: Kingston supplied us with an evaluation Wi-Drive for this review.