I'm trying to prep some images on my Win10 laptop computer for posting on social media and am wondering how to rename them and add black borders to the images. Can you walk me through the process, please?
You may be surprised to know that Windows 10 actually has a lot of programs that can edit and manipulate images, but that it's the lease visible of them that's going to make the job easiest: Paint. Not the fancy new Paint 3D tool, not Photos (even if you're working with a photograph), but Paint. It's confusing that a new tool like Paint 3D seems to have lost many of the basic edit tools that make Paint so useful, but that certainly seems to be the case nowadays. Heck, some people recommend downloading a third-party graphics editor for this task!
In terms of renaming a file, there are a bunch of ways to do that but since that's such a basic part of Microsoft Windows functionality, I'm kind of hoping you already know how to do it and just forgot. No worries, I'll give you a quick refresher on the various ways you can update the name of a file to more accurately convey its contents and replace spaces with dashes or similar to prep it for online usage.
Let's start with the renaming, actually. Hover your cursor over a file icon and you get some info about it: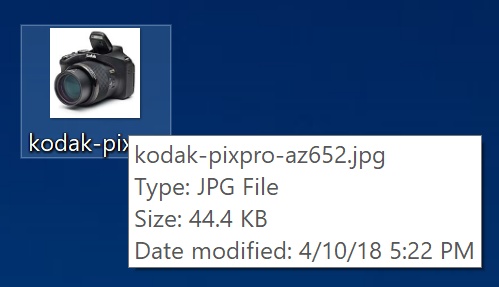 As you can see, the image is called "kodak-pixpro-az652.jpg". That's a good, Web friendly name that accurately describes the image itself, but let's say it wasn't accurate and needed to be updated. One easy way to do it is to "slow click" on the image name itself on the Desktop. Don't double click because you'll just open the file in an editor. A single click should get you to the edit mode:
Not my favorite way to change the filename because it's hard to see the entire name if it's long. Instead, right click on the image to bring up the context menu. Lots and lots of choices:
I've highlighted "Edit" above, but first, choose "Properties", the very last choice on the menu. That brings up a window with tons of info about the image, as shown:
The box with the filename is actually an editable field. Click, type and fix it. Notice also you can see lots about the image including size on disk, created, accessed and modified dates, and even mark the image as hidden or read-only. Note: If you mark it as hidden you can't then click on it again to unhide it. So be careful! 🙂
The third way you can rename a file is by choosing "Rename" from the context menu, above, which drops you into the tiny edit field immediately below the file icon. Use the Properties window if you really want to see what's going on, or switch to a list view instead of an icon view.
Now, earlier, we saw "Edit" as the highlighted choice. Choose it. The image will open up in "Paint":
Lots of different things you can do here, but let's stay completely focused [pun intended with the camera as our test image!] and add the border. The basic idea is that you choose your color, choose the line width, choose the geometric shape – rectangle – then overlay that on the very outer edges of the image. Not too hard.
Start with the color. Above it's shown as Color 1 and it's already black, so that's good.
Next step, line thickness:
I choose the thickest line because I want the border to be quite visible. You can undo and try different thicknesses as desired.
Finally, step #3 is to click on "Shapes" and choose the rectangle:
Yes, you could add a cloud shape or a lightning bolt, but that's an entirely different edit! Let's stick with the rectangle, as shown. Now it's a simple matter of clicking on the top left corner and dragging the rectangle to the lower right corner. Once you're done, it'll look like this:
That's it. Done. Now just save it as a new filename, or overwrite the non-border image and you're ready to go. Not too bad at all, really!
Pro Tip: While you're here, please do check out our extensive Windows 10 help area for lots more tutorials!