Cloud computing. What the heck does it mean, anyway? If you're confused by the phrase, you're not alone, because it's as prevalent now as the air we breathe. Without knowing it, you use cloud computing-based services everyday! Still, many aren't aware of just what cloud computing is and why it even matters. The basics of cloud computing is nothing new — It's similar to the days of mainframe timesharing, where companies shared resources to process data for their needs. The difference today is that many cloud computing-based services and solutions run on thousands of low-cost PCs which are glued together by sophisticated software and networks.
So, here's a crash-course on cloud computing in three, two, one …
How It Works
The basic cloud computing foundation is comprised of a data center (servers, network switches, Internet connectivity, etc.), virtualization software (used to segment physical resources between users), operating system (Windows, Linux, etc.) and applications (Apache, MySQL, etc.). Together, these components "power the cloud" for millions of people using popular services such as Google's GMail.
Here's an illustration which pieces everything together: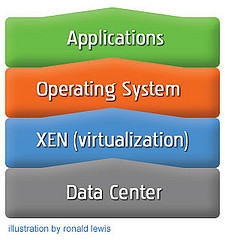 It's On-Demand
The beauty of cloud computing — from a business perspective — is that it's mostly "pay-as-you-go". Quite simply, you only pay for what you need without contractual requirements. Imagine launching hundreds of servers "in the cloud" to number crunch decades of data for your client. Once the servers have fulfilled their purpose, you would simply "terminate" them and pay only for the time used. A few example uses:
• Web site overflow
• Database hosting
• Gaming server
The possibilities are endless!
Extremely Cost Effective
Developers, consultants, small business owners and corporations are all attracted to cloud computing because of its cost-effectiveness. Rather than spending thousands of dollars on hardware, bandwidth and energy costs, people are now turning to the cloud in droves. What's the point in maintaining co-located or internal technology infrastructure when someone else can do it for you? This is the most compelling case for why cloud computing is growing in popularity everyday.
"Infinitely Scalable"
You may not own several thousand servers, but with a few simple clicks, you can create the next Google with some ingenuity and creativity using a reliable, proven computing platform. Popular web sites such as Zillow.com and Twitter.com are using cloud computing to power their online presences for millions of users. And when they require additional horsepower? Well, with a little programming (or a "scaling manager" such as RightScale), it's as simple as launching more "pre-built" servers to handle the increase in load.
In 2007, the New York Times made available its archives in PDF format from 1851-1922. They accomplished this by employing a combination of software, programming and Amazon's EC2 service to
process more than 11 million documents
in a few hours time. The total bill for this project? $240 (although some argue it could have been less if they deployed fewer servers).
Flexible, Configurable
Cloud computing solutions are offered in many flavors of hardware and software options:
• 32-bit and 64-bit "virtual servers"
• Linux and Windows
• High I/O throughput
• Gigabit network interfaces
• Gigabytes of storage and memory
Whatever your requirements, you won't find a lack of options to choose from.
You Are In Control
Gone are the days of expensive hosting solutions, outrageous setup fees and asinine limitations on what you can install and run on a server. Within minutes, you could be running a brand-new Windows or Linux server for pennies an hour. No wait time, no hassle, no fuss. The most visible cloud computing player in the industry is Amazon Web Services, LLC (AWS). A subsidiary of Amazon.com, AWS offers a suite of services which include Elastic Compute Cloud (EC2), Elastic Block Storage (persistent storage), SimpleDB and more. Amazon runs the largest known installation of the open source XEN virtualization technology — The heart of its cloud computing offering.
What are you waiting for? Kick the tires at
Amazon
or
GOGrid
. Best of all, have fun!
---
Contributing writer Ronald Lewis is a cloud computing and open source software advocate, among many of his diverse interests. His latest work includes the successful integration of telecommunications software platforms with Amazon EC2.