I just noticed this week that sometimes when I search for information on Google that the top few results have a little plus sign next to them. I've seen the little shopping cart for Google Shopping, but what the heck does the plus sign denote?
Do you have no curiosity, man? 🙂 Click on it!
What Google introduced at the end of March, 2007, is a "more info" feature, which they represent with a tiny plus symbol in a box, a "plus box". You can see it here in the results for Boeing Corporation (NYSE: BA):


Click on the plus symbol and you'll get a stock quote and even a nice little graph showing the performance of the stock over time: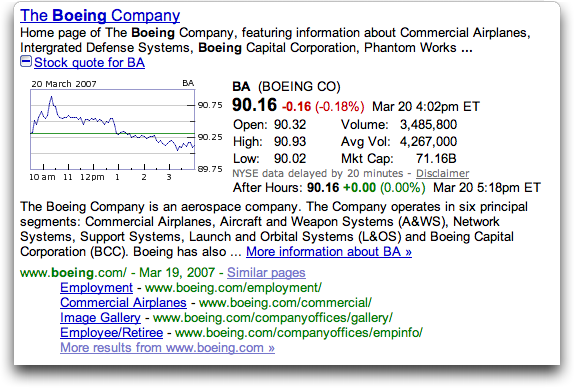 Other searches for corporations, like "Google" (Nasdaq: GOOG), show the same plus symbol, but in a more subtle way:
One thing you can conclude is that you don't need to be the so-called authoritative result for the plus symbol to be activated.
Google calls this the "Plus Box" and explains a bit about its functionality on the
GoogleBlog
. That's a must-read if you're at all interested in search and SEO, by the way!
They explain that "Right now, we're showing two types of Plus Box results: stock information and maps. You can find a plus box next to the home pages of companies listed on NYSE, NASDAQ, and AMEX. Clicking the plus box icon for any of these companies displays the latest stock price, chart, and company information."
My question is: what's next? What other interesting information could that little Google Plus Box be showing us on search results? Hmmm….