My girlfriend pointed out that I've earned 7500 points in Microsoft Rewards last time I was using Bing and though that was pretty good. What is it and is it worth the effort to set up Microsoft Rewards if Bing is my default search engine?
You're never going to afford a luxury trip to Hawaii or a new Tesla with Microsoft Rewards, but it turns out that with just a few behavioral changes, you can cash in. The real challenge is that because it's an incentive program open to literally everyone who is online, the rewards are modest and it takes a lot of work to earn them. For example, each Bing search you do (while logged in to your Microsoft account) is worth 5 points, to a max of 10 searches each day. That 50 points sounds like a lot, but it takes 1000 points to equal $1.00 in value against redemption. Then again, if it's activity you'd be doing anyway – like searching the Internet – why not earn some points and gain a reward, even if it's only once or twice each year?
The good news is that there are some pretty cool rewards, whether you want to earn Starbucks or Amazon gift cards or whether you want to donate your rewards to a favorite charity. Let's have a look, shall we?
First off, your current rewards score is always on the top right every time you go to bing.com:
I have 1,171 points. That's approximately $1.17 in reward value. Not a huge amount, I admit.
At any point you can simply click or tap on the rewards icon and it'll pop up a small window showing you what you've designated as you desired reward goal (mine's Skype credit) and your daily status update:
Not really sure why I am accumulating Skype Credit, actually since I never use the program. Maybe it's time to switch. Before I do, however, notice that if you setup your mobile device to use Bing for searches you can also earn Microsoft Rewards through your phone. Every point counts, right?
To change my rewards goal I'm going to click on "Change goal" just under the big Skype graphic. That brings me here…
Turns out that there are quite a few rewards goals you can tap, ranging from a chance to win the Ultimate Microsoft Experience or visit France to try out the Microsoft HoloLens! Odds of winning? Um, not posted. 🙂
Anyway, scroll down to review some of the more popular rewards, including these: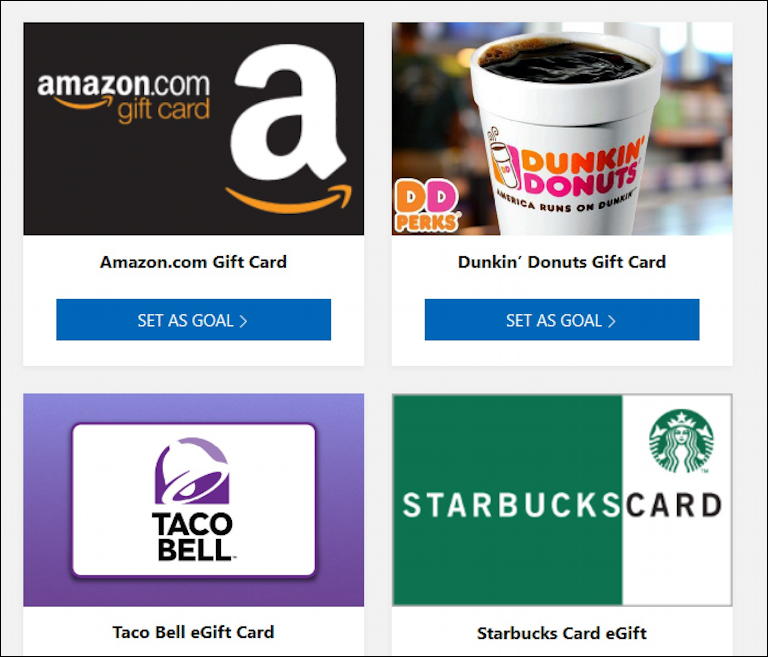 Change your goal and you'll get a free 100 point bonus, as I learned by choosing "Amazon Card eGift" as a new goal: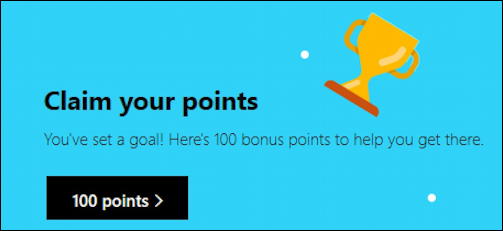 You can also go to your main info page in the Microsoft Rewards page to see how you've done over the lifetime of your Microsoft account. Me? Well, let's say that it's clear Bing isn't my default search engine:
This shows that my lifetime earning is that 1,171 points. Not so much. But you have to start from somewhere, right? More importantly, notice in the middle that it shows I'm at Level 1. If you can get to level 2 (earn 500 points and you're at level 2 for the remainder of that month) then the daily limits change and various other things change to make the experience more rewarding. Also notice on the very top "0 day streak count: 3 days until bonus gift". To help you earn points more quickly, Microsoft offers bonus rewards if you use Bing multiple days in a row, so that's worth checking out too.
Scroll down a bit more and you can see my current status with the reward I chose:
Apparently I only earn points on Mondays. Weird. You can see there's more information on streaks here too.
Finally, if you want to donate your points to a charity that's pretty darn easy too. Here are two examples:
It's not much but if everyone who used Bing donated their Microsoft Rewards points to The Nature Conservancy, for example, that would add up surprisingly quickly!
That's it, now you know the good and bad of Microsoft Rewards. 1000 points sounds like a lot, but it's $1.00 so you can see that it takes effort to generate even $10 in rewards. But then again, if you can earn 50 points/day plus bonuses here and there for streaks, etc, you could cash those points in for a $10 Starbucks gift card roughly twice annually. And who doesn't like free coffee?
Pro Tip: I've been writing about Windows for many years. Please check out my Windows help area for lots more help.