I've been on LinkedIn for quite a while but only recently jumped into Facebook and, wow, Facebook has so many cool capabilities that make it more interesting! The one that really stands out, though, is that I really want to connect my weblog to my LinkedIn account. Is there ANY way to do that, Dave?
A splendid question, and I agree with you about the relative capabilities and complexity of LinkedIn versus Facebook! If you're active on all the major social networks, however, you'll find that they all take ideas from each other, and that MySpace is part of the group too. Nonetheless, Facebook does seem to be the leader in terms of features, but I also believe that Facebook has too many applications and widgets: I have only found Facebook manageable because I've learned how to block almost all of the daft, goofy apps that are a pox on Facebook (well, in my opinion, at least)
Lets focus on LinkedIn! Until very recently, I would have said that LinkedIn was its own world and that there wasn't any way to tie in anything else on the Internet, but they just added application widgets that offer a bunch of cool capabilities, including the ability to tie your blog in to your LinkedIn profile.
Start by looking on the lower left of your LinkedIn menu: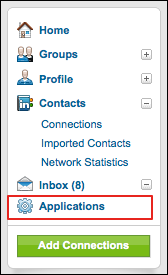 Ayup, the new thing is — unsurprisingly — "Applications". Click on it and you'll see a small but interesting set of apps that they've added to the system: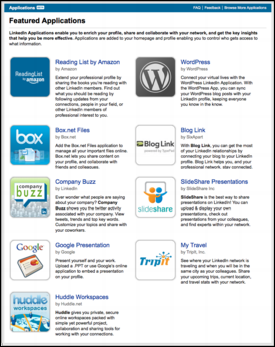 Not so many yet. But what we want is "BlogLink". Click on it, and you get a long explanation of what the application does, including the important checkboxes and button: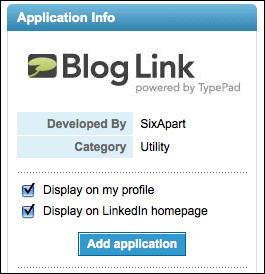 I suggest that you include this app both on your profile and LinkedIn home page by clicking on "Display on my profile" and, ingeniously, "Display on LinkedIn homepage". Then click "Add Application"
Before you go too far, though, you might want to read the small print:
"When you add an Application, you are allowing it to access profile information about you and your connections which the Application uses to provide the service. This and other information you provide to the Application may be displayed publicly depending on the Application's functionality."
If you've paid attention to the apps on Facebook, you're already familiar with this sort of small print.
No surprise, there aren't any URLs in the system yet, so you get an error: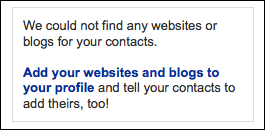 Click on "Add your websites and blogs to your profile" and scroll down to "My Sites" and you'll see "My blog":
That's what we want! If you don't have this set, that's where to link things together. Ironically, even though I got the error message, I've already set my blog, so in fact when I go to my LinkedIn profile page (
linkedin.com/in/DaveTaylor
) and scroll down, voila! There are my blog entries: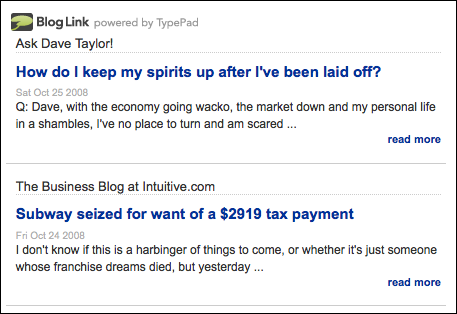 There are two things I really like about this. First, it's clean and elegant. Very nice! More importantly, though, notice that both of my blogs are shown here: it's not just limited to one blog (which is important if you have more than one, as I do).
Kudos, so far, to the LinkedIn team for its implementation of applications. Now, go play!
---
Want to read more about people's analysis of LinkedIn adding separate apps? Lots to choose from:
Hope those are helpful too!