Got an Amazon Kindle for my birthday but haven't had much time to get into it, but I understand I can subscribe to my favorite magazines and have them automatically show up on my Kindle the same day the print magazines are published? That's pretty cool, but I'm at a bit of a loss. How do I find what magazines are available and how do I subscribe to a magazine on my Kindle?
You can do so both from the Kindle itself or by simply logging in to the Amazon.com account that is hooked up to the Kindle. Let me show you how you can do it from your Amazon account in a Web browser first, then I'll show you the Kindle way…
First off, did you know that as of this writing there are 48 magazines and almost 100 different newspapers available for your Kindle, including the New York Times, Wall Street Journal, USA Today, Washington Post, Investor's Business Daily and the Financial Times? You can check both out: Newspapers available for the Kindle and Magazines available for the Kindle.
Now, let's jump in!
Log in to your Amazon.com account, then follow the link above for the list of magazines (Why? because there are thousands of magazines available through Amazon, but only a very small number that are Kindle-ready). Here's what the Time Magazine page looks like:


Now there's a bit of misrepresentation here because the magazine cover is shown in glorious color but in fact the Kindle is a black and white reader, so you're not going to see anything that beautiful when you view it on your eInk reader, but that's another story. Assuming you're part of the Kindle cult and want to proceed, look on the top right and you'll see: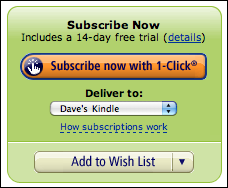 If you just want to test it out, you can subscribe and then cancel within 14 days (Amazon sends you email detailing how to do that) or you can just buy the current issue and see if it works for you: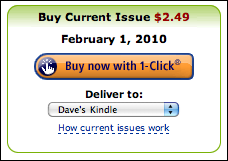 I'll subscribe, but not to Time magazine but PC Magazine instead, by finding it and then clicking on "subscribe now with 1-click"…

What's cool is that the latest issue of the magazine magically appears on my Kindle thanks to the Whispernet data network.
Alternatively, if you only have your Kindle in front of you, no worries, you can subscribe to a magazine through the Kindle store on the Kindle itself!
Click the MENU button, then choose "Shop in Kindle Store" from the pop-up menu: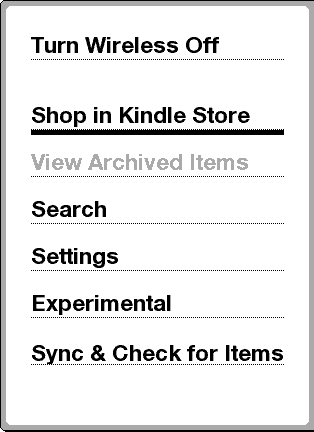 Now you'll see the main page of the Kindle store, without all the shiny color: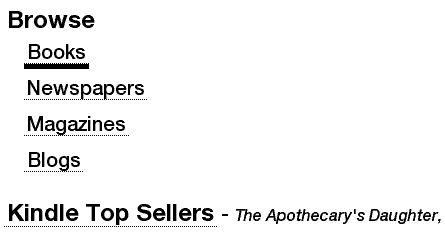 You can chose "Magazines" here, or tap on the "MENU" button again and you'll see that there's a different menu for within the store: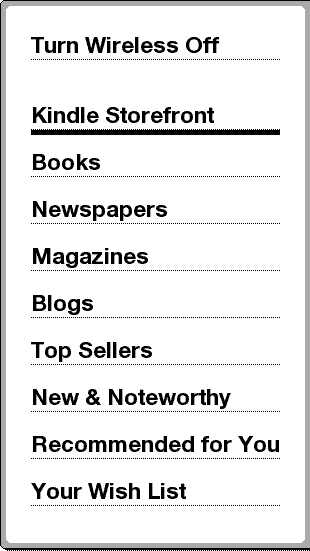 Either way, get to the magazines listing and you'll see something like this: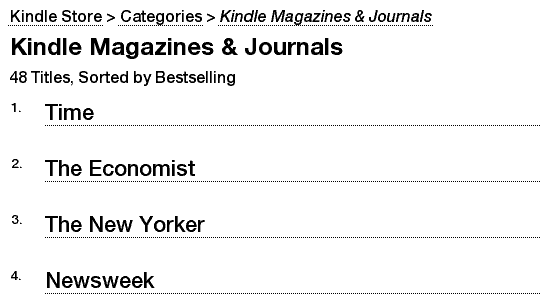 Let's again choose Time magazine by clicking on it. Now you'll see the subscription option:

Choose the "Subscribe Now" option and it's an instant transaction: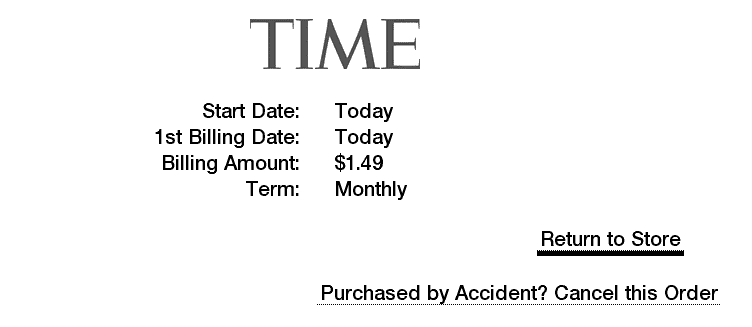 That's all there is to it, Give it a few seconds to download the first issue, then click on "HOME" and your new magazine subscription should have appeared!
Looking for Kindle Help? Stay tuned, we're building a whole section to help Kindle users get the most out of their gizmo…