I've created a Facebook group and have some of my pals involved now, but one of them just emailed me and asked how he can send messages to everyone. I dunno. Dave, how do I send a message to a Facebook group?
Let's go through the steps here. If you don't have much experience with Facebook, you'll want to probably start by finding and joining a Facebook group, then, assuming it's fun, you'll want to then create your own Facebook group.
Once you've either created your own group or are otherwise a part of a group, you'll find it shows up when you click on "Groups" on the top left of your Facebook home page. The top of the groups page offers up three links:


Click on "My Groups" to most easily see what groups you're in: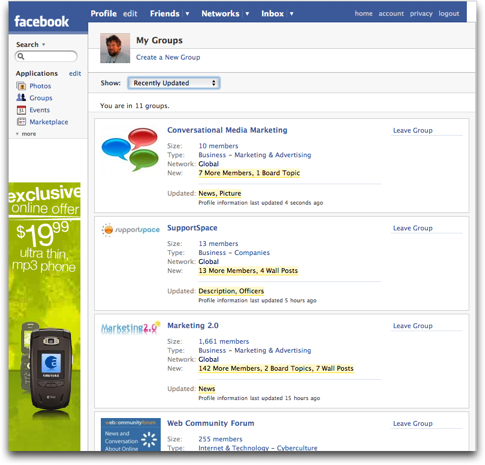 Now you'll need to click on the name of the group to which you want to send your message. I'll go ahead and jump into the
SupportSpace group
.
There are three different ways that you can interact with the members of this particular group; you can start a discussion in the discussion forum:

you can post an item:

or you can leave a comment for everyone to see on "the wall" by clicking on "Write Something":

If you own a group, the options expand. For my group
Friends of Ask Dave Taylor
(you're a member already, right? 🙂 in addition to the discussion board and the wall, I also see: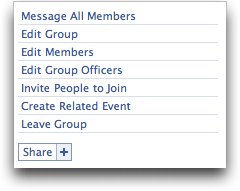 Here I can easily send a message (email) to all the members of the group, something that you can't do if you're not involved with the administration of the group.
Anyway, that's four, count 'em, four different ways you can interact with other group members, depending on whether it's your group or one that you've just joined. In either case, I hope this gives you enough ideas about how you can interact with other group members on Facebook.
The difference between them all, by the way, is their persistence and permanence. For example, if you send a message to group members, anyone who joins afterwards won't know the message was sent. If you want to invite people to respond to your query or comment, a discussion forum entry is your best bet. The Wall, generally, is used for throwaway comments in my experience, comments that are in the permanent record for that particular group, but are still more of the "fun party!" and "great application!" variety than anything more serious.
Truth be told, I think that there are
too many
options in Facebook and this is just one example. With too many choices, it becomes confusing and frustrating to know how to proceed. But that's a different discussion.