This may be a bit obvious, but I'm looking for work and am unclear how I can use LinkedIn to find positions other than searching for HR people in local companies. Can you offer some assistance? Thanks.
That's a great question because the popular site LinkedIn really can be your best friend when you're on a job search. But you need to know how to use it.
First off, though, you'll do well to spend a few hours going through your own online profile and making sure that it's as up-to-date as possible and that it lists every relevant and important thing you've done in the last few years, even if it was volunteer work or part of, say, a failed startup. Experience is still experience!
Then make sure that your headshot is professional. Possibly enlist a friend or even go to a pro photographer to have it make you look good. Ideally, a suit and tie or other formal work wear too: You can always later show that you can dress casual, but that first impression is made digitally with the top of your LinkedIn profile and your photo. Make it a good one.
Once you're prepped, you'll be surprised at how easy it is to search for specific open positions that companies have posted on LinkedIn.
To start, find the search box on the top right of your LI home page. It looks like this:
Odds are, like most people, you haven't done many searches. No worries. Click on the word "People" and you'll find that there are a surprising number of different choices from which you can select:
Choose "Jobs". See, toldja it was going to be easy!
Now type in a word that broadly describes the field your job would be within. In this case, I'll use "marketing":

Sorted by relevance, LinkedIn shows me that there at over 31,000 jobs that match this key word. Not a bad set to choose from: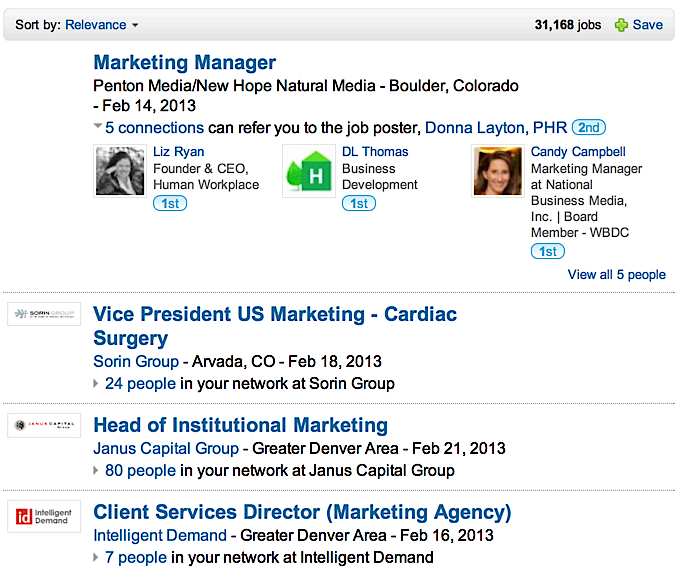 Notice on the top left the "Sort by" option. Click on it, so you can find the latest jobs posted in your area, rather that possibly waste time with stale listings that the company might have forgotten to remove once they did hire someone: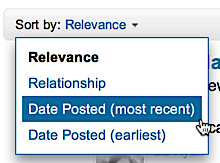 Also notice on the left side that there are some more sophisticated search options if you'd rather narrow it down to within a certain distance of your current location — or perhaps near a specific place you'd like to live!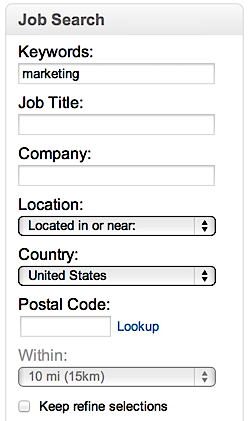 Finally, if it's still too broad a set of matches, you can click on "Advanced Search" along the top tabs and there are many other criteria you can use to narrow down the pool of results: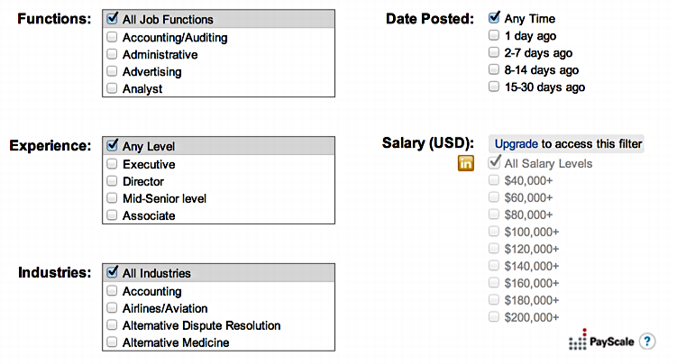 That should help you find possible positions. To apply for one, click on the title of the position, and pay close attention to whether you have first, second or third degree connections with the hiring manager. If you do, definitely tap those too, write a cover note and ask one of your LinkedIn connections to forward it along. Makes a BIG difference in the hiring manager paying attention to your application or not.
Either way, those are the basics. Now go get 'em, tiger!