A pal of mine who is a developer sent me a redemption code so I could check out his app on my new iPad. Problem is, I don't know how to redeem a redemption code and don't want to ask him. Suggestions?
Turns out that whether it's a song, iPhone app or iPad application, the basic steps are the same, and they're all about what you do within Apple's iTunes. That's right, you can't actually redeem the code on your mobile device, you have to do so on the computer that you use as the device from which things are sync'd.
I've actually been holding on to this question for a while, because I was waiting to have an iPad application redemption code, and when I contacted the author of iSSH [iTunes link], he sent along just such a redemption code for his slick SSH [secure telnet] iPad client, which I needed to be able to log in to my server if I had admin work to accomplish.
Here's what the email he sent me looked like:



(though once used it can't be used again, I've opted to obscure some of the code as used in the examples throughout anyway)
In iTunes, I clicked on "iTunes Store" on the left side under the "Store" category, which brought me to the Apple iTunes Store. On the right side are a list of Quick Links: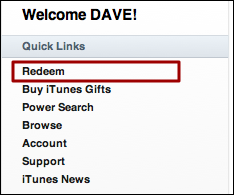 Click on "Redeem" and you'll be asked for the redemption code that your friend sent you:



Enter the code and click "Redeem".
Now you'll be asked to verify that you're you in the iTunes Store: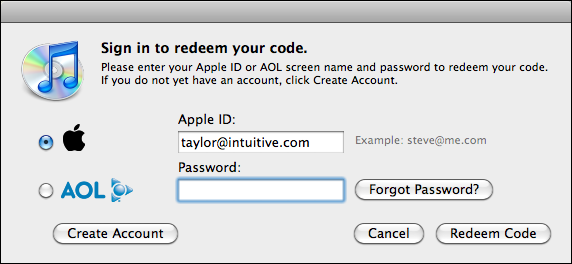 Enter that data correctly and you get a nice verification screen:


Shortly thereafter (most apps are pretty small) it'll have downloaded and show up in the iPad area under the Apps on your computer:



Nice. Now just sync your iPad with your computer and you should have the new application automatically copied across. Note, btw, that you never have to enter the app name or anything like that. It's all keyed to the unique redemption codes, which makes it really easy to work with!