Someone added me to a shared Pinterest pinboard and I have no interest in the topic. How do I resign or quit the board without having to contact the creator?
I'm a big fan of Pinterest — you can find me there too: Dave Taylor on Pinterest — but I have to say that there are some things about how it all works that are baffling. There's also the issue of spammers and, yes, porn showing up on the site. In fact, I have a friend who likes to post pictures of nude women doing yoga and lifting weights, a sort of fitness porn, but that's another story. 🙂
Now what were we talking about?
Oh yes, you've been added to what Pinterest calls a "shared board" and you don't want to be involved. No worries, it's actually not too hard, and by lucky coincidence, I too was added to a Pinboard that I didn't want to be associated with. Here's what I did to resign…
First off, here's the email I received that informed me I'd been added to the board: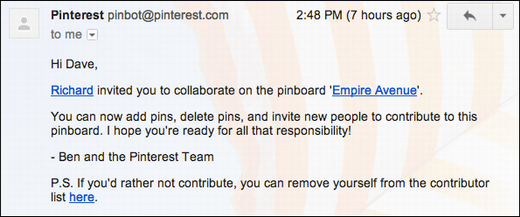 What? What Empire group? I have no idea what it is, and since every member of a shared board gets email notifications of every update to the board, I really didn't want to be involved. To solve the problem I clicked on the board name from the email, which took me to the shared pinboard on Pintrest itself:
If you look closely on the set of icons on the left, you'll see I'm #2 on the list. Um, huh?
To resign from the board, click on "Edit Board", which then shows you a list of all shared board owners:
Scroll down until you can find yourself on the list:
Here I am! A single click on "Remove" and I'm no longer a member of this shared board.
That's how you do it. Good luck on Pinterest, and if you want any additional help, we have lots and lots of
Pinterest help
here on the site.