I don't really see the benefit of Twitter, personally, but I know that people are occasionally talking about my company. How can I keep track of discussions on Twitter without having to follow thousands of people?
What? You aren't a member of the Twittercult? The horror!
Just kidding.
I think. 🙂
You're right to be curious about what other discussions are happening on Twitter, actually, because the very nature of Twitter means that unless someone wants you to read their Twitter, you're probably not going to see it.
Even if you follow them, though, if you don't check often enough or follow too many people, there's no question that you'll miss what could be key tweets. If someone does something like write a message with the preface "@John Doe" instead of "@JohnDoe", that'll fail to match too. Worse, if you only use the Web interface to Twitter and don't click on "Replies", you'll miss messages from people who follow you, but whom you don't follow.
Fortunately, while Twitter itself hasn't done much to address this problem, there are a number of third-party search services that are cropping up, the best of which is Summize.com.
What I really like about Summize is that you can create quite complicated search patterns and then subscribe to the results with your favorite RSS reader (I use Google Reader, but there are dozens of 'em available). Darn helpful!
Here are some of the many search operators you can use with their service:

| | |
| --- | --- |
| Operator | Finds messages that… |
| foo bar | Contain both "foo" and "bar" |
| "foo bar" | Contains the phrase "foo bar" |
| foo OR bar | Contains either "foo" or "bar" (or both) |
| foo -bar | Contains "foo", but not "bar" |
| @foobar | Contains a reference to Twitter account @foobar |
| from:foobar | Sent from twitter account "foobar" |
| to:foobar | Sent to twitter account "foobar" |
There are more, believe it or not, but these are sufficient for you to build some interesting and powerful searches to keep track of what's happening on Twitter.
Since I'm good at paying attention to Twitter and the people who I follow and who follow me, my own Summize search is an attempt to capture all the other references to me and my Twitter account. I do that with this search:
"Dave Taylor" OR "DaveTaylor" -from:DaveTaylor -to:DaveTaylor
This matches references to my name or my twitter account in tweets that aren't from me or directly pointed to me. I could use "@DaveTaylor" here, but in case someone forgets the "@" symbol, the pattern matches anyway.
Once that's established and the search results are shown, the handy RSS graphic is shown too: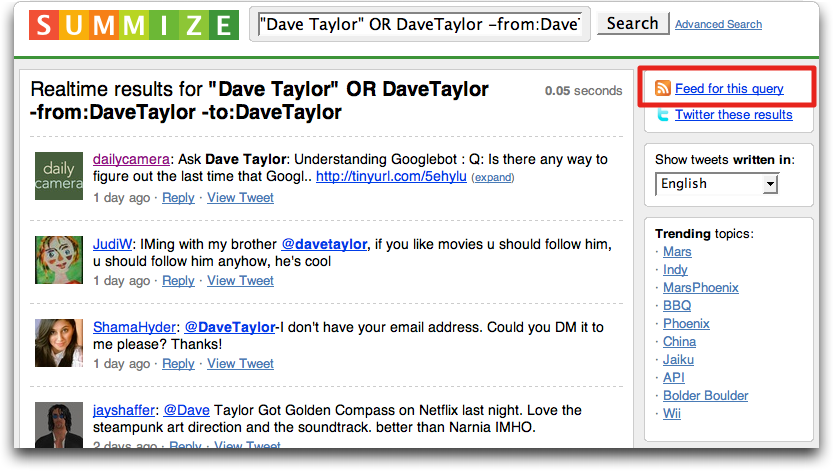 Click on it and/or copy the RSS URL to your favorite RSS reader, and you'll never miss a tweet about you, your company, your product, your competitors, or your best friend. Ever.
And if you're still learning about Twitter, I suggest you check out some of the exhaustive
twitter help
here, and can I also invite you to
follow me on Twitter
too?