I found "Image Capture" (you didn't mention it was an application, so I searched and found it) and tried what you suggested. When I click on download, however, nothing happens. Tried this with just one photo selected, as well as "Select All." Any suggestions?
I've written about this before (see how to download photos off your Apple iPhone to your Mac) but I want to address it again because I want to highlight the pitfalls and point out what's probably happening in your case.
I'm also going to write about using the simple Apple-included Mac application "Image Capture", though if you're an iPhoto user that'll also grab images off your iPhone (as will Graphic Converter, a wonderful shareware app).
The thing is, for many Mac users, they plug in their iPhone and either nothing happens or iTunes automatically launches, which isn't too helpful because iTunes is pretty much a one-way tool designed to put information, data, music, and applications onto your phone, rather than get anything from it onto your computer.
I'll assume nothing happens when you plug in your iPhone to your USB port You can confirm that it's plugged in by looking on your phone: does it show a battery icon rather than your usual wakeup screen? If so, you're good and your computer and Apple iPhone are happily wired together.
Launch "Image Capture" by finding it in your "Applications" folder and it will see your attached iPhone and show you:


What you need to pay attention to here is where images are going to be downloaded, as specified in the "Download to:" section. Notice that I have mine configured to drop images onto the Desktop, which makes it hard for them to vanish! I'm guessing, in fact, that you either have Image Capture configured to download to a non-existent folder (which can cause it to silently refuse to download anything) or to a folder that you're not checking (like "Pictures").
Once you've set the download folder as desired, click on "Download Some…" and you'll see:


On the top left you can change the view from the highly detailed list view to a more familiar icon view too: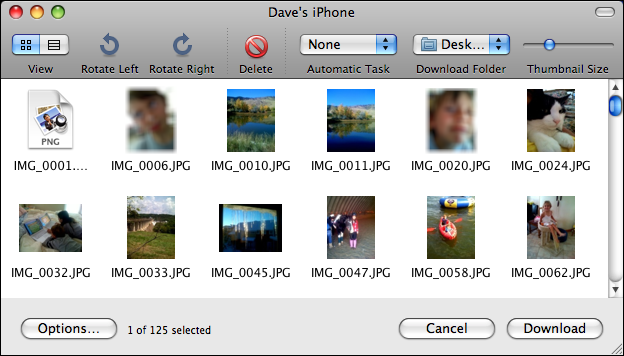 Now that you can see all your images, simply click to select one or more images…



Before you proceed, you might want to click on "Options…" to see what you can tweak: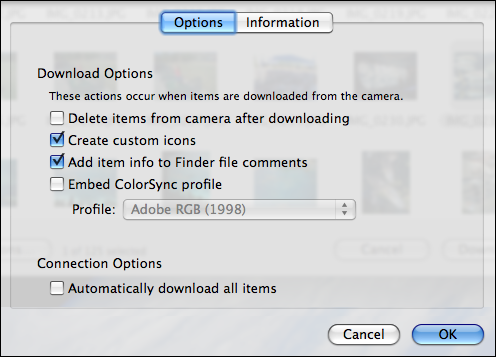 You can see my default settings here: your's might be different.
Finally, click on "Download"…



And in anywhere from a few seconds to a minute or two, depending on how many images you want to download, it'll finish up and you'll have a bunch of new photographs on your computer.
Finally, here's the same image I downloaded, as shown in Preview:


At this point I've connected my iPhone to my computer, previewed the images in "Image Capture", set a specific download directory and clicked "Download" to copy the selected images onto the computer itself. Done!
Now you can just unplug your phone from the system and you're ready to take some additional pictures. Or, if you're so inclined, you can also manage what pictures you retain on your iPhone with Image Capture: select those you want to delete and click on the "delete" icon.
Hope this helps you solve the mystery of the non-deleting Apple iPhone photographs!