My parents bought me an Amazon Kindle ebook reader for Christmas. Very cool. They also told me that they bought me a few books on Amazon (we share an account). I'm baffled, though: how do I get those books onto my Kindle?
For the unacquainted, the Amazon Kindle is an e-ink portable reader that allows you to download and bring over a thousand books with you wherever you go. The Kindle syncs to your Amazon account so managing your books, magazines and blogs couldn't be easier.
First, make sure your Kindle is registered. If you used your Amazon account to buy your Kindle, it ships to you pre-registered. For those who got a Kindle as a gift, first press the Home button, then the Menu button. Go to Settings and select Register. Enter the details as you would enter on Amazon.com to login. Now your Kindle can talk to the cloud.
If your parents used your Amazon account to buy books already, they're waiting for your download. Go to Amazon.com and click Your Account (on the top right of every page). Sign in and scroll dow to the Digital Content section where you can manage Kindle content, MP3's from Amazon's digital music store, and other downloadable items.
Click Manage Your Kindle and you should be looking at your newly registered Kindle


Scroll down to find a section called Your Orders which should include the titles that your parents bought for you. Tell Amazon to deliver your book to your new device upon which time Amazon will serve the file up and wait for your Kindle to ask for the new content.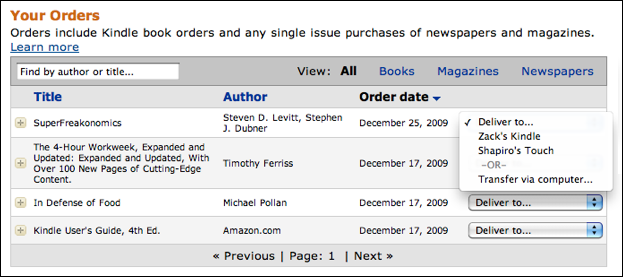 Picking up your Kindle, press the Home button, followed by the Menu button. Make sure your Kindle's wireless services are turned on upon which time you will see "3G" in the upper right corner with (hopefully) a few black signal bars. White signal bars mean that the Kindle is still searching for a 3G connection.
Navigate down to Sync & Check for items:
Now press the 5-way controller in to select your option and your books should be available on your Kindle shortly!
---
Contributing writer Zack Shapiro is an entrepreneur, a journalist and a technology blogger. You can find him on his website ShutUpInternet.com or on Twitter as @ZackShapiro.