As I learn more and more about Facebook — and I so appreciate all your great Facebook help — I have decided to start listing some of my professional events on the site too. What's the most efficient way to add Facebook events?
With 300 million users, Facebook is like a planet unto itself. It's definitely worth listing your events, professional or social, in the Facebook world and seek additional attendees. It's also pretty easy to do so, fortunately.
Start by logging in to FaceBook, as always.
Then, on the top right, you'll see the usual app menu:

Click on "Events" and you'll see a page of events sponsored by or joined by your social circle. That's not what you want, though, so look on the top right for "Create an Event":
Now you get into the real work of entering your Facebook event into the system, starting with the basics:
As with most things online, I suggest you spend a few minutes thinking not only about compelling ad copy, but also about findability: if there are certain keywords or phrases that your audience uses to refer to your event topic, they should appear in the tagline, etc.
Event names seem to have a history attached to them (as I wrote about when I explained
why I'm hosting the Aloha Summit in Colorado, not Hawaii
), but still try to keep search engine findability in mind.
Scroll down a bit and there's more to do, including the oh-so-important description. If you're having speakers or presenters, make sure to list their full names and organizations here too:
Now, where is your event being held, and who is the contact person if people want to learn more?
How about some additional things you'll let people who sign up for the event add to the information page?
The next one is a bit puzzling, perhaps. Are you having an open event that anyone can sign up and attend (I call these parties, personally), a closed event where you want it advertised but might want people to go through your event Web site to sign up, or is it a secret event where you can invite people to learn more, but it doesn't show up in searches?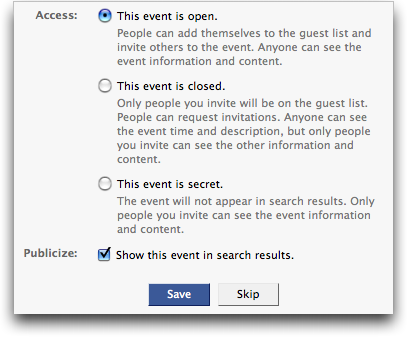 That's just about it. All that's left is to upload a logo, graphic, photo, or picture:
Click on "Save" and you've done it, you've created a Facebook event. Congratulations!
Two last bonus steps if you're highly motivated: you can actually send explicit invites to your existing Facebook friends, other people on Facebook or even people who aren't on Facebook at all:
I skipped this step when I created my Facebook event, but it's a smart way to get your friends to know about your upcoming event.
The other way you can get the word out is to publish information about your creation of the event in your news stream. By default Facebook wants to do just that, which is why you'll see this:
I suggest that you do publish this news to your profile – I mean, why not? – and your level of information might depend on how invasive, uh, visible you want to be. I suggest "Short", especially if you have a long description.
Now, finally, you're done. Great job.
I'd also like to let you know that I have quite a bit of
Facebook help
here on the site and that I also have an
Ask Dave Taylor Facebook Fan Page
that I invite you to join.