I just subscribed to the Wall Street Journal on my new Kindle DX and don't like it. I don't want it and want to cancel the subscription. How do I cancel a magazine subscription on my Kindle?
Really? The Kindle is pretty easy to work with, whether you have a first gen 6-inch Kindle or a slick new Kindle DX…
Okay, I'll play along, because it's pretty neat to see the different ways to cancel a newspaper or magazine subscription.
The easiest? Go to Manage Your Kindle Subscriptions at Amazon.com. Go on, try it.
You'll see something like this:


That's easy enough, isn't it? Just click on "Cancel Subscription" and you will no longer be receiving the Wall Street Journal on your Kindle.
Look a bit lower on the page and you'll also see that there's a second section:

That's because I earlier subscribed to Time magazine and cancelled it. You can see that they keep track and make it really easy to restart the subscription if you'd prefer. The nice thing? If you're going on vacation, this is probably an easy way to put a hold on your subscriptions!
When you first got your subscription on the Kindle from the Kindle Store, did you pay attention to the options? Here's what it looked like: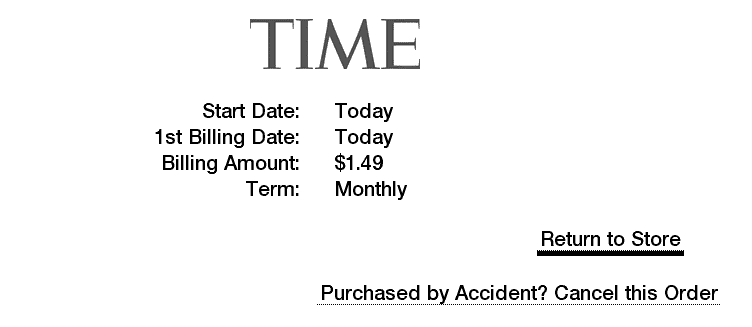 If you changed your mind at this point, you can easily just choose "Cancel this Order", which will bring up this:

That's it. You can't cancel your subscription directly from the Kindle, though, as you'll find if you select the newspaper or magazine again. It just says "Already Subscribed" but doesn't give you a cancel option. Oh well. Still, it's pretty darn easy!
Just learning how to use your Kindle? Then please check out my Kindle help throughout the site!