I just recently downloaded the game "Besieged" for my Apple iPhone but am stumped, unable to get past the last boss. Is there some trick or walkthru or something you can point me to, Dave?
[Besieged is a "Defend your castle" style game, in which you use your archers to fend off waves of skeletons attacking your gate. Since I don't know much about this game, I instead forwarded this question to my friend Gary Moskoff, a game industry veteran who knows the developer of Besieged to get his answer.]
Warning: This answer contains some spoilers!
I downloaded Besieged from the App Store over the weekend, and played it for about an hour. The game is really beautiful, has fun music, and was a blast to play.
The boss fight happens 12 levels into the game. It's fairly easy to fight your way to level 12 after a few games. However, the Boss fight against a giant Minotaur is a challenge. I contacted my friends over at Squiddle Games to get the low-down on how to beat the game.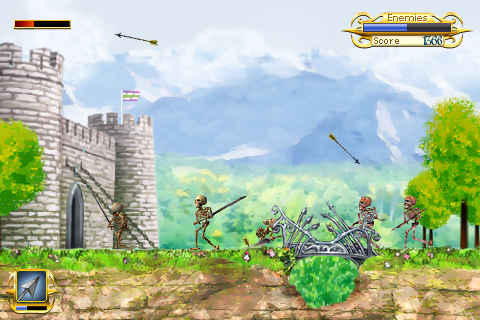 First off, it's important to note that you keep your Special Upgrades (Fire Arrows and Volley of Arrows) between games, so that's money well spent. At level 12, when I finally beat the Boss, I had the following upgrades:
Fortifications – 4, Archers Tower – 1, Recruit Archer – 5,
Rate of Fire – 2, Damage – 4, Knockback – 2,
Volley of Arrows – 3, Fire Arrows – 3
The boss is a giant minotaur. He's big and mean, and the screen shakes to indicate he's entered the battlefield, as he lumbers at your castle wall. The first few times you get there you will probably have a rough go of it, but he is beatable if you stay calm, focused and have a basic strategy. As soon as he appears, I ignored all the other units and peppered him with arrows until he turns around. I believe arrows to the head do more damage than body shots, but I'm not sure about that. Knockback definitely helps here, so if you didn't buy it earlier get some levels in it for this last level. When the Minotaur turns around, take care of any regular units that are attacking. I found that a Volley of Arrows is very effective on any troops sitting at your gate, because you can't really miss.
The boss will turn back around when he hits the right edge of the screen and attack again. Repeat the same basic process so he will fend him off, until the third or fourth time he won't turn around but just keeps coming. This is when you need to kill him. I used a mix of Fire Arrows in a big pile on the ground, and the basic arrow attack which knocks him back just enough to keep him in the fire. He will die in a few seconds and then you can return to cleaning up any other units that were left behind.
This game was a lot of fun and I can't wait to see the next chapter. My buddies at Squiddle told me they are building it now, along with social features like leaderboards, chat, and an achievements system. They will be releasing PC and Mac demos to the Squiddle website, and are scouring the forums looking for user suggestions as well! Check it out for yourself and let them know what you think…
---
Thanks to Gary Moskoff, President,
Sleeping Giant Software
, for his help with this answer.