I noticed your have a meetup.com group of your own, Dave, so I thought I'd ask you: I want to ask a few companies to be sponsors of my meetup group and am curious how to add a sponsor within meetup.com so that everyone who visits the group page sees their logo and can click through to their site? I have seen it on other meetup.com group pages.
Meetup.com is one of the less heralded resources on the Internet but in my book it's amazing and it's certainly accounted for many of my professional and social groups. Indeed, depending on how varied your interests, there are probably groups meeting in your area every single day of the week as there are here in Colorado, where we're based.
In fact, according to their own stats, there are 13.7 million members of meetup in 128,245 groups representing 196 countries. This accounts for over 400,000 meetups on a typical month, over 1,000 on a typical day. That's a lot of meeting up!
I'm a member of 27 different meetups, including being co-host of the Front Range Bloggers Meetup with over 400 members. Which is handy, because for this tutorial, I'll show you how I added Kathe Perez as a sponsor…
The first step is to log in to your meetup.com account, then go to the home page of your group. On the lower left should be a box "Sponsors" that, for you, is probably empty. Since I list myself as a sponsor of our group, our page starts out with a single sponsor box: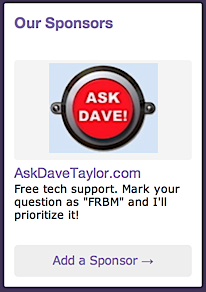 Notice at the bottom that there's a link to "Add a Sponsor", but don't do that, because there's a more powerful choice here that's worth knowing about.
Not seeing a sponsor box at all? You might have set the group to not accept sponsors or perks, something you'll need to change in the "group settings" menu off "group tools" on the top right.
Instead of clicking on "Add a Sponsor", move the cursor to the top right of this box, just to the right of "Our Sponsors" and, just like in Facebook, a little widget shows up that, if you click it, reveals a pop-up menu:
Handy to know about, I'd say! Now choose "Add Sponsors" from this menu and you'll go onto a page with a lot of different fields to fill out, starting with: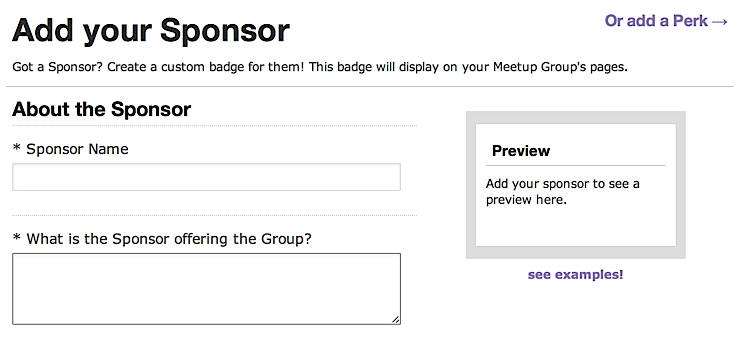 It's not super clear, but these two fields up top are what shows up on the actual meetup group page. So the sponsor name doesn't have to be, say, the domain name of the company or a company name including "Corp" or "LLC" or similar. Something friendly works well.
Fill those two in and keep scrolling down, there's more to enter: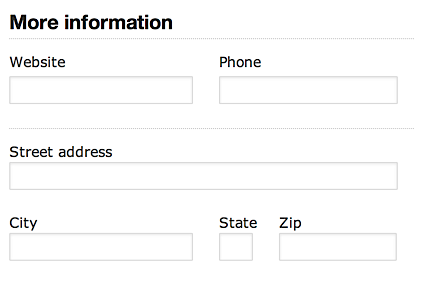 From experimentation, your sponsor can supply as much or as little fo this information as desired. If they have a business address (like a restaurant or store) then it's smart to include that here, but the critical one is Website. Make sure you spell that URL correctly!
Scroll down just a bit more and there's one more thing, something important: the sponsor graphic: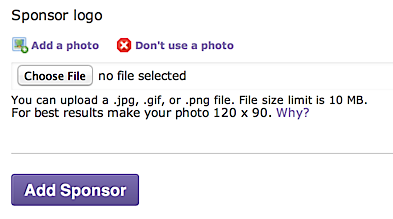 As you can see, these graphic sponsor ads are pretty darn small. In fact, whatever size image you choose, it's going to be squished down to 120×90, which is about the size of your fingernail. Best to have the sponsor create this graphic because of the size constraints.
Got everything specified, no typos, URL spelled correctly and the right version of the sponsor graphic chosen? Click "Add Sponsor" and it's done.
Meetup.com gives you an interesting option at this point: if you'd like, you can choose to announce the new sponsor to the group: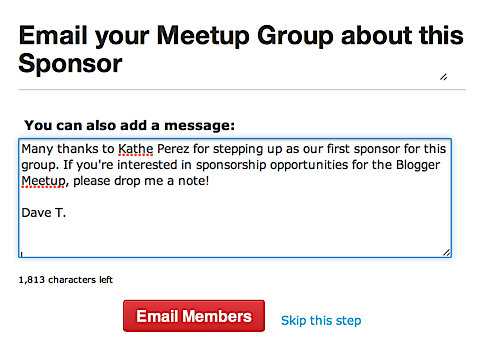 As you can see, I was happy to announce Kathe Perez as a sponsor from our recent sponsorship drive. If you'd rather not email everyone, however, you can click "Skip this step."
Finally, the sponsor advertisement is up and online, and it looks good: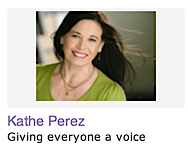 That should get you going with sponsorships to your own meetup group. Good luck.
And if you are in the greater Colorado area, I encourage you to check out the Front Range Bloggers Meetup. We meet monthly and it's always informative and entertaining!