Dave, I've read lots of news about how iTunes now supports podcasts directly, but even now that I've downloaded the latest version of iTunes, I can't see how to browse podcasts and subscribe. Help?
This is a delightfully timely question because the iTunes support for podcasts only arrived today, so everyone seeking to enjoy this slick new feature of the best MP3 client available (and, yes, for both Mac and Windows) needs to download the very latest version of the iTunes application, version 4.9.
Once you have this latest version running, to get to the podcast features you'll need to go to the iTunes Music Store. Once you've logged in, you'll find that there's a new store, 'podcasts', in the "Chose Store" column. Click on it, and you'll get here:

Nicely integrated, but we're not quite there yet. At this point, if you're not drawn by the top-ten list or one of the fancy graphical spots, you can browse through a fairly large collection of podcasts by scrolling down to "Categories" on the left side, then click on whatever of the many categories listed. Among those categories are Business, Comedy, Education, Family, Food, Health, Talk Radio and Technology. Don't click on those, though, click on
Audio Blogs
instead, and now you'll be in the less glamorous information browsing view: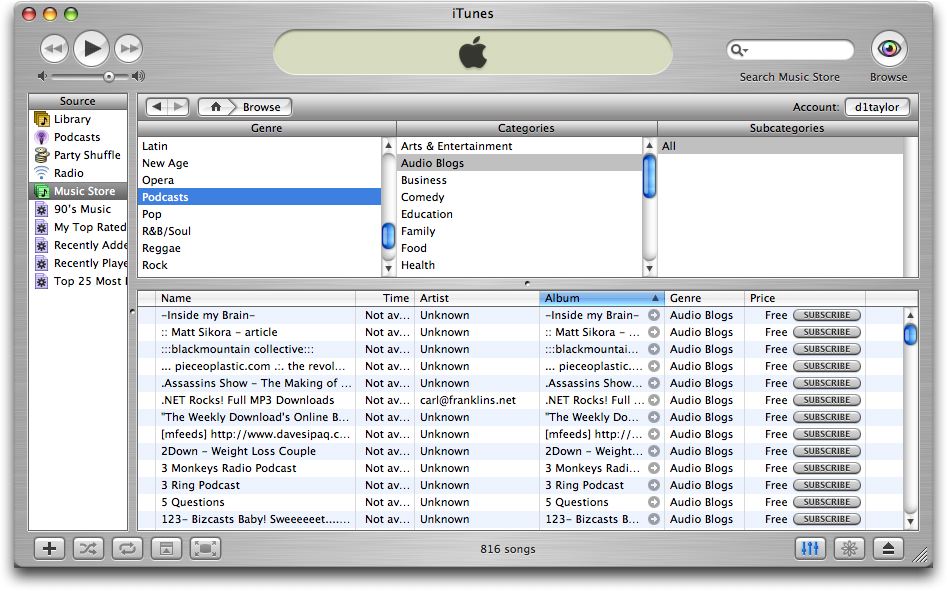 You can see that from here, it's phenomenally easy to find whatever you might seek (816 are listed today, with, I'm sure, thousands coming soon). Once you have found a podcast or two that sound cool, just click on the little "subscribe" button.
Me? I subscribed to "Your Mac Life" since it's done by a colleague of mine and is a darn good place to keep up on the world of the Macintosh and the cult too.
When you subscribe to a podcast, you'll need to confirm your subscription, a typically nice Apple touch:
Click "subscribe" and a new category shows up in your iTunes application called, logically enough, "podcasts". Click on that and you'll be able to see all your subscribed podcasts in a neat view. Click on the "update" button on the top right and you can download the very latest podcasts from each that you've subscribed.
Before you go too much further, click on the "Settings…" button and check the preferences to ensure it's as you want:
There's more you can explore, including finding the good podcasts from the vast sea of boring drivel, but that's another story entirely.
There's no question, however, that the inclusion of podcasts into the iTunes program is a significant step on its adoption by the general masses.