I was reading the questions asked about the Sony PSP and i saw a lot of questions about firmware or something and that it has different kinds of number like 1.50 and 2 or greater ! Now my questions are what is firmware and what does it do and how do i know wich one is my sony psp?
This is a common question, actually, and you're spot on when you call it "firmware". The firmware on the Sony Playstation Portable (PSP) is basically the same thing as the operating system on your computer. If you're running a PC, for example, you might have Windows 98 or Windows XP, but even with a given operating system, you might have Windows XP or Windows XP SP2 (SP = System Patch). Macs are the same way, with MacOS 9 for old timers versus Mac OS X, but Mac OS X is broken down into lots of different versions, 10.2.x, 10.3.x and the latest as of this writing, 10.4.6.
The firmware on the Sony PSP is what you're using when you move from looking at pictures to listening to your favorite MP3 song, watching a movie or playing a game. The game specifics itself are controlled by the given game's software, of course, but that's exactly like playing Halo 2 on your Windows box: Windows controls the basic functionality of the computer, but Halo 2 is actually what's putting all those slick game graphics on the screen, pushing out the audio, and so on.
The Sony PSP has gone through quite a number of different firmware versions since its initial release, actually, with the original units running 1.1, then Sony releasing 1.5, 2.0, 2.5 and now, 2.6 as the latest firmware release. But how do you know what version you're running?
To figure out what version of Sony PSP firmware you have on your PSP, push the little "home" button so you can get to the top level navigation where you can move between functional areas, then use the left arrow to move all the way to Settings, then use the up and down arrows as appropriate to find System Settings: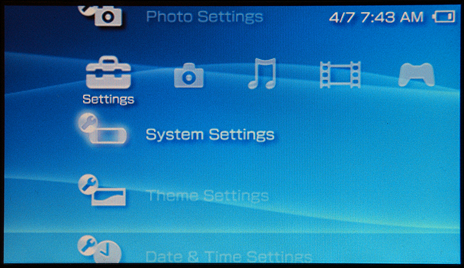 Push the "X" button to select System Settings and you'll get to
System Information
: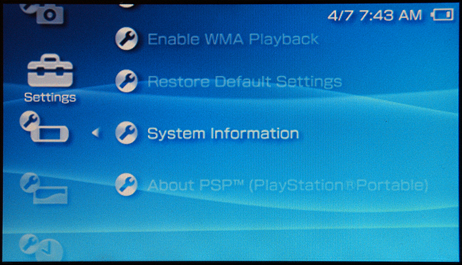 Finally, push the "X" button one more time and you'll find out what version of the firmware you have on your PSP: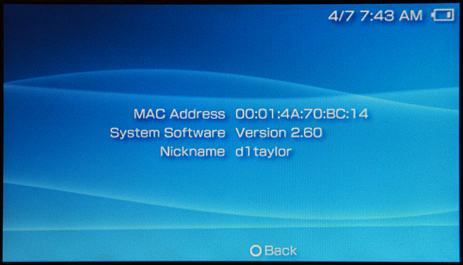 As you can see, I'm running Version 2.60.
The MAC Address on this display, by the way, is the unique identifier that the PSP uses when communicating with Internet devices, it's basically the address of the network interface device.
That should help you ascertain what version of the firmware you have.
Here are some useful articles if you want to either upgrade or downgrade:
•
Upgrade your PSP firmware via a wireless connection
•
Download the PSP firmware upgrade and copy it to the PSP
•
Should I downgrade my PSP firmware?
Hope those all help you out!