I'm really appreciating your series of articles on the LinkedIn system, and am now ready to start inviting some of my colleagues now that I have my profile set up and such. Can you tell me how to do that, and perhaps also share some best practices for inviting others to join?
Thanks for the kudos! As I have said before, LinkedIn is a powerful tool for both searching for jobs and general professional networking, but like any tool, the more you put into it, the more you'll get out of it. That's one reason I encourage people to spend at least a half-hour creating an accurate and engaging personal profile on the system before you start inviting others to join. You can read more on this topic at: Get started with LinkedIn.
To invite someone to join your professional network on LinkedIn, you'll already need to know their email address (which is a good thing: it prevents widespread spamming of invitations). Log in to the site and on the top right corner of the page you'll see:


Click on that and you'll reach the Send Invite page. Don't fly through the content of this page, however, as it's critical that you spend some time tailoring your invitation to each recipient rather than using the generic choices.
First off, you'll surely know the first name, last name and email addresses of your colleagues, so that's easy:

Do not click on "send invitations" when you've filled in this area!
So, um, don't click on the "send invitations" link because you need to move further down the page and
write
an invitation, rather than just use the generic invite.
Here's what you'll see lower down on the page: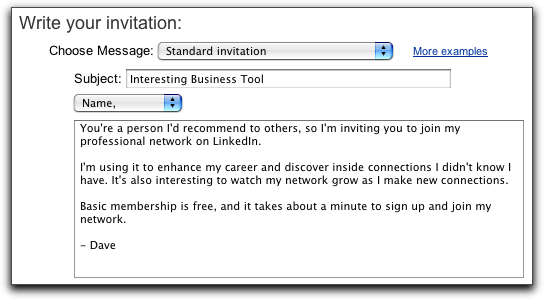 While the generic invitation isn't terrible, it also isn't likely to produce the effect you seek, nor are any of the other example invitations that you can use. Why? Because it's not
from you
, it doesn't reflect who you are, doesn't remind people how you're connected, doesn't help motivate them to take the desired action. Consider this invitation I got today: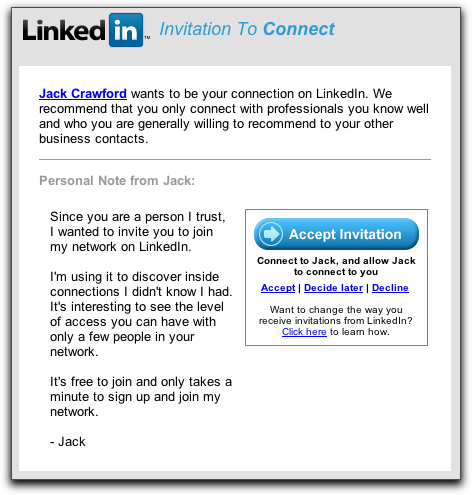 Here's a secret: I have no idea who "Jack Crawford" is, and while we might have some common link, have met at a professional event, or even sat four chairs apart at a meeting, since he's used the generic invite, I have no memory jog, no clue who he is, and am disinclined to assent to our connecting. Now maybe when I click on "Accept Invitation" and see his profile, I'll remember, but I hope you can see how using the generic invitation isn't very effective.
Instead, write your own invitation, and I strongly encourage you to write a slightly different one to each recipient. They can be 95% the same, but if Jack would have sent an invitation like:
"Dave, we met last week after your keynote speech at the Denver University Alumni dinner and I wanted to formalize our connection here on LinkedIn."
That's a much better invitation, isn't it? Then you can use some basic social graces (fake it if you don't have any innate social graces 🙂 and add something like:
"And if there's anything I can do to help you out or otherwise assist, please don't hesitate to contact me at any time."
In very much the same way, the default subject of "Interesting Business Tool" is ghastly. I suggest, again, referring directly to how you know the other party. A subject like "followup to our dodgeball game last night" or "Since we both like Chianti" or something else that's fun, interesting and likely to get the recipient to click on the message and read your invitation.
Once you've sent your invitations, you'll get a subtle confirmation on the top of the subsequent page:

Done. Nice!
Now, if you want to check on the status of your invitations, click on the
Sent Invitations
subtab under
My Contacts
:

You'll see:

As you can see, I've only sent one invitation that's still pending, a test invite to my own AOL account (it's not actually that I'm so lonely that I invite myself to join my own LinkedIn network. That's just too weird to think about!)
Anyway, that should definitely get you going with the best practices around inviting other people to join your LinkedIn Network.
Additional useful reading:
  •  
Getting Started with LinkedIn
  •  
Find a job with LinkedIn
  •  
LinkedIn: Request to Forward?
  •  
Make your LInkedIn Profile Public
  •  
LinkedIn Etiquette