I have a spreadsheet of names, addresses, email and phone numbers and would like to invite all of them to join LinkedIn and link to me. Can you tell me how to do this as I haven't been able to figure it out? Thanks, Dave!
Do you want the good news or the bad news first? The good news is that you can do this, sort of, but the bad news is that after testing various data formats, I have concluded that there's still a bit of manual data entry required.
The first step is the easiest: go into Excel or whatever spreadsheet you're using, select the records you want to export, then choose File –> Save As… and specify the data format CSV (Windows) rather than the default spreadsheet XLS format. Now you should have a data file that contains those records in a file with the suffix "csv".
Time to flip to LinkedIn and start the process of importing the new data file. To do this, click on the "Add Connections" button on the top right of the main window, then look for the "Import Contacts" box on the subsequent page:


Click on the link thereon and you'll be brought to the contact import page: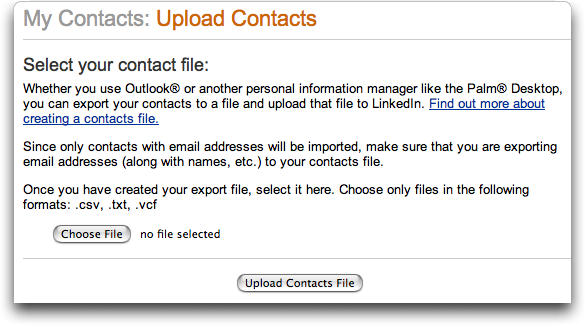 You'll want to click on "Choose File" to select the CSV data file you just created in Excel, then click on "Upload Contacts File".

Tip: If you have a contact manager, by the way, click on "Find out more about creating a contacts file" where there are helpful tips on exporting data from various contact management systems, both Mac and Windows. It works a lot better than using Excel.

In a second or three, your data file will be uploaded and LinkedIn will parse it and hopefully show you names and addresses, but my experimentation only ever got it to recognize email addresses: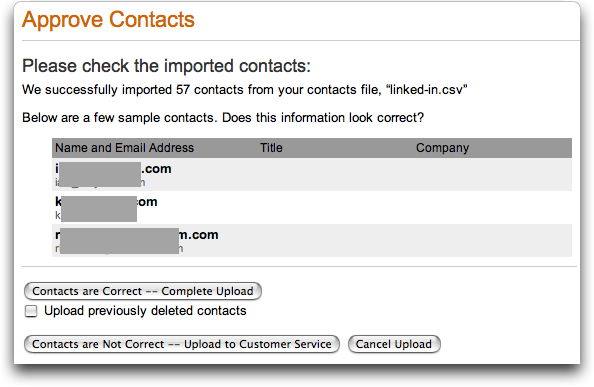 Assuming it's good enough for you to progress (and who knows, maybe you'll have better luck and it'll automatically pick up the name too!) click on "Contacts are Correct — Complete Upload" and LinkedIn will then instantly check to see which of the uploaded contacts are already part of the LinkedIn network: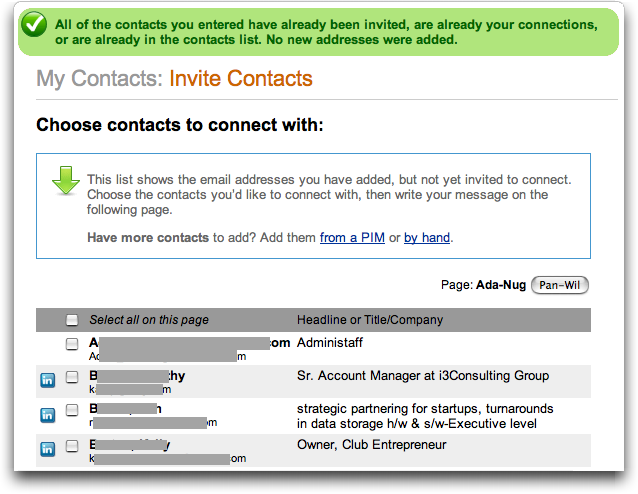 You can see that each email address in my list already represents someone hooked into LinkedIn both by the informative message in green and by the fact that each had their "headline" or title/company filled in on the lower list. (in some of these screenshots, needless to say, I've added the grey bar to protect my colleague's privacy).
Select those contacts you actually want to invite or click on the "Select all on this page" option in the grey column title row as a shortcut, then click on "Invite" to proceed. If you have more than one page of contacts, step through all the pages until you have your entire set of contacts selected.
Now you'll have a chance to fill in any missing data: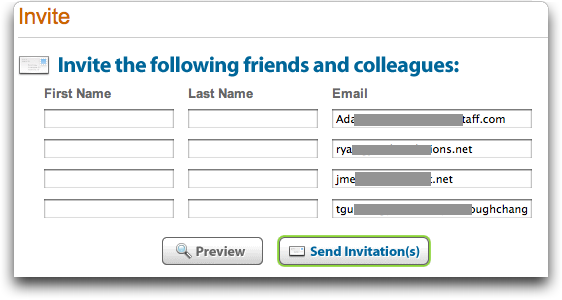 Don't click on "Send Invitations" yet, though! You'll also want to scroll down to the invitation box itself and
write a custom invitation
so that these folk will know who you are, why you're inviting them to join LinkedIn and why it's advantageous for them to link to you.
This is a critical step that many people miss with LinkedIn, and it makes a world of difference in your success rate working with LinkedIn. I look at it this way: if you can't even spend the 90 seconds adding something that shows you know who I am and really want to connect to
me
then I'm darn unlikely to approve our link.
Anyway, create a custom invite, then click on "Send Invitations" and you'll get some useful feedback like:



That's all there is to it. Now sit back and wait for them to approve your connection and you'll be in building your network LinkedIn style!
Also, if you're new to LinkedIn, you'll find that I have an extensive set of tutorials on how to work with the site. Please see:

LinkedIn Help

And if you'd like to consider linking to me, please see my
public LinkedIn profile
.