I just installed the latest version of America Online (AOL) software and man, I'm steamed! All of a sudden AOL's taken over my entire Windows taskbar! How the heck do I get rid of the $#@$@# thing?
I know what you mean about AOL software. In general, I find that Windows applications are much more presumptuous than Mac applications and AOL's about the worst offender, adding its own stuff to the Start bar, to the Quicklinks, to the Taskbar and more. Then it's darn tricky to figure out how to get rid of it all and have your computer work as desired.
I presume you're talking about this when you talk about having AOL Search take over your taskbar:



Logically, you'd think that right clicking on the AOL Search area or clicking on the triangle adjacent to the "Go" button would reveal some preferences: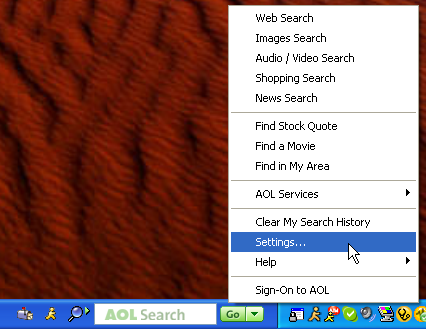 It does offer a Settings option, but when you choose that, you end up with the completely useless: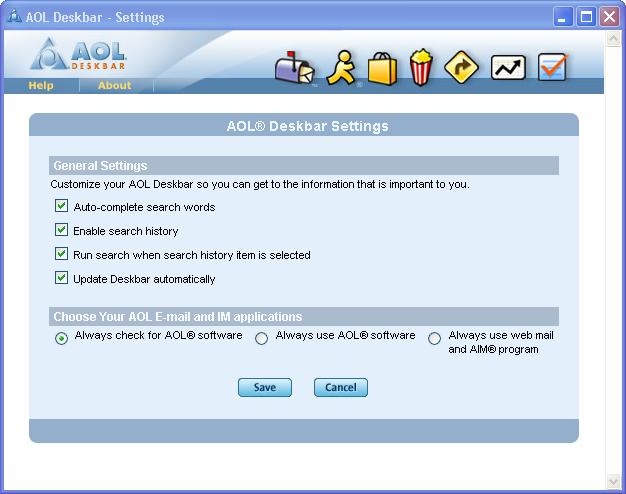 Interesting how none of them are "'turn off this $#@$ feature"!
It turns out that it's actually easy to turn off the AOL Search area once you realize that Windows thinks of it as
another toolbar
. Just right-click anywhere that the taskbar itself is empty and you'll see "Toolbars": simply disable the "AOL Deskbar" and it all vanishes: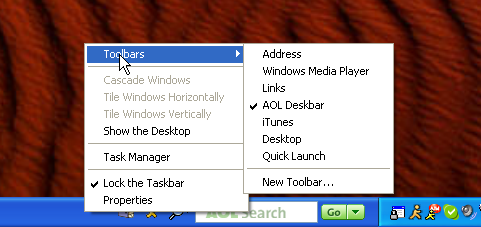 So it turns out to be pretty easy to do, once you figure everything out.
Hope that helps you recover some of your precious taskbar real estate!