Instagram. I'm a big fan but am a bit confused when someone tells me that they're, say, @johndoe on the service. Given an Instaname (I think that's what they call it) how do I actually follow that person in Instagram?
Like so many apps, once you know the basics it's pretty easy to get around with core functionality, but one thing that Instagram doesn't make super easy is the process of finding and following someone. You can search by name, by "instaname" (user ID) and you can also find someone by searching for a specific keyword (hashtag) but in just about all cases, it's a bit less obvious than it could be.
I was facing the same situation when a Google Plus colleague invited me to follow him on Instagram, saying "I'm turtleqiu. just search for me." But search where?
Turns out that all the main functionality of Instagram is accessed by the buttons along the bottom of the app and they've made a bit of a mistake with the user interface design because the camera button is always a slightly different color, which confuses people into thinking it's the current selection when it isn't.
Wait, let me show you. First off, launch Instagram and tap on the "star" icon, the button immediately adjacent to the "house" along the bottom. You'll end up the "explore" area:

Now just start typing in the user's Instagram ID. If you're following along at home, try searching for me:
d1taylor
so you can follow my fun pics…
I'll proceed with Turtle, however…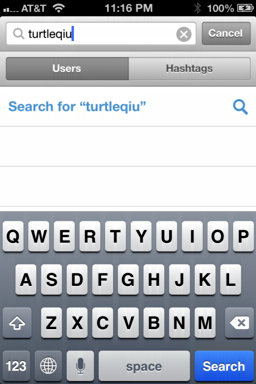 Once you've entered the entire instaname, tap on the "Search for" link, and…
There he is (or, if you're looking for me, there I am!).
Tap on the username to see their profile and the most recent half-dozen photos posted: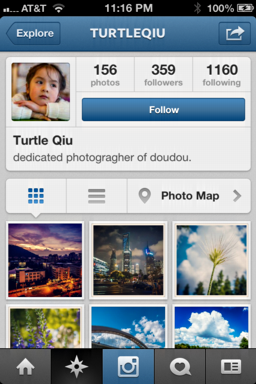 To follow, tap on the big blue "Follow" button. Once you do, it'll turn green:
That's all there is to it. Now when someone tells you to "follow me on Instagram, I'm @d1taylor" you'll know exactly what to do!