I've been just getting up to speed with LinkedIn as a professional networking tool and am trying to figure out whether I can use a shortened URL in my email signature that would take people to my LinkedIn Profile page. Is that possible? If so, how do I figure out the page address?
While LinkedIn is a good tool for networking, like any other utility, it has some weaknesses along with its many strengths. One of these weaknesses is that it doesn't offer you a straightforward way of figuring out what you're asking about, a simple and succinct way to send people to your own LinkedIn Profile.
Fortunately, there is a solution if you're willing to do a bit of URL detective work. Here's what you need to do:
First, log in to LinkedIn and click on the My Profile tab. You'll see this on the top left: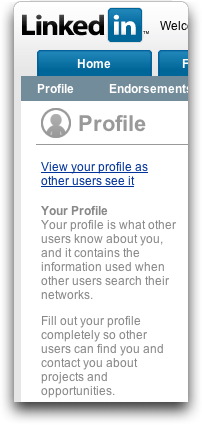 Click on the "View your profile as others see it" link and make sure that your profile looks good, reflects your current professional situation and experience, etc. Ready for the rest of the world to see it? Good.
Look at the URL address in your Web browser (if you need to, use View –> Address Bar or similar to ensure you can see the URL in your browser) and you will see something like:
https://www.linkedin.com/profile?viewProfile=&key=11147
The critical element here is the key, which is a unique numeric identifier for your account on LinkedIn. Mine, as you can see, is 11147.
Now, a little bit of URL construction. The standard LinkedIn external profile address is
https://www.linkedin.com/e/fpf/
to which you simply need append your key. That's now your official, short, LinkedIn Profile address that you can add to your email signature, highlight on your Web site, or even include on your business card if you'd like.
Mine, for example, is:
https://www.linkedin.com/e/fpf/11147
Not too hard after all, you just need a bit of insider information!
Thanks to Richard Upton for his informative
article
on this subject!