I feel like a loser asking u this but its driving me crazy.. i have just opened up a MySpace group for the local club in my area and i cant work out how u can show ur members on the home page.. all i have is a blank box and then a link to "view more members…" if u could help it would mean the world to me.. thank you
No reason to feel like a loser asking a question, and, frankly, anything to do with MySpace is always partially affected by the reality that the MySpace system itself is held together by bailing wire and bubblegum, so as you'll see, one possible answer to this question is "because something's busted on their end."
Nonetheless, the main tweak you can make to affect whether your group members show up on the group profile page in MySpace is the "Hidden Group" setting.
First things first, however. Click on "Groups" on the menu bar, then click on the link for "My Groups" on the left side. Now you can click into your group as moderator and you'll see a ton of different configuration options (this image is from creating a group, but you can safely ignore that. When you edit your group you'll see it's all exactly the same):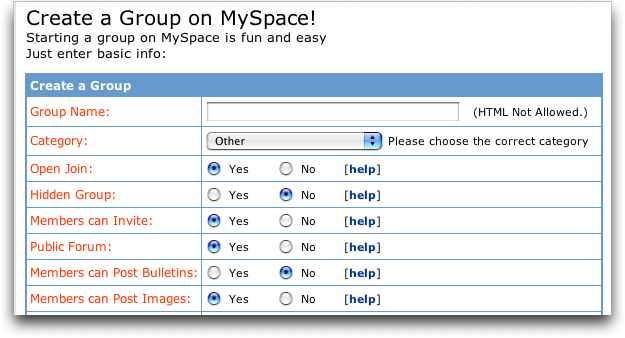 You can see the field I'm talking about in that pic. Click on the "Help" next to the Hidden Group setting and all is explained: "Choose "Yes" if you want your group closed to public viewing. Your members must be invited before they can see your group. Choose "No" if you want your group open to public viewing."
Change that setting to "No" and you should be good to go.
If not, well, then maybe you have a number of members who no longer have MySpace accounts, so it's messing up their display code? Try purging your list of members who aren't part of MySpace any more. Or, maybe it's just that something's gone wonky on the MySpace end, in which case you might just have to live with it as their tech support team seems to be permanently out to lunch.
In any case, I hope that helps you out with this problem!