I'm enjoying my new Kindle Fire, even if some of the industry pundits are saying it's a fail when compared to the iPad. I don't care, I'm a Kindle fan. Anyway, I'm wondering if you can offer up some tips on how to copy photos to my Fire so I can share them with my friends?
Thanks for your interesting question. Turns out I'm with you regarding these so-called industry pundits, and actually wrote an editorial for the Huffington Post entitled Does the Kindle Fire Really Suck? I Think Not. that you might find interesting reading. In a nutshell, it's not perfect, and it's not an iPad. But it's also 1/3 the price.
Having said that, you do realize that your Fire only has about 5GB of space for all of your content, correct? If you're reading a book or two, no worries, they're not big, but if you want to drop a few movies, a dozen of your favorite CDs and a few hundred photos from your latest vacation in Cabo, well, it can get a bit tight.
Still, space management is a challenge on all devices, so that's nothing unique to the Fire, is it?
To add photos to your Fire, simply plug the device into your USB port with a microUSB adapter. It'll show up an an external drive: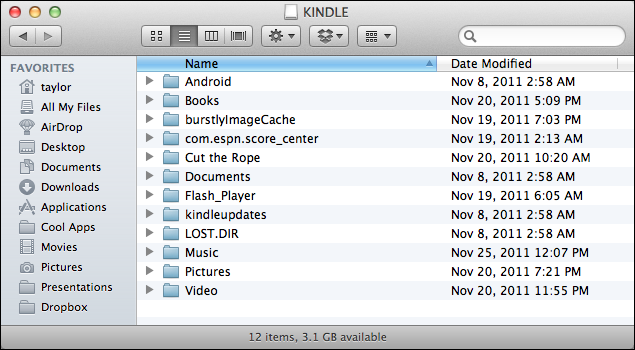 Open the "Pictures" folder and you can simply drag and drop the photos you want…
You can see that I already have quite a few photos on my own Fire. I'll add another one by simply dragging and dropping it from my computer into this folder (as you can see, the image "logo33.png").
Keep an eye on the very bottom of the screen to see how you're doing with disk space:

That's it. When you're done, simply eject the Fire and the photos are ready to view.
If You Have a Windows PC
If you're running Windows instead of a Mac, the process is identical, the screen shots just look slightly different. The only difference, now that I think about it, is that it's not quite as easy in Windows to see the available disk space. To do that, select the device, then examine the "Properties" to see how much space you still have.
Meanwhile, back on the Kindle…
So the photos are there. How the heck do you find them?
Good question!
To view the photos, you need to use the Gallery application. Easiest way to find it is to get to your home screen on the Fire…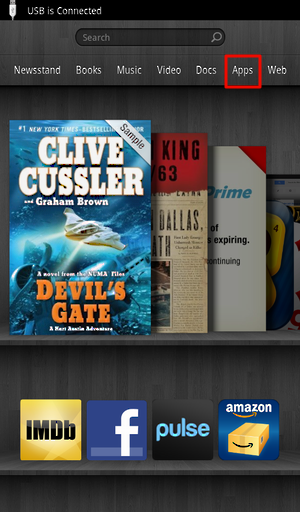 Tap on "Apps" on the top right, and you'll see a display of all the applications you've installed on the Kindle Fire, as well as the core system applications: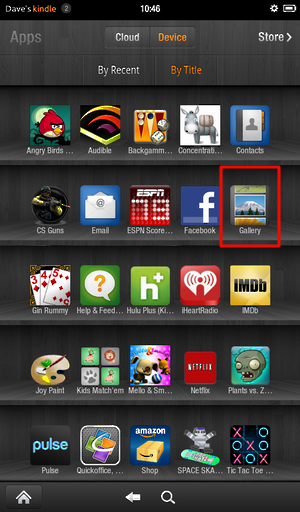 You seek the "Gallery" app, as highlighted above. Tap it to start it, and…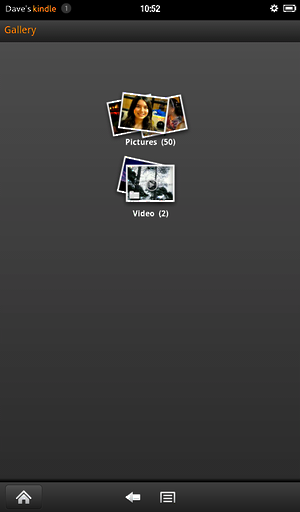 If you don't see thumbnail images, no worries, just give it a second to catch up. Eventually, though, you'll see "Pictures" and "Video". Tap on the pile of photos to move into the photo viewer.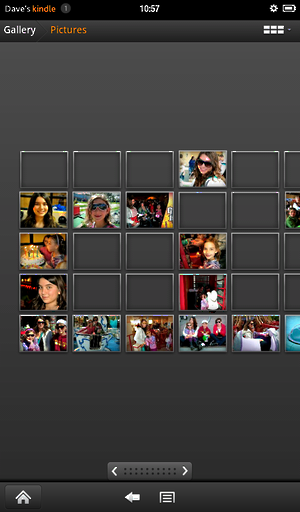 Now here's a typical Kindle Fire hiccup, one that I suspect will be fixed the next time they have a system update. Where are all the thumbnails? They used to be present but now some of them are just empty black squares. Kind of lame, honestly.
Whether you have thumbnails or not, you can slide your finger left to right and move through the images, they're organized by date, oldest on the left, newest on the right.
Once you find an image you like, tap on it (or even just tap on one of the blank squares) and you'll be able to view it in either orientation, depending on what's better for the image itself.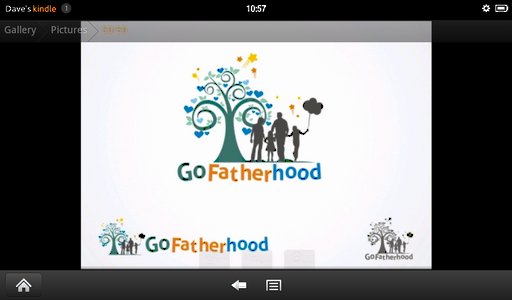 Here you can see that I'm viewing the logo in a horizontal orientation and that some of the Fire navigation is still present too, including the home button and the back arrow on the bottom. Wait a second and they'll vanish so you can just view the photo.
To move between photos, just swipe left or right. Easy.
Enjoy!