Thanks for your earlier tutorial on how to upload images to Pinterest [ see: tutorial on how to upload Pinterest pictures or photos ] but I'm confused because some of my friends seem to be able to add photos and images to their Pinterest boards that actually click through to their sites, but I can't find the "link to" information when I'm uploading. What's the secret?
I was also baffled when I started using Pinterest and realized I could add my own images or photos, but couldn't figure out how to have them "clickable" to help people find my site or a specific article I'd written that related to the image. If I added a URL to the comment, it'd become clickable, but that wouldn't make the image itself clickable. What the deuce?
Then I stumbled across the "Pin It" button — the "pinmarklet" — which you can find here: Pinterest Goodies. Knowing that exists, the secret to having an image point to a Web page is that you have to be on the Web page that contains the image you want to pin and click on the little Pin It button that you've previously installed on your browser toolbar.
In Chrome, I always have the bookmarks bar displayed, so it's easy to literally drag the "Pin It" button from the Pinterest page onto the bar. Now, with that installed simply go to a page you'd like — you can try this one if you want — and click on the button.
All interesting images on the page will now be displayed in a grid:

I'm going to link to a different article on Pinterest I wrote here on my blog, so I find that particular image and move the cursor over it:
As you can see, the overlay "Pin This" shows up automatically. That's the right one, so I'll click it to pin it.
The result: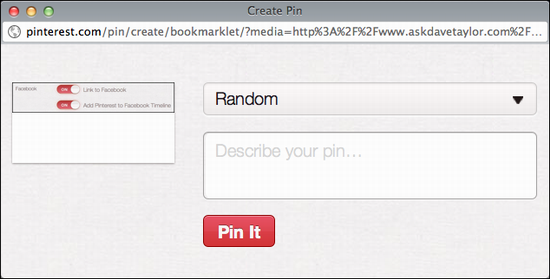 As you can see, it's a pretty standard Pinterest "add an image" window. At this point you can specify what board you want (I have "Random" shown here) and add a description as appropriate. Here's what I wrote: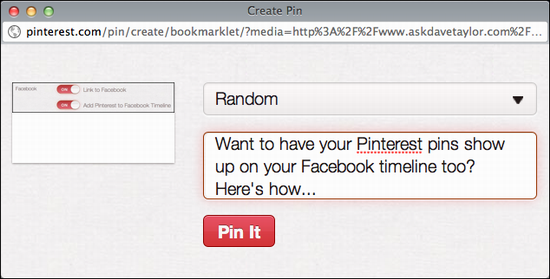 Click on "Pin It" and, if it works….

Success! Want to now share it on Twitter? Click on "Tweet your Pin". If you're good, just close the window and get back to work.
Or, if you want, go to Pinterest and you'll see how it came out: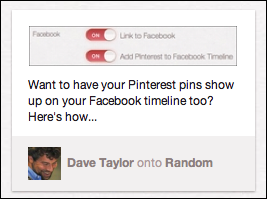 Click on it once and you won't actually go back to the other Web site, you'll get the bigger picture on Pinterest…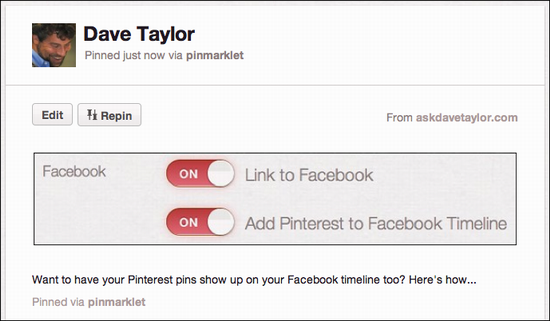 Now at this point if you click on the picture it'll go back to the other Web site you were viewing when you first clicked on the "Pin It" bookmark button. Oh, and you can see that by the comment on the top right: "From askdavetaylor.com".
Done.