I like to copy PDF documents from work onto my Kindle Paperwhite to read, rather than staring at a computer screen, and it works great. Except the document names are awful! Is there a way to rename PDF docs on the Kindle?
I know just what you mean, and this is one time when an additional Kindle feature would be great: Rename. Unfortunately, it's not included in the Kindle system and, to be fair, is a pretty atypical request from readers, I expect. Then again, a PDF document name that works well on a big screen computer isn't necessarily the same name that's going to work when you can only see the first 25 characters or so on your Kindle screen, particularly on the Home screen.
You can't rename PDF documents on your Kindle, but the key is the phrase on the Kindle. There's a workaround, particularly if you are using the email gateway that lets you email PDF documents to your Kindle so that they magically show up on your device. If you rename the document before you send it that's the name it will have once it appears on the Kindle. Seems obvious, but as a book reviewer, I often get oddly named book galleys or pre-publication review copies that use internal document names or even include my name in the title as a tracking mechanism. Let's have a closer look!
PDF DOCUMENTS WITH CRYPTIC NAMES ON KINDLE
I've just received two new books for review from Brandeis University Press and initially, I just sent them on to my Kindle Paperwhite. How? By sending the PDF docs as attachments in email with a destination address I obtained from the Kindle "device" page at Amazon.com. [I explain in detail how to identify your device's email address here: Read EPUB books on Kindle] They showed up like this: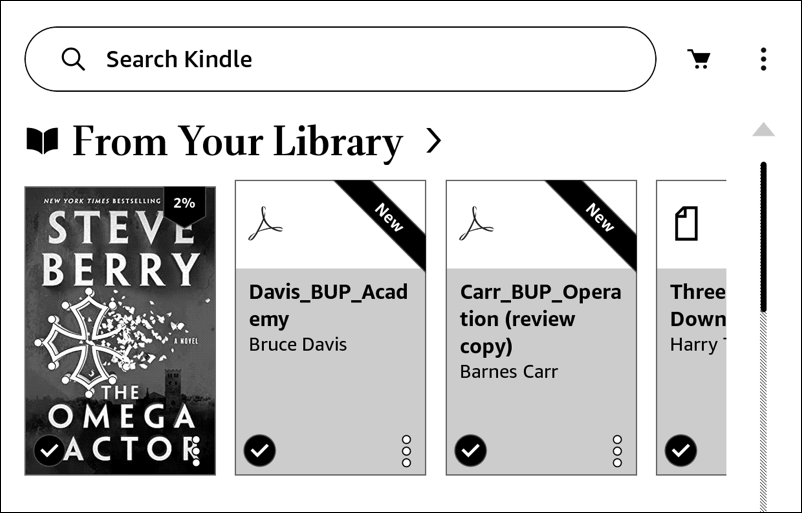 You can see the two docs: "Davis_BUP_Academy" and "Carr_BUP_Operation (review copy)", neither of which make it immediately obvious what they are. If your PDF docs from work start with document numbers, that would be even worse! Can you rename them on the Kindle? A tap on the "•••" icon on the lower right of the ebook shows that rename is not an option: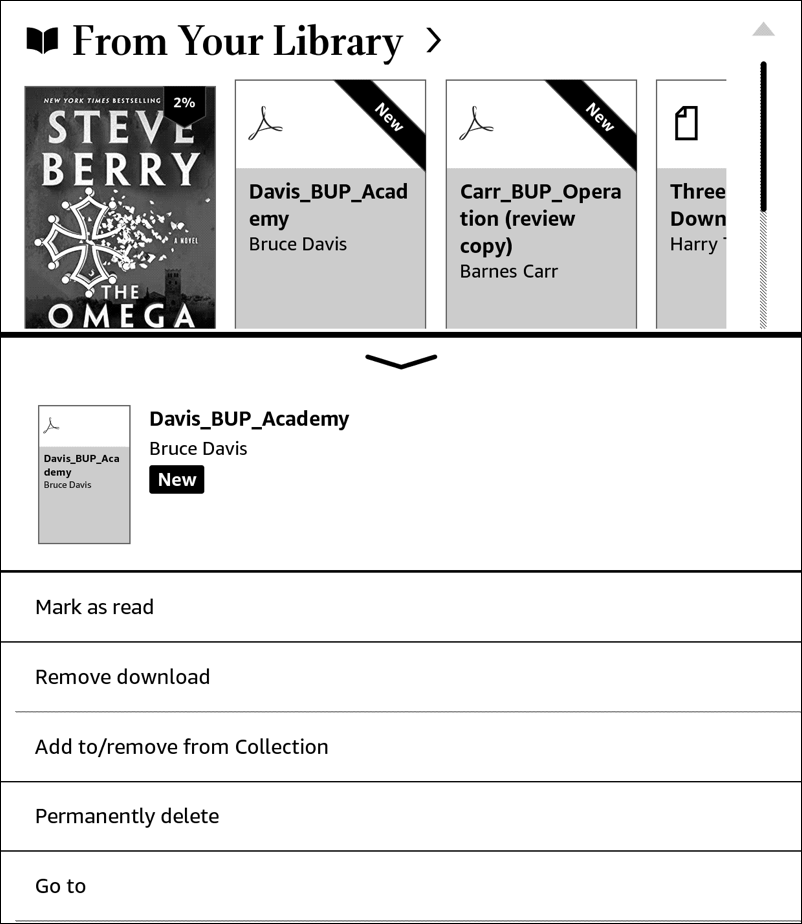 So what's the solution? Logging in to Amazon.com on a computer and going to the Kindle "content" area? Nope, no rename feature: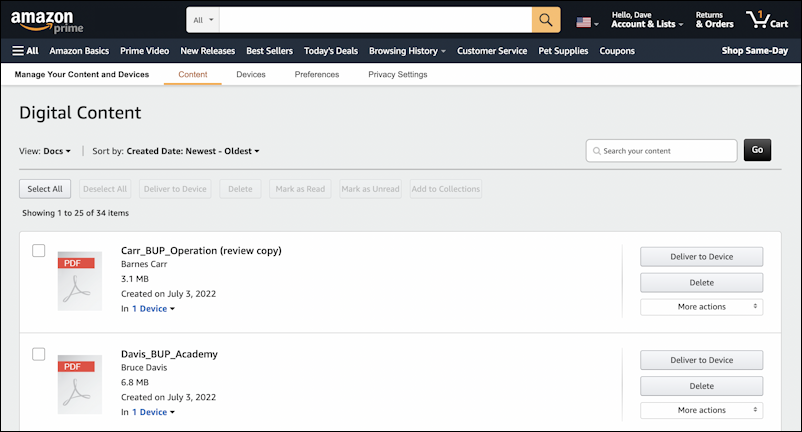 You can check "More actions" if you want, but rename is missing (though it seems like it would be easy to add as a feature)
So how to fix it?
HOW TO RENAME KINDLE PDF EBOOKS
The fix is easy, actually: Rename the PDF and send it to your Kindle again! Given this PDF name, it's certainly no surprise that the final ebook name on the Kindle is what it is: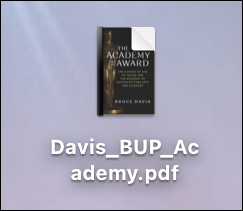 When I rename this to "The Academy and the Award.pdf" I can then email the newly renamed PDF up to my Kindle, just as I did with the original copy: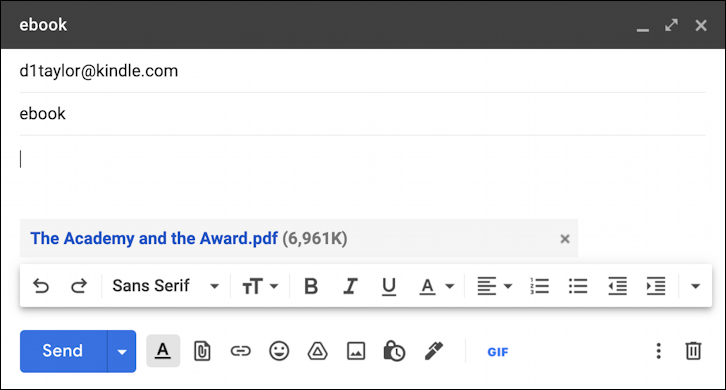 You can see that the attachment has the desired document name. A click on Send and a few minutes for the system to process it and send it down to the Kindle Paperwhite and…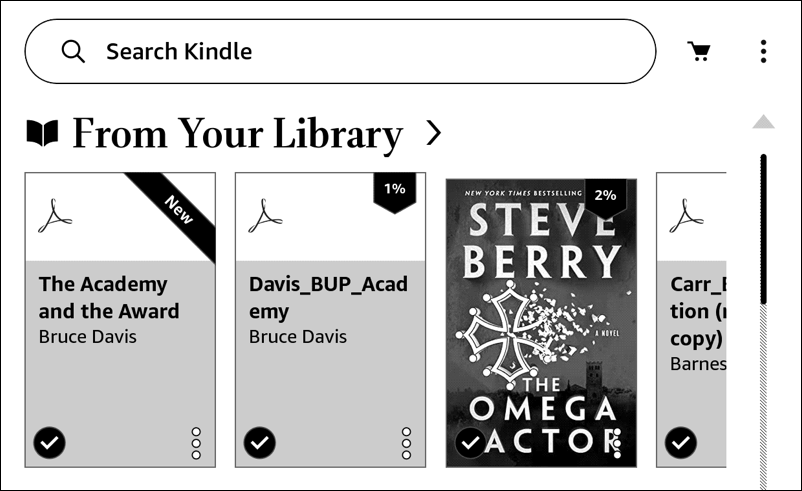 Old name, meet new name. Much better! I can do that with the second PDF ebook too, then delete the poorly named PDF docs from the Kindle entirely. That's one of the options from the "•••" menu on the individual ebook cover (as shown earlier). Choose "Permanently delete" and it'll prompt to confirm: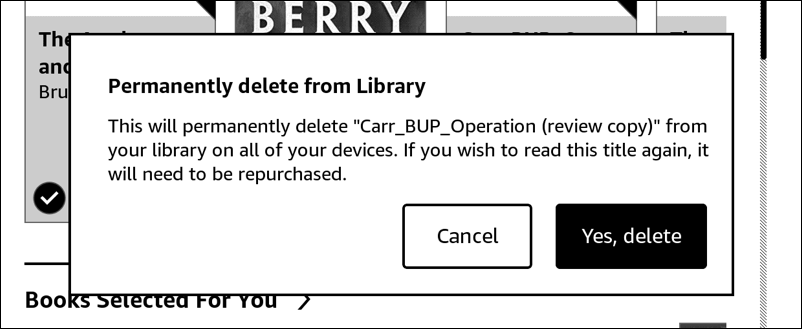 With a PDF or other ebook that you just emailed to your Kindle, it's no big deal to send it again if you change your mind, but be aware that if you "permanently delete" an ebook you bought from the Kindle store, you'll need to repurchase it. Be careful!
Once I've cleaned everything up, my Kindle home screen looks much better: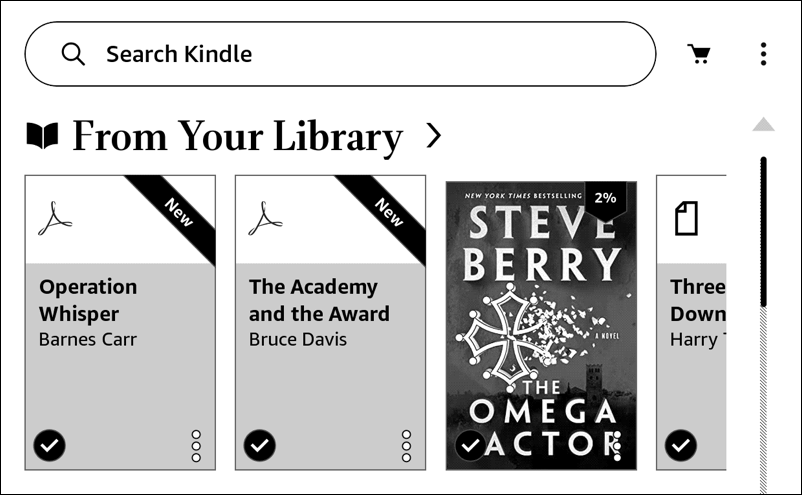 Mission accomplished. Now, if you're curious about these two books, they're both from Brandeis University Press, Operation Whisper by Barnes Carr, and The Academy and the Award by Bruce Davis. Reviews to come!
Pro Tip: I've had Kindle devices for many years and have written lots of Amazon Kindle Help tutorials here on my site. Please take a few minutes to check them out!