I'm completely baffled by the new Facebook interface but need to rename one of my Facebook groups. Is that even possible? How do I rename a Facebook group in 2020?
The new user interface for Facebook has thrown a lot of people for a loop, no question. In some ways it's really nice and a clean, modern new user experience, but there are also features that seem to be missing or have moved from what was previous "obvious" to a new place. The result is that there's a lot of kvetching and hunting to try and get everything accomplished. For a while you could opt back to the old "classic" interface, but that's gradually going away as all billion plus Facebook users are being pushed to the new user interface, like it or not. Might we see the rise of third party apps that offer different skins, different user experiences on your computer, some of which simulate the older UI? Maybe. Meanwhile, it's time to start learning the new Facebook.
I have been gradually warming to the new Facebook user interface too, having tried it when it first showed up as a possible beta test. At least it has all the features we want nowadays; when it first showed up you couldn't even tag your friends when writing status update posts. That was clumsy. In some areas, the Facebook engineers know that users aren't thrilled, and we'll see that group administration is one of those slower-to-transition areas. But let's start with my shortcuts, so you can see the FB group that I am going to rename: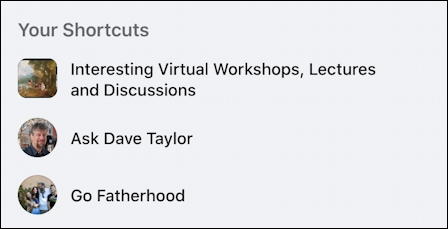 Yes, when I created it, I thought "Interesting Virtual Workshops, Lectures and Discussions" was a good name because it was so descriptive. Now I think it's probably a bit wordy, all in all. To rename a group, you need to jump into the group area with a click.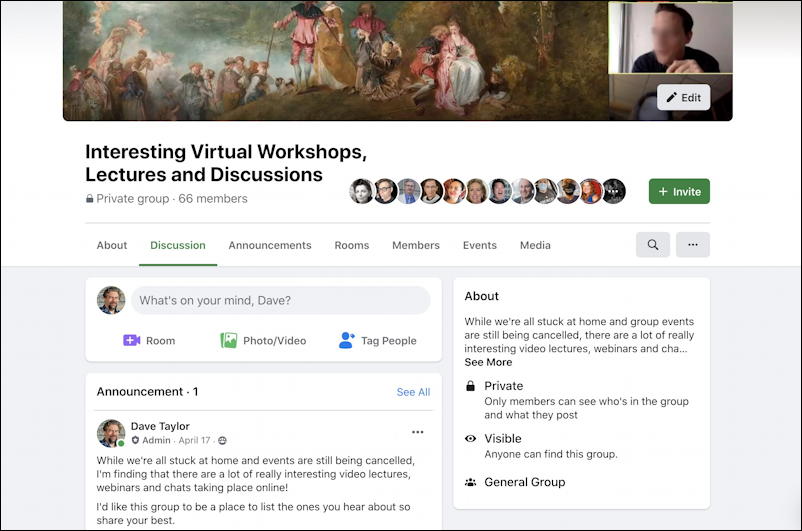 If you were used to the old interface, you'll be thinking "ahhh. got it. that "•••" button on the right side!" but… no.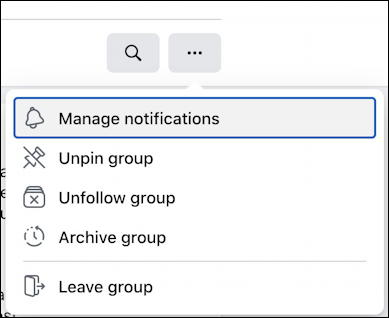 That offers up options to fine tune the user's experience as a member of the group (of which you are one, of course). Not what you want at all, really.
Instead, look on the far left where there are oodles of options, so many that you probably didn't even notice: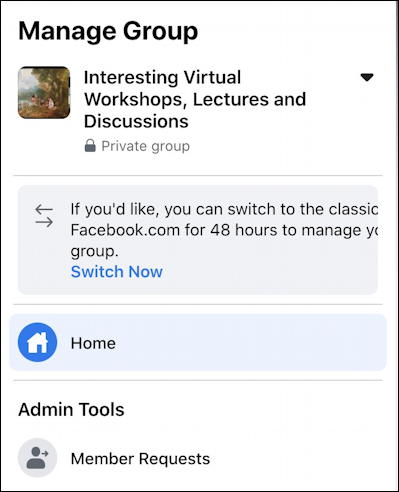 What I like is the invitation to switch back to the classic Facebook.com so you can use the old, familiar group admin tools, but in a window where the letters are actually being chopped off because there's insufficient space. Go figure.
A bit further down that long list of options you'll find these choices: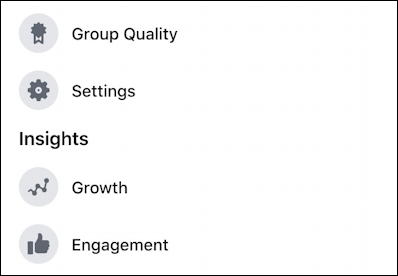 We'll come back to Group Quality in a moment – it's important! – but for this task, click on "Settings" to proceed. Notice also that as the group admin you have access to analytics including growth and engagement information. Useful!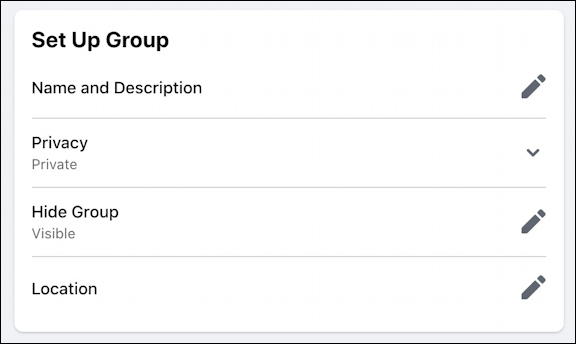 As you might guess, Name and Description are where you can edit, well, the name and the description. Go figure. 🙂
Click on the pencil icon and you can make the changes and updates you desire:
I simplified the name quite a bit and updated the description while I was at it; I created this group many months ago and it was a bit outdated anyway. When done, a click on "Save" and it's installed. Done deal.
Now, back to that Group Quality setting. Click and have a peek, it's interesting and very modern times: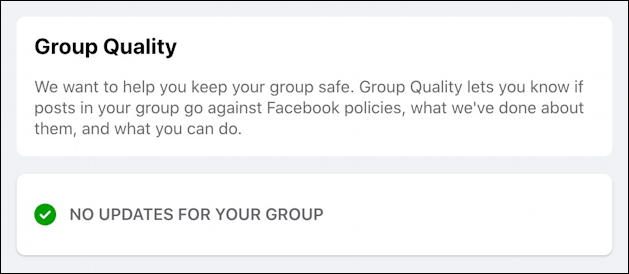 As described, this refers to whether the group has posts – or comments – showing up that are against Facebook policy. If you're hosting a Qanon or Antifa group, you'll probably going to have some issues (or might have already been shut down). For most groups, however, unless conversations keep spinning out into political diatribe, you should have a similar display as shown above.
And, finally, since I renamed the group, the shortcuts now shows the shorter, more succinct FB group name, as hoped: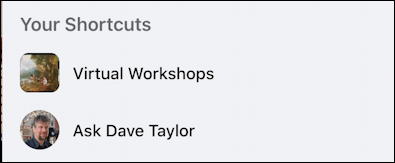 Mission accomplished!
Pro Tip: I've been writing about Facebook since the site opened up to people not associated with Harvard University. Please do check out my quite extensive Facebook help area for tons of other useful tutorials! Thanks.