I'm taking a Linux basics class and I'm stuck on one of the most basic tasks: How do I find and launch the Terminal program in Linux? My teacher says it should be on the favorites bar, but I don't have that program icon shown.
Linux is actually surprisingly similar to both the MacOS and Windows user experience, once you start digging into it. The Taskbar might be in a funny location, and key controls can seem out of place when tucked into the top right corner, but overall once you start poking around, I predict you'll get comfortable quickly.
But having said that, Ubuntu Linux is a bit of a mashup of different interface ideas from different operating systems too, so it can be a bit of a learning experience to know what's where. So I'll help out, both showing where Terminal is hiding, how to add it – and keep it – on your Favorites bar, and even how to customize it so the font size and color scheme works for you.
To start, as with any operating system, make sure you'll up to date with the very latest version of Ubuntu. This is easily done by forcing a system update, as I've explained here: How to Force An Ubuntu Linux System Update. Now log in and you'll undoubtedly see something on the lower left corner of your screen like this:
That's a concept borrowed from Android: The shortcut that gets you to the app applications view. A click and this will now appear on your computer screen:
Actually, I scrolled down to get to this view. Key is to have "Utilities" show up on the lower row.
HOW TO LAUNCH TERMINAL IN UBUNTU LINUX
Like a number of other system utilities, the Terminal application is found in the "Utilities" folder. Click on it and you'll move into that folder, just as you would on a Windows PC…
Ah, finally, we have found the Terminal application. Last one on the last row. A click to launch it and you'll have your Terminal, ready for input: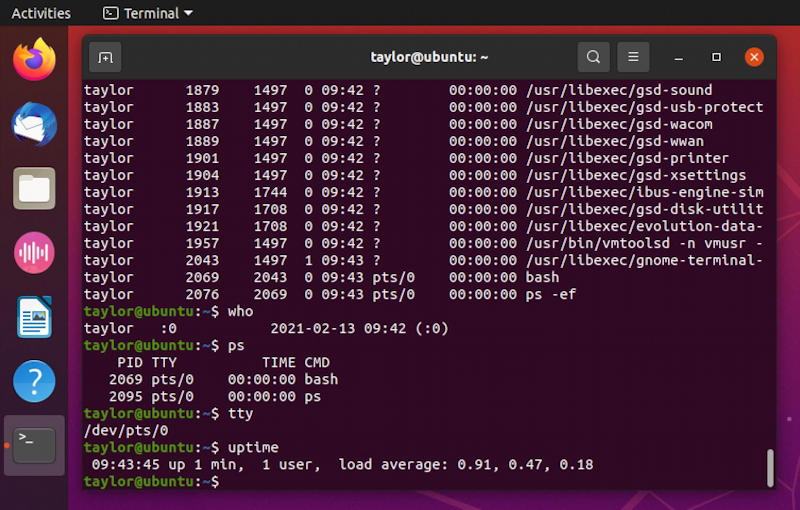 More importantly, notice on the left side that the Terminal program is in the application bar, the Ubuntu Taskbar.
KEEP AN APPLICATION IN THE UBUNTU LINUX FAVORITES BAR
To have the Terminal program always be accessible from your Favorites bar, just right click (or click and hold) on the icon itself. After a few moments a menu pops up:
As highlighted, choose "Add to Favorites". Nice. Now you can always get to the Terminal by clicking on its icon on the Favorites bar. Much easier than digging through Apps and Utilities for the program!
HOW TO CUSTOMIZE TERMINAL IN UBUNTU LINUX
Which brings us to the second topic: how do you change the font and color scheme of your Ubuntu Terminal? Turns out that's a bit confusing, actually. Start by clicking on the three horizontal line icon on the top bar of the Terminal window. A menu pops up, as shown:
As highlighted, choose "Preferences". Here's where it's a bit confusing, though, because the subsequent settings are for the Terminal program itself, not any of the windows within Terminal:
So choose "Light" as your theme variant and it will not actually change the color of your Terminal or make the window any easier to read as you proceed.
To change the color scheme of the actual interactive Terminal window you want to use, you'll need to update the "Profile", and since you probably have the same default setup I do, your only profile is called "Unnamed". In fact, you can see it on the lower left on the above screen shot.
Click on "Unnamed" and be delighted: This is where all the action happens:
Most of these apply to any new window you'd open but it's a great place to get everything set up as you prefer. I like an 80×30 window (that's 80 characters wide by 30 lines tall) which is easy to change. Hate the beep when you make a mistake? You can disable "Terminal bell" at the very bottom.
To change your font size or style, click to check "Custom font" then click on the current font name shown. In this case it's "Monospace Regular 12". A font window appears:
I recommend that you do not change the typeface, just adjust its size with the slider along the bottom. Choosing a non-monospace typeface for a Terminal window can definitely have a weird result. But going a size or two bigger? That's just smart.
Click on the green "Select" button when you're ready, then choose "Colors" from along the top category options on the Unnamed profile settings window (as shown two images earlier). Now the most colorful spot of the entire program appears:
You can choose a color palette in the lower area, choose specific colors, pick a built-in color scheme (my current choice is "Black on light yellow") or even pick specific colors if you really love purple and hate grey. As you try these changes, notice that the currently open Terminal window will show them too, so it's a good place to test out these settings.
Done? Great. Close this window. Now close the Terminal app entirely and relaunch it by clicking on the Terminal app icon that's now permanently in the Favorites bar. Voila!
As you can see by comparing the size of the icons in the Favorites bar versus the font size, this new Terminal window not only has a different color scheme, but bigger type too. All in all, not too difficult, right?
Pro Tip: I've been writing about Linux since the dawn of the operating system, and Unix before that. Please check out my extensive Linux help area for lots of additional tutorial content while you're visiting. Thanks!