I've been running Ubuntu Linux for a while and find that it randomly pops up a window with available updates. Just read about a "sudo" vulnerability and want to force an update now. How can i do that??
Like most modern software and all major operating systems, Ubuntu Linux by default is going to constantly be checking in to see if there are updates and apply them as needed. You can disable auto-update, but why would you when so many of these updates are security patches and feature enhancements? So when you say that the update window pops up "randomly" it's more a reflection of the fact that updates themselves rarely come out on a regular schedule but instead are generally pushed out as soon as the fix is tested and reliable. Sometimes that might be a few updates in the same week, other times we might go a month or more without anything updated.
But before I show you how to force a check for updates (if any are available!) let's just briefly talk about this "sudo vulnerability" because if you haven't been messing around with your sudo configuration and permissions, you'll find that the default Ubuntu does not have any vulnerability. Don't believe me? Try typing this: sudo -u -1 /bin/ls and you'll see it produces an unknown user error. As it should.
Anyway, back to Ubuntu Linux and updates. Being Linux there is, of course, a command line update path but let's just eschew that and focus instead on the nice GNOME graphical interface experience. I mean, you are running with the window manager, right? 🙂
Start by clicking on the 9 dot grid icon on the taskbar. It'll show icons for all programs you have installed on your Ubuntu box. In that chaotic mess is Software Updater, which is displayed thusly:
To launch the Software Updater simply click. It'll fire up and immediately start checking for updates:
This can be an exercise in patience or just a few seconds depending on your network connection and the speed of the main Ubuntu update server. If there's an update, the next thing you see will be: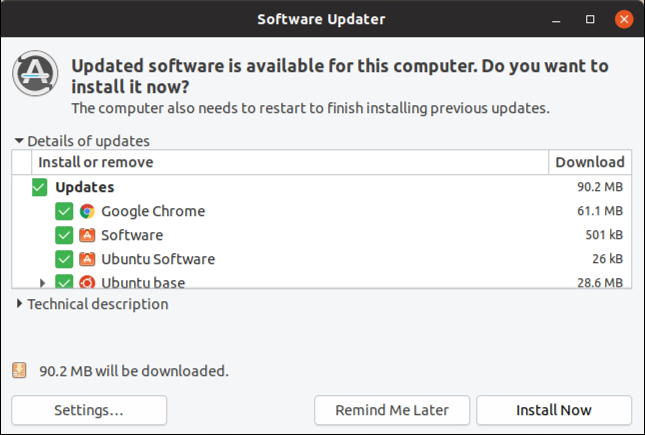 Check the lower left corner because a lot of times the updates can be surprisingly small: This set of updates is a total of 90.2MB.
You can pop into Settings… if you want to see how things are configured, which is good if you want to specify how often updates should be checked. I would definitely not do weekly or longer just in case the update is a security patch, but here are the basic config options:
Back to the main window, if you're ready to install do take a second and save any pending work – just in case – then click on the "Install Now" button to proceed.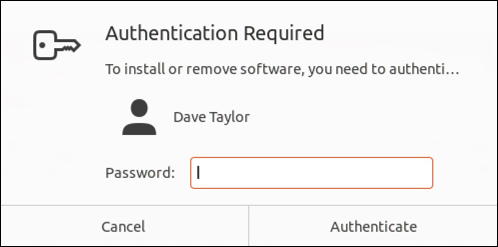 Since the updater needs to run as root and since that sudo bug isn't a real thing for 99% of users you'll need to re-enter your account password for an administrative account. Type it in, click Authenticate and you're off to the races!
For some nerdy fun, click on the "Details" link on the lower left and the window will expand and show you the commands zipping by as it processes the downloads and updates:
Eventually you'll get to this point, and do have patience if it appears to vanish for a minute or longer while something's being installed in the background. You will end up here and, well, you know what to do:

Once you've restarted and had all the updates applied, you can even go back to Software Updater and check for updates again. It should show the following because, well, because you're up to date!

And that's it. Really it's a very rare situation where you need to force a Linux update if you have the auto-update on a good cycle. I like to check and apply updates daily, as you saw earlier, so you might pick a similar frequency to stay updated.
Pro Tip: I've been writing about Linux and its predecessors for many years. Please check out my Linux help library for lots more useful tutorials!