Is there any fast and reliable way to identify the app version number for an Android application? I need to be able to include it in bug reports I file, but am often stymied by how to find it with no file browser or similar!
In the first era of software development, applications were updated annually and it was a big deal. Then monthly updates and patches showed up, followed by "agile scrums" (a real term in software development!) that produced incremental updates as often as daily. Rather than saying "I run Windows 10", it became important that you could pinpoint exactly what version of what release of what software you were running, and versions changed from "10.3" to "10.3.1.24a3" and similar.
Mobile device apps seem to evolve just as quickly, whether it's endless bug fixes, feature improvements, or something else going on behind the scenes (fixing typos on settings pages? Who knows). Most apps, however, have a user setting area for customization, and generally speaking, somewhere on that page will be a version number. Can you copy and paste it? Unfortunately, you usually cannot, but you can take a screenshot and use that as a reference as needed.
What most Android users don't realize, however, is that there are other places you can identify the exact version number for Android apps within the Android ecosystem. Let's have a look…
FIND ANDROID APP VERSION NUMBER IN THE APP
I'm going to use the HD streaming app Qobuz for this demo. Like many Android apps, it has a Settings or Profile area where you can specify your preferences in listening, interaction, and similar. In this instance, it's right at the top of My Qobuz > Settings (gear) > About: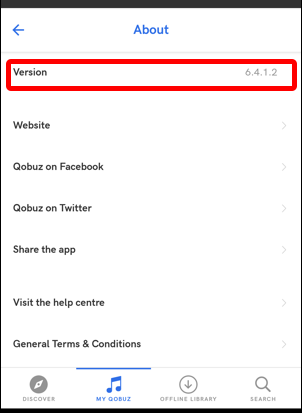 That's unusually easy to find: I'm running version 6.4.1.2.
But let's say that we're running an app that just doesn't offer that information. How can you tell?
There are two ways: First, check the Google Play App Store listing, or use the Android "App Info" feature.
IDENTIFY APP VERSION NUMBER IN THE GOOGLE PLAY STORE
If I go to the Google Play store and search for Qobuz, it's pretty easy to find.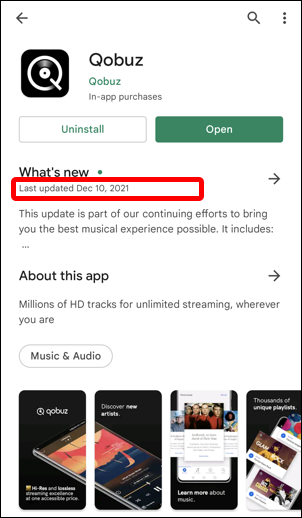 Here I've highlighted the last update date: Dec 10, 2021. To ensure that this version is the version you're running, you'll want to update all your Android apps, which is a good idea anyway, particularly for security reasons.
Tap on the "About this app" arrow, however, and it'll show you more info and, yes, a version number:
Same version as I'm running – 6.4.1.2 – which is reassuring.
But there's a third way you can get the version number, the version of the specific app you actually have installed.
USE ANDROID "APP INFO" TO IDENTIFY APP VERSION NUMBER
Quit the app, quit Google Play, and go back to your home screen. Now tap and hold on the program's icon. A tiny menu appears with two choices:
Tap on "App info" and you'll get a bunch of really interesting information about the Android app in question: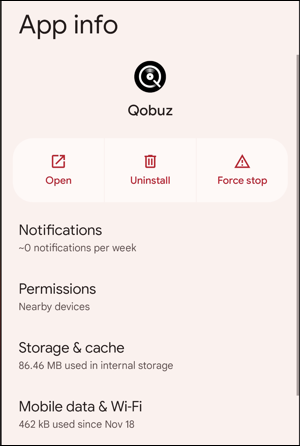 Very helpful to see how much storage the app requires and how much mobile data it's used in the last few weeks. You can use that to identify storage or network hogs (though there are better ways utilizing your Settings). You can also force stop the app if it's otherwise wedged and causing trouble on your Android device, and even uninstall it as needed.
Swipe up to the bottom of the information and – surprise! – the version number appears again: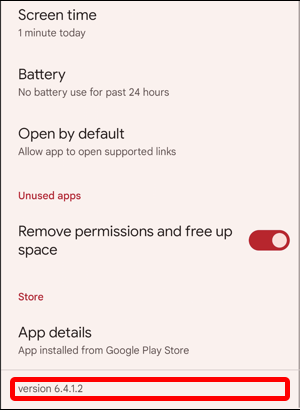 There it is, at the very bottom! Version 6.4.1.2.
Between these three techniques, you should be able to find the exact version number of absolutely any Android app.
Pro Tip: I've been writing about Android since the beginning, along with computer security topics that just keep becoming more and more important. Please check out my extensive Android help area and my computer and device security help areas while you're visiting! Thanks