If you're like me, it's entirely possible that you get a monthly bill from iTunes for a few dollars and don't even bother to check. But what's it really for? When I checked it turned out it was a monthly subscription for a program I had long since deleted! Here's how I figured it out – and cancelled the subscription.
Companies are adept at slipping additional charges into our bills. Think of your cellphone or power bill: do you really go through every single line and ensure that you understand all of the nuances and fees? Still, you'd hope that a big corporation like Apple Computer would be immune to this sort of thing, but if you signed up for a subscription service through an app, even an in-app purchase, it can be hitting your account on a monthly basis until the end of time without you ever realizing!
I know, because that's exactly what I realized was occuring when I took a closer look at a recent bill I got from iTunes. The problem is that it specifies the amount and the transaction ID, but doesn't actually say what it's for. So it's easy to assume it's, say, an iCloud monthly charge when it's something quite different. Not really Apple's fault, perhaps, but they could make it easier to know what's going on…
Anyway, it's a bit more complex than that because it all starts with an email receipt from PayPal, the service through which I pay my iTunes charges. So the entire story starts with this message:
Nothing too radical, right? I mean, $10.38 is probably $9.99 + tax, and $9.99 sounds like a monthly iCloud storage charge. But rather than just assume I decided to check it out this time. To do so, I clicked on the "ITUNES.COM/BILL" link on the lower right. That opens up in a Web browser which then redirects you to iTunes, which showed me this:
$9.99 for Vi Trainer? A monthly subscription? I never really thought much about it, but I reviewed a pair of headphones months ago that had the Vi Trainer app hooked into the system. So I've probably been paying this for months simply because I was too darn lazy to click thru and check the source of the transaction. <sigh>
Okay, then, time to cancel it. To do that, it's easiest to work with an iPhone or iPad, as the iTunes Store is deeply embedded into the iOS system. Grab your phone (or iPad) and go into Settings…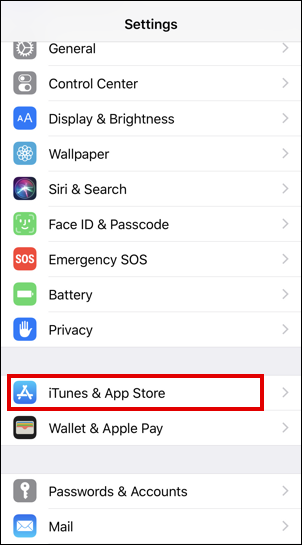 As highlighted, you want to find and tap on "iTunes & App Store" to get to the right place.
That'll take you here:
A lot of important settings here (and do disable Video Autoplay just for your own sanity!) but to stay focused, you want to actually tap on your Apple ID as highlighted in the above. It might ask you to log in again for security, but will eventually show you this set of options:
Again, as highlighted, tap on the "View Apple ID" to get to the specifics of your account and what charges you have leeching off your bank.
Okay, so "leeching" might be a bit strong in this instance. Still, $9.99/mo for something I had deleted! Why can't iOS just report that back to the iTunes App Store and automatically cancel the subscription?
Right. Tap on "View Apple ID" and here's where ya go:
Again, a number of things you can check out as inspired, but we're interested in subscriptions so tap on "Subscriptions" on the very bottom of the screen. Finally, finally, you can see what subscriptions you have active – if any – as shown: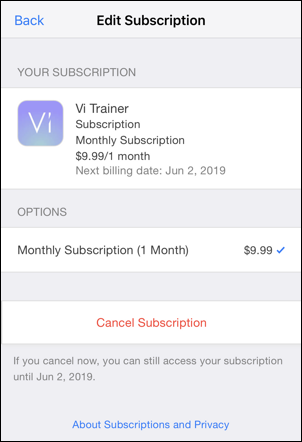 There's that darn subscription. $9.99/mo with no end date and since I can see a "Cancel Subscription" that means it's active too!
To cancel it, yes, tap on "Cancel Subscription". Then you can confirm that's what you really want to do: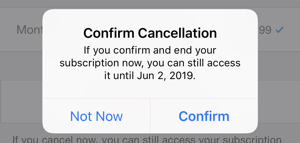 Yes? Tap "Confirm". Also note that since you pay in advance for a subscription, you'll probably have a few weeks to still use the app, game, program, utility, whatever, before it all shuts down.
And that's it. Now when you look at this subscription there's a new button to renew it and fire back up the monthly charge: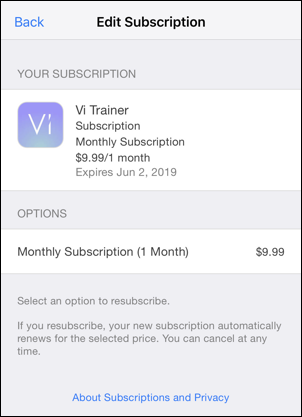 Now I can quit the Settings app knowing that I've cancelled my app subscription. That's how it's done. A bit tedious, but doable… Now, how about you pop over and check your own account for subscriptions and see if there are any surprises?
Pro Tip: I've been writing about Apple for many years. I have a ton of Mac help and iPhone help here on the site and invite you to check out both while you're visiting. Thanks!