I have taken photographs of some presentation slides and would like to convert the text in the image to actual text I can copy and paste. I think that's what OCR is? Is there an easy way to extract text from an image on my computer?
Extracting text from a photo or image. Definitely doable. You're correct that the general category of what you're talking about is "optical character recognition" but since there's been so much development in image analysis, that seems like an old school description. In fact, the best way I have found involves using Google Drive, of all things, which means that it's free and you don't even need to use any disk space on your computer. Better yet, it'll also work if you have a Chromebook, so this can be great for students too.
As it happens, I was faced with a similar situation when I was asked to record a presentation based on someone else's PowerPoint slides. I wanted to work with those slides but customize them to make the content my own. Rather than type it all in, I started with a collection of screen captures, trimmed down a bit to look like this:
This image is particularly tricky because the slide uses grey on white rather than a more traditional black on white. Contrast is your friend in any sort of image analysis of this form! Also notice that I have cropped it down to get rid of everything extraneous. If you have a photo that includes more than just the slide, definitely chop it down to simplify the task.
Let's just go through the steps and see how Google does converting the photo content into actual text…
IMPORTING AN IMAGE TO GOOGLE DRIVE
First step is to just jump over to Google Drive. If you don't have an account set up, it's just a moment or two to add it to your retinue of Google services (and yes, it's free). It's confusing, but the top left looks like this:
You can see tiny thumbnails of other documents on my own Google Drive account above. More importantly, you want to click on the "+ New" button on the top left. It'll prompt you to define what you want to create:
As highlighted, choose "File upload" though do notice how tightly Google Drive is integrated with Google Docs and the entire Office-like suite available online. You can go directly to Google Docs next time, or you can just start at Google Drive!
Choose "File upload" and select the photograph.
Once it's uploaded you'll see the image writ big:
Now we can convert it to text!
CONVERT AN IMAGE TO TEXT WITH GOOGLE DOCS
Turns out that Google Docs can automatically scan an image when opened and convert it into a text document with the content based on a scan of the image. Super sophisticated process and it's more or less hidden away and unadvertised.
Click on the leftward pointing arrow on the very top left of the image display view and you'll be back on the main view of Google Drive:
Now right click (or Control+click on a Mac) on your new image in this view and a menu pops up with quite a few choices: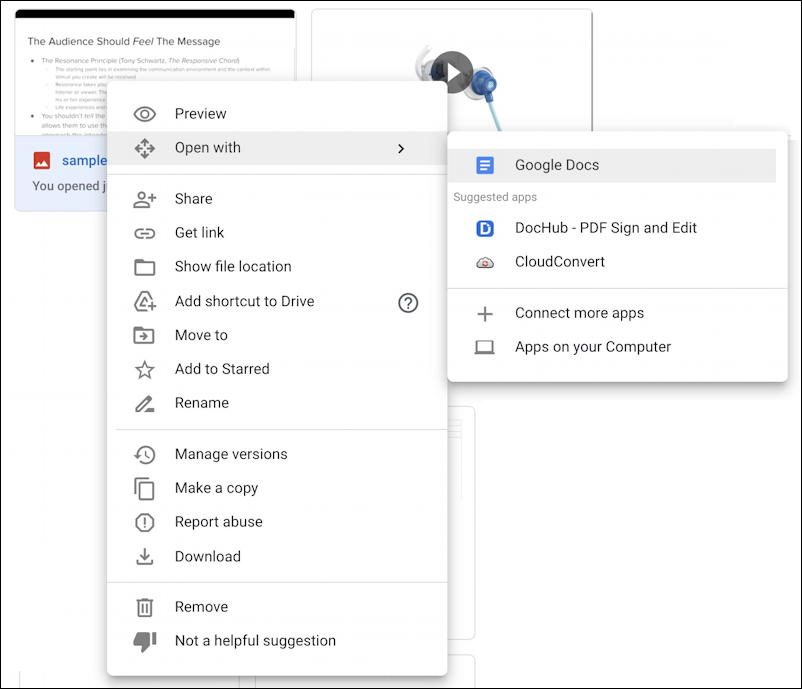 If you can follow the imagery above, you want to choose Open with > Google Docs. And that's it. Now it'll start its analysis which means that you'll get to see this for somewhere between a few seconds and a fairly long amount of time: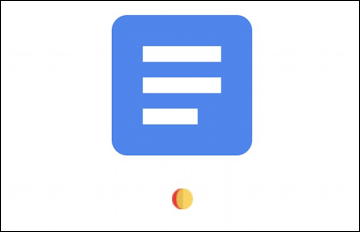 Finally, the new document is opened! It contains the original image as an embedded image, and then all the text it scanned from that image immediately below. As text:
I did a tiny bit of cleanup prior to taking that last screen capture, I should note, mostly just normalizing font sizes and colors so it's easier to read. Is it perfect? No. But is it way faster and easier than me typing it in from scratch? Most definitely.
That's how you can use Google Drive and Google Docs as an OCR (optical character recognition) and extract text from an image and have it available to edit or copy and paste into a text message, email, or whatever else. Pretty darn slick, actually!
Pro Tip: I've been writing about Google tools since they first appeared from the search engine company. Please check out my extensive Google help area for lots of additional Google docs help and related. Thanks!