I find that white text on a dark background is far easier for me to read than black text on white. Many sites switch to "dark mode" since that's how I have my computer set up, but not Facebook. How can I force dark mode in Facebook on the Web?
It's only been the last few years that designers have been concerned about our vision and sleep patterns. Blue filters, night mode on computers, and dark mode to lower the intensity of contrasting content all help make our incessant computer time just a bit less unhealthy. Every device I own has night mode enabled, and on most that means that at a set time (typically sunset) the screen colors change so that it's warmer and has less blue (reducing blue light makes sleep easier). It also switches from light mode (black on a white background) to dark mode (white on a black background).
Surprisingly, perhaps, many Web sites can now mirror that change and automatically switch to a mode that's more suitable for late night computing. Facebook can too, though in my experience the automatic switch feature isn't completely reliable. I'll show you how to enable that, but more importantly, I'll also show you how to force Facebook to immediately switch to dark mode. Let's do it!
FACEBOOK IN LIGHT MODE
You've probably been seeing Facebook in your browser just like this forever: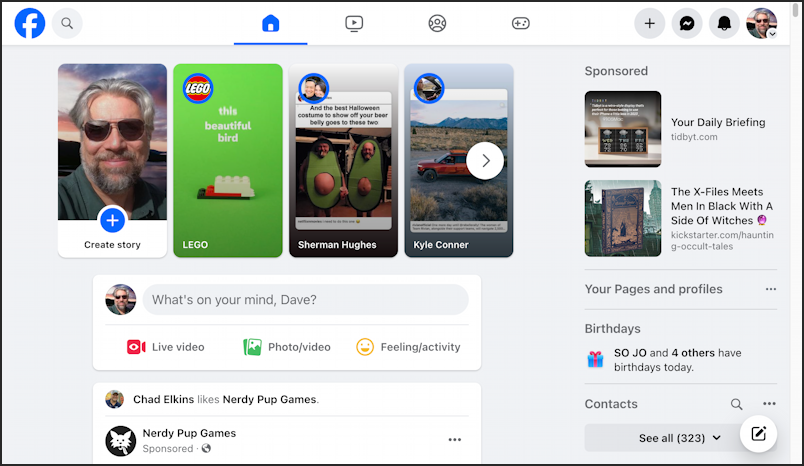 Functional unless, as you say, you prefer the darker background…
SWITCH FACEBOOK TO DARK MODE
To switch it up, click on your profile icon on the top right to reveal the main menu: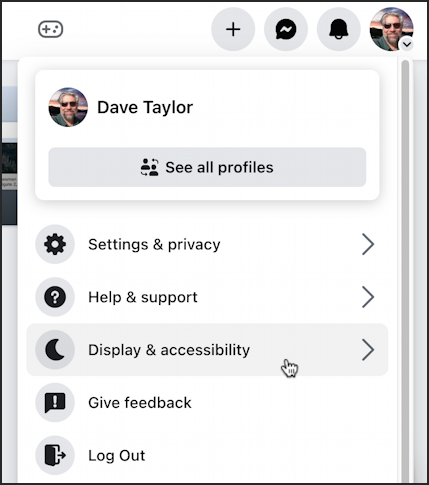 If you're like most users, you've either never seen this menu or only gone to Settings & privacy to see how it's configured and to make any desired changes. This time, however, choose "Display & accessibility" and you'll immediately see the option you seek: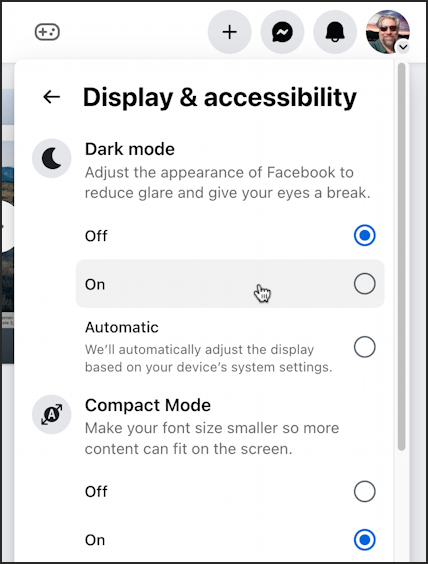 Here's where you can choose "Automatic" to have your Web browser Facebook experience be black on white during the day and white on black during the nighttime hours (if you have your computer set up to do that too: Note that it tracks your OS in this mode, it's not autonomous).
To immediately switch modes, choose "On" for "Dark mode".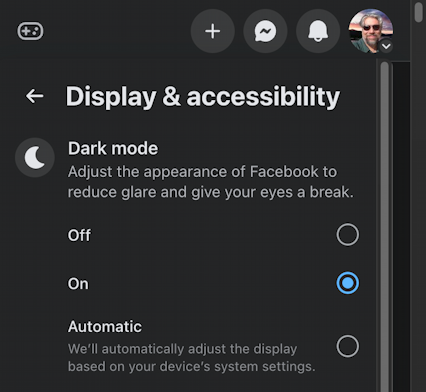 Better? Excellent!
While we're here, however…
ANOTHER USEFUL FB DISPLAY SETTING
Scroll down a bit on this Display & accessibility menu because there's a second setting that can be useful, particularly if you are concerned that you'll click on a Facebook link and be taken somewhere unexpected: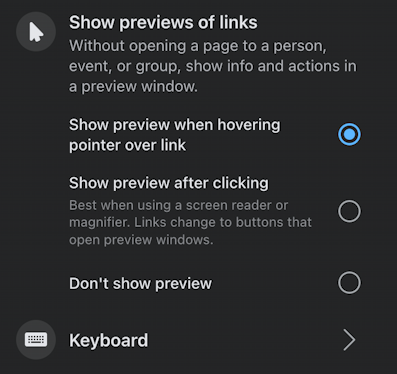 I recommend people enable "Show preview when hovering pointer over link". You won't see this a lot since Facebook has a tendency to expand links and show previews as part of the post itself, but it's useful to have this extra bit of safety before you're taken somewhere undesired.
FACEBOOK KEYBOARD SHORTCUTS
Did you know that Facebook has keyboard shortcuts too? Click or tap on "Keyboard".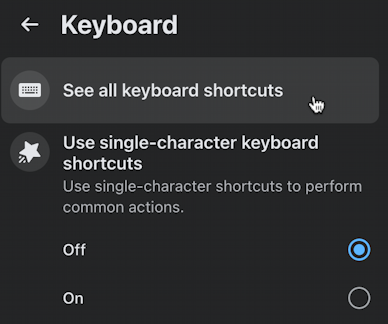 You can click here on "See all keyboard shortcuts". If most everything's greyed out (and just about impossible to read) it's because you haven't enabled Single-character keyboard shortcuts. Change that setting (the lower option in the above image). Then you'll see: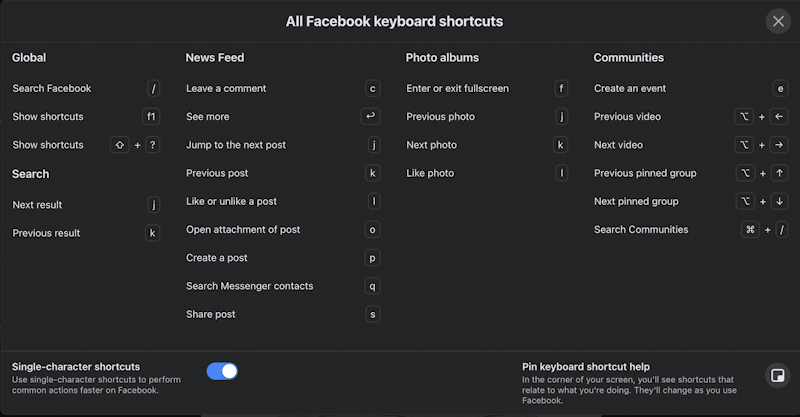 That's it. These should get you into dark mode when you want while using Facebook. Good luck!
Pro Tip: I've been writing about Facebook since it first came online. Please check out my extensive Facebook help library for hundreds of useful tutorials and insider tips and tricks. And why not follow AskDaveTaylor on Facebook for even more great content? Thanks!