I noticed on my Mac system that my iPhone now shows up as a "Personal Hotspot". Definitely helpful in a low-connectivity area. How can I also allow my friends to use it for emergency Internet connectivity too without risking the privacy of my phone data?
A few months ago AT&T added Hotspot capability to most all iPhone users without even a notification. One day we were being told that you had to pay to add a hotspot and the next it just showed up, no additional fee required. My guess is that it was an anti-competitive measure by the cellular and telecom giant but who knows? As they say, why look a proverbial gift horse in the mouth? Unfortunately, however, the entire setup is poorly documented and many people are confused about the advantages and disadvantages, particularly when it comes to the privacy of information on the iPhone being utilized.
For a while now, Apple has been trying to make your iCloud account more valuable, and this turns out to be one area where it is a boon: Any Apple device logged into the same iCloud account as that iPhone will automatically see the phone as a "Personal Hotspot" and be able to use it as an Internet connection via wifi. As long as the phone can see the cellular network, you'll have at least some connectivity, even if it might not be particularly speedy. But what about everyone else? Can that creepy guy or judgy woman three tables away use your iPhone as a hotspot?
HOW PERSONAL HOTSPOTS WORK ON THE IPHONE
The answer is that no, they cannot access your hotspot unless you have manually enabled your phone serving as a public wi-fi connection, and even then, they'll need to know your password to connect. If that concerns you, then keep the hotspot feature disabled and only your devices (as determined by iCloud login) will be able to see it as an option for connectivity. Here's how that might look on your Mac system: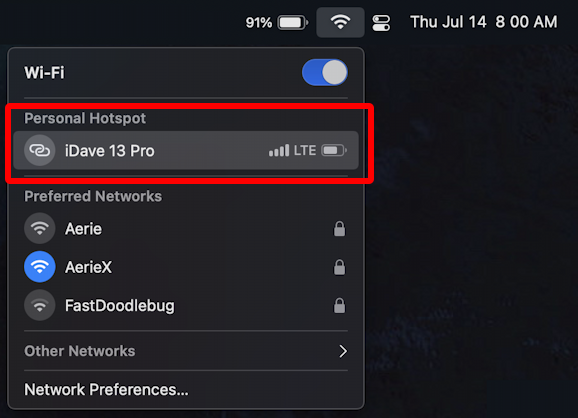 This is the set of preferred networks on my MacBook Pro. You can see that I'm connected to "AerieX" by the blue icon and that it's password protected, as denoted by the tiny padlock icon. My iPhone – named "iDave 13 Pro" – is also showing up as an option under the "Personal Hotspot" section, though I'm not utilizing it currently. Note it has a different icon, two links of a chain rather than the familiar triple-curve of the Wi-Fi icon. The information shown on the right side of this entry are actually data from the iPhone itself: Four bars denotes a strong cellular signal, LTE assesses the speed of that connection (versus 4G or 5G), and you can see the battery status of the phone too.
Tip: This is a great way to check if you need to charge your iPhone without leaving your Mac screen, actually!
Since you'll probably be the only person using your personal hotspot, some people like to have that as a default connection to sidestep security risks on an open, public wifi network. This can be set by choosing "Network Preferences…" on the bottom of this menu. The following window pops up on the Mac: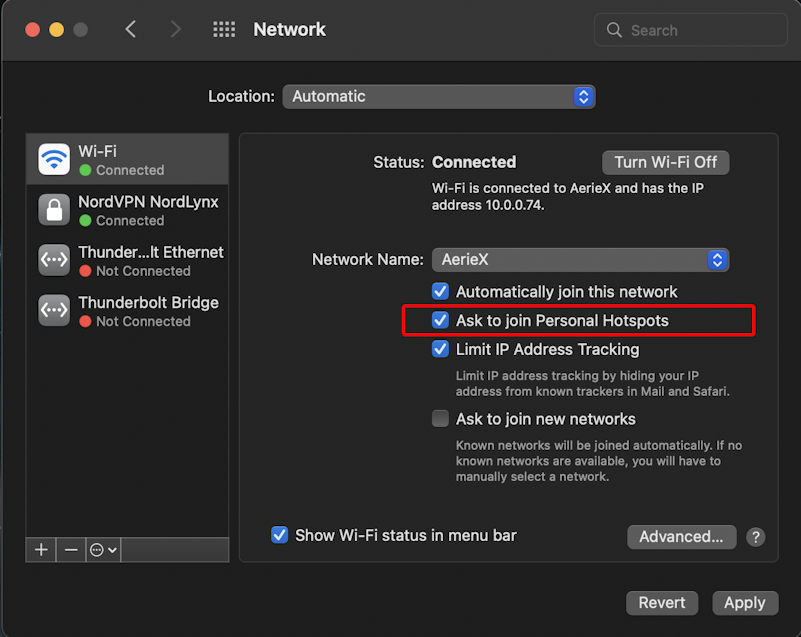 I've highlighted the most important setting: If you enable "Ask to join Personal Hotspots" then your Mac will prompt you to do just that every time you go to connect to the Internet. Choose your personal hotspot in the Network Name and you can enable or disable "Automatically join this network" too, if you'd like.
PERSONAL HOTSPOT SETUP ON THE IPHONE
Meanwhile, on the iPhone, how does all that look? Pick up your phone and go to "Settings", then look for "Personal Hotspot":
If you're like most people, you might not have even noticed this entry before. What's confusing is that it shows a status of "Off", but it's still showing up as an option on your Mac! Why? Because "Off" refers to the public access capability, not the hotspot feature overall. You cannot be logged in to iCloud on both your devices and not have it show up as an option anymore, from what I can tell. But no one else will see it, so that's probably no big deal.
Tap on "Personal Hotspot" and you can see the settings and preferences: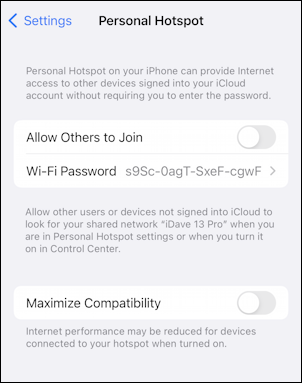 Want to allow other people to use your Personal Hotspot? Enable "Allow Others to Join", then share the password with them. You can change the password to be something easier to remember and share too, but before we get there, you might be curious about what "Maximize Compatibility" means…
"MAXIMIZE COMPATIBILITY" WITH A PERSONAL HOTSPOT
This is a perfect place where Apple has fallen down on its mission of creating a system "for the rest of us" because the addition of a single sentence would clarify what changes with maximum compatibility: The hotspot switches from being a faster 5GHz hotspot to a slower 2.4GHz hotspot. Most modern devices, particularly computers and other tablets and smartphones, work fine with the faster 5GHz Wi-Fi network, so generally speaking, having this disabled is the best choice. But if you are inviting someone to join your hotspot and their device is failing to connect, switch to the 2.4GHz frequency will make it more compatible with more devices.
Common devices that are stuck with the lower frequency are smarthome gadgets and some car infotainment systems that can utilize an Internet connection (for example, with system updates) but only if it's 2.4GHz. Again, my advice is to leave "Maximize Compatibility" disabled unless it proves a problem. You can learn more about the trade-offs here: 2.4GHz versus 5.0GHz.
TURN ON YOUR PERSONAL HOTSPOT
Turn on your iPhone's Personal Hotspot by tapping on the slider adjacent to "Allow Others to Join" and a set of simple instructions will appear that detail how to use the hotspot via Wi-Fi, Bluetooth, even direct USB plug: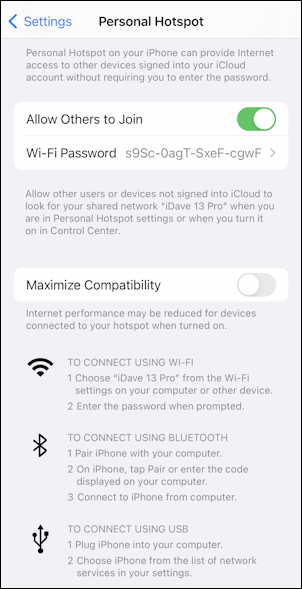 It's pretty cool that you can connect to the Internet through your smartphone's cellular connection via Bluetooth, actually. That's a lot of different systems all working flawlessly to offer maximum connectivity, even when you're in the boonies. This is also a screen that you can capture and then share with others via a text message or similar, so they have the instructions too. A logical addition would be for Apple to add a 'share' option to this screen, actually, but that's undoubtedly quite far down on their priority list. 🙂
Before we wrap up, tap on "Wi-Fi Password" and you'll find you can easily change the password to something far easier to remember and share with others:
You can see I'm setting mine to "What's Up Dave?" which is more fun and much easier to enter than the random (albeit more secure) password that is offered by default. Once you've entered the password you like, just tap on "Done" and it's set.
Now you know everything there is to know about your iPhone's Personal Hotspot. Use it wisely!
Pro Tip: I've been writing about the iPhone and iOS since the very first iPhone was released. I've also owned every major iPhone model! Please check out my iPhone help articles while you're visiting. Thanks!