On my Android phone it's pretty darn easy to add emoji when I'm communicating with someone, but when I switch to Chrome OS I'm lost. Is there any way to easily add emoji to text on a Chromebook?
As recently as a few weeks ago I would have had to say that you weren't lost, all Chrome OS users were just stuck in the wilderness when it came to emoji on a Chromebook. The good news is that the October 2021 ChromeOS update actually added a slick new emoji selection tool that is just what you seek. It not only shows your favorite emoji but lets you search by emoji name (did you know every single emoji has its own name?) and by category.
Oddly, though, you can't actually use the new emoji picker app to add emoji within Google Docs. For that, we need a different approach, but no worries, I'll show you that too.
To start, make sure your Chrome OS is updated to the very latest version. As needed, check How to Force Update ChromeOS to ensure you're good to go. Ready?
LAUNCHING AND USING THE CHROMEOS EMOJI PICKER
As with a lot within the world of ChromeOS, you'll either way to search by name or remember a keyboard shortcut. I like the shortcut, so that's what I'll talk about here. To demonstrate, I'll show off another fun feature that most people don't realize: You can search Google for emoji!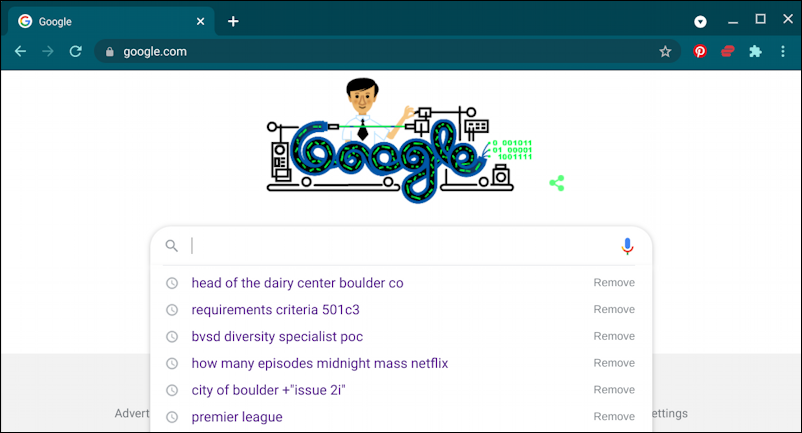 When I click in the search input field, you can see that it shows my most recent previous searches. A strange mix, I admit! But what if I wanted to search for, say, the ninja emoji?
To launch the new emoji picker in Chrome OS, you'll want to press on three keys on your keyboard simultaneously: 🔍 + Shift + Space. After a moment or two, a window pops up: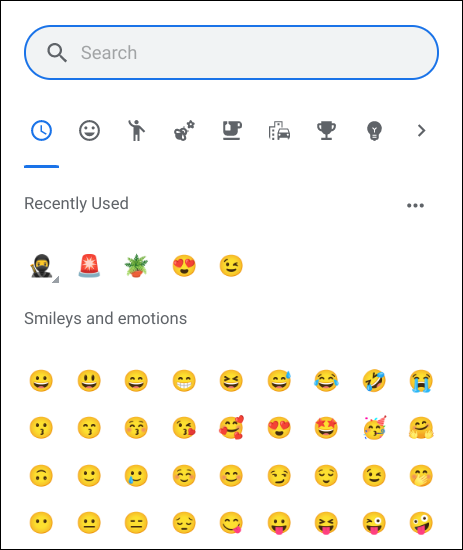 From this point, you can click on an emoji that's shown and select it. Or, try typing in a word or phrase into the search box: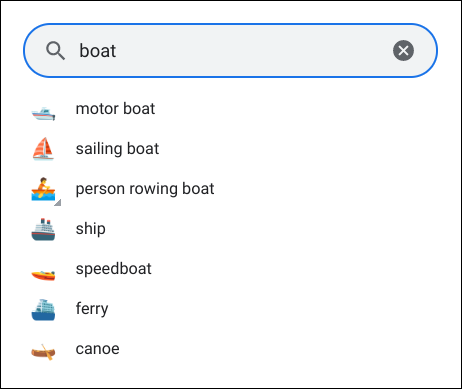 It might just be me, but I marvel at the fact that every one of the over 3,600 emoji has a descriptive name. A search for "boat" and it matches motor boat, sailing boat, speedboat, even ferry, canoe, and ship!
Click on the "x" to cancel the search and instead use the category icon strip along the top to see the different categories of emoji instead. Like flags: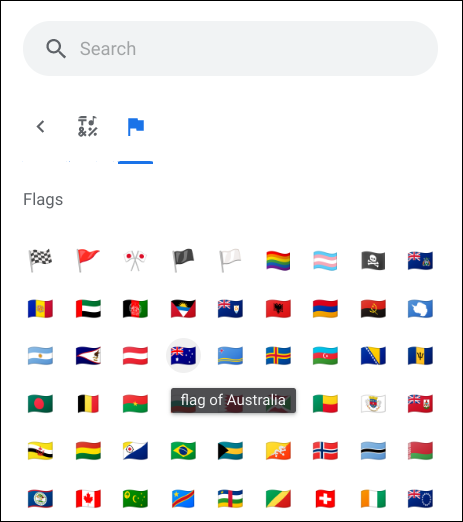 My cursor is over the fourth flag in the third row, the National Flag of Australia, which is why the tiny pop-up tip has indicated as such.
SEARCHING GOOGLE FOR EMOJI
I'll actually go back to the beginning and click on the ninja emoji from my list of favorites. It shows up in the Google search box!

You can even see the most common searches on Google that include the ninja emoji! Not only that, but you can add a second emoji, like "smiley with heart eyes" and you'll find that there are a rather startling number of matches: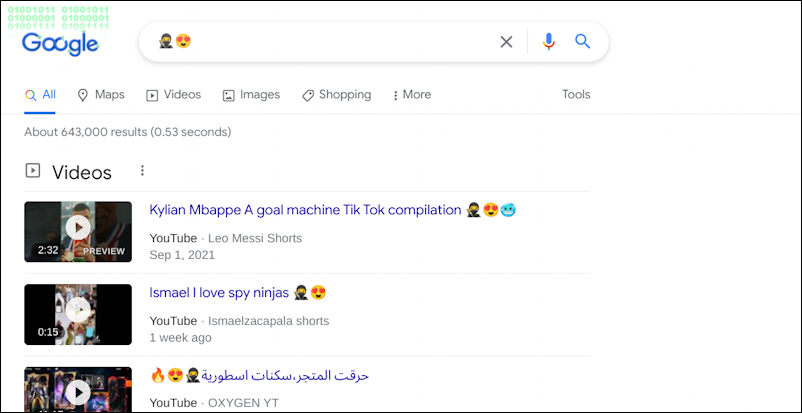 Who knew that there were over 643,000 matches for the two emoji sequence?!
That's how you work with the emoji picker in ChromeOS; just remember the key sequence 🔍 + Shift + Space and you'll be good to go.
Unless you're working in Google Docs, that is. For no obvious reason, Google Docs ignores emoji that you try to insert from the emoji picker. Instead, you need to do something a bit different…
HOW TO ADD EMOJI IN GOOGLE DOCS
Because it's a self-contained world within the Web browser, Google Docs has a different, and slightly inferior, alternative. Open up a test doc and choose "Insert" to bring up this menu: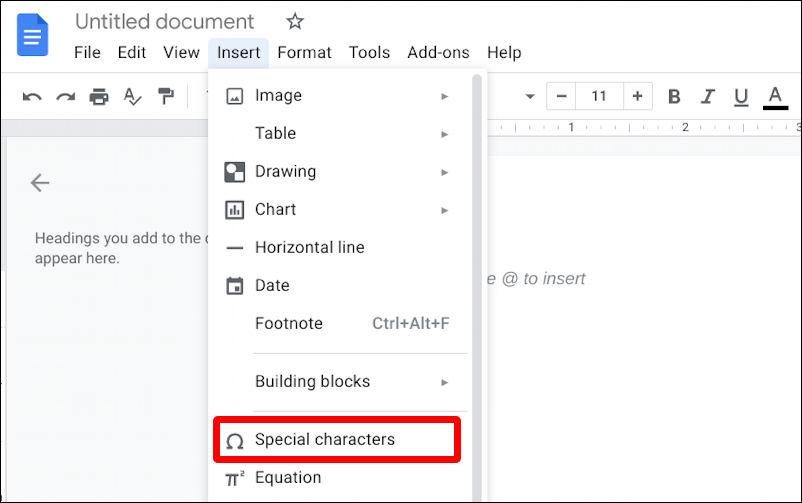 You'll want to choose "Special characters", as highlighted. But when you get to that window, they sure don't look like emoji!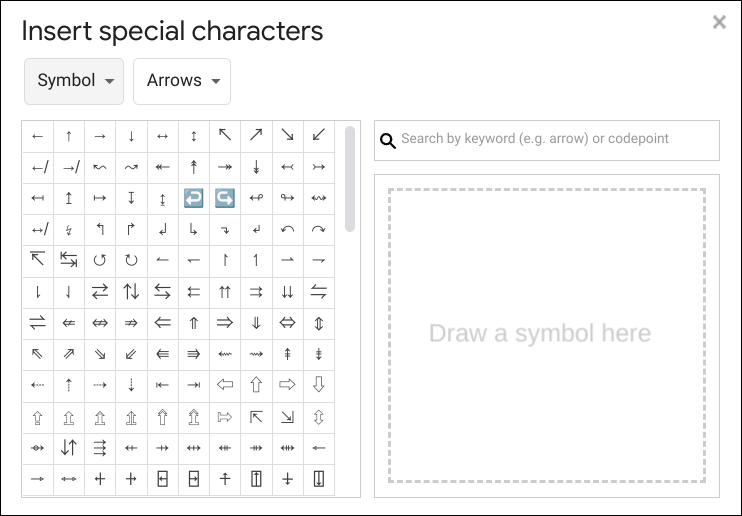 You can choose one of these, kind of going old school, but instead, click on the word "Symbol" and choose "Emoji" from that menu. Finally, then, you'll see the Insert emoji window in Google Docs: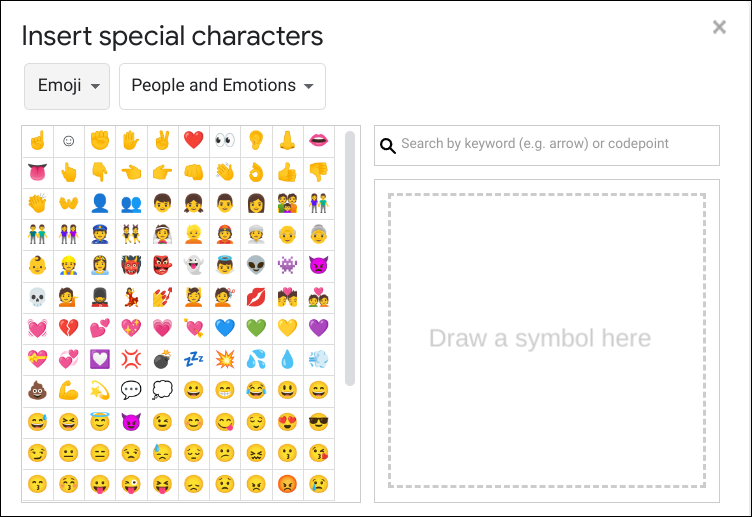 Beware that none of these have names so you can't search as you might prefer. Still, it's better than nothing until Google gets around to integrating the ChromeOS Emoji Picker into all of the operating system, right? 🤓
Pro Tip: I've been writing about operating systems for many years, including Chrome OS. You can find a lot more useful tutorials in my Chrome OS Help area here on the site too. Why not check it out while you're visiting?