When I'm watching one of my own videos on my YouTube channel and click on the "Download" button, it pops up a prompt for me to upgrade to YouTube Premium. Do I have to upgrade my YouTube account to be able to download my own darn videos??
Like every other service online, Google's YouTube team keeps aggressively trying to push us users to pay for the service. There are some interesting features included if you're a YouTube Premium member, but overall, if you're already posting content that they can monetize through advertising, you'd think they'd be paying you for the service, not vice-versa, right? Alas, it ain't so.
It's not that YouTube doesn't want to give you the capability of easily downloading your own content either, just that in this particular instance its generic you're-viewing-a-video-on-YouTube interface is getting in the way of its few additions that show up when it's your own video on the service.  In other words, wrong button, wrong place. But there is an easy way to download video content you've published on YouTube, whether it's unlisted, password-protected, or fully accessible to the public.
DON'T YA WANNA SIGN UP FOR PREMIUM?
By default, if you're viewing a video, any video, on YouTube.com, you're going to see something like this: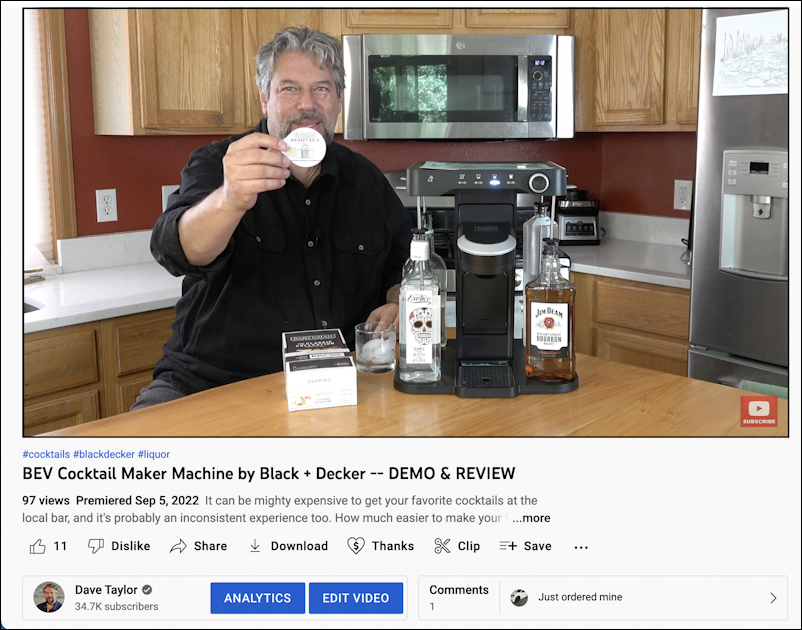 This is my own video, on my AskDaveTaylor channel [why not subscribe? It's just a click or two away! ], a review of the fun BEV cocktail maker from Black+Decker. Let's look a bit more closely at all those links and buttons along the bottom:
Here's where things get confusing, because while the very lowest portion includes elements that are unique as the video creator (notably the big blue Analytics and Edit Video buttons), the upper row of links are going to be the same on every single video you view, whether you created it or not.
That includes the "Download" button. It's no wonder that YouTube doesn't differentiate by creator and that clicking on it pops up this prompt:
Careful, if you click on "Extend Free Trial" here are the terms that go into place: "At the end of the trial period, you will be automatically charged the price of the subscription and will continue to be charged until you cancel your subscription. To avoid any charges, you must cancel your subscription before the end of the trial period."
Time for plan b.
DOWNLOAD YOUTUBE VIDEOS FROM CREATOR STUDIO
The better approach is to utilize Creator Studio, which has a raft of features and capabilities. You can get there by going to studio.youtube.com instead of your usual www.youtube.com. Here's part of what I see in the "Content" tab (the options are on the left side when you're logged in):
The BEV review is sandwiched between two other videos I've posted. Note that each shows its visibility status, monetization status, whether there are any copyright or similar restrictions (they're all "None"), and when they premiered.
Still not clear what you can do here, but… move the cursor over the title of a video in this view and a bunch of buttons magically appear:
Ahhh, now it's getting interesting, right? Left to right they are Edit, Analytics, Comments, Monetization, and that mysterious three-dot link. Click on the "•••" link and a menu appears:
Finally, a "Download" link. Check out the other options here too, I find them very helpful. For this task, however, click on "Download" and the video will immediately start downloading in your Web browser. I use Microsoft Edge so here's what I see:
YouTube does a great job of compressing the video content: If I produced a 720p video from my video editor – Final Cut Pro X – it would be a lot bigger than 100MB, that's for sure. And that's it. Once the download finishes, you've got the video copy you sought.
SHAREABLE YOUTUBE LINKS
While we're in this Creator Studio view, I will also share that I use "Get Shareable Link" quite a bit, it's the best way to ensure you get the shortest possible URL for a specific video.
Simply choose "Get shareable link" from that menu and look for the following status update to pop up after a moment or two:
Once you see that you know the link is in your copy/paste buffer, ready to paste. Like this: https://youtu.be/3Nl-gUxG3BI
Pro Tip: I've been writing about YouTube for years and have amassed quite a library of YouTube help articles here on the site. Please do check it out while you're visiting and hey, why not subscribe to AskDaveTaylor on YouTube while you're at it? Thanks!