I borrowed a friend's Jeep Cherokee and paired my phone so I could talk hands free. Great. But how do I now delete my phone from the car so she can't see all my contacts, etc? I think it's running UConnect, whatever that is.
I drive a lot of different cars as part of my job as a car reviewer and it's rather amazing to me that I'll get a car with a half-dozen already paired smartphones. Every one of those phones copies its entire phonebook to the car every time the two pair up, which means I have literally hundreds of contacts, many of which undoubtedly include addresses, email addresses, even personal information in notes. Rather a big security problem if you think about it. Now it's not quite so bad when it's your friends – I mean, I wouldn't care if one of my friends perused my phone contacts – but still, better to forget or delete the phone from the bluetooth pairing set than leave your friend having to see your phone name time after time.
While it's not super easy to do with the Fiat Chrysler UConnect system (Jeep is a part of FCA, in case you didn't know that, and all their cars share the same navigational system) it's not that hard either. The trick is to take the time to poke around in the Settings on the vehicle: even forgetting the pairing on your phone isn't going to remove all your data from the Cherokee!
So here's how it's done. First off, you can't get there by going to the "Phone" area on the UConnect system, even though that's a logical starting point: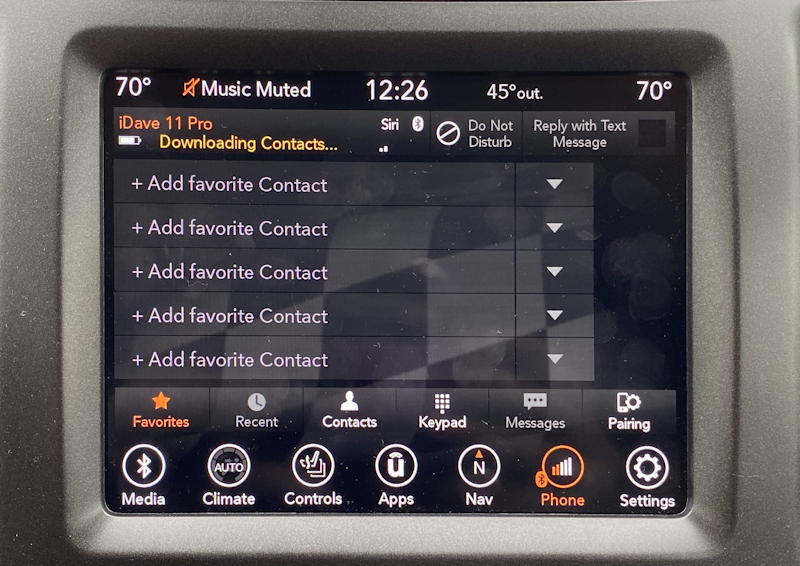 Instead, you need to go directly to Settings. Don't pass "Go", don't collect $200. Just kidding, you can get that $200 if you can figure out how. But now you want to move down on the list by tapping the downward facing triangle until you can see "Phone/Bluetooth". Like this: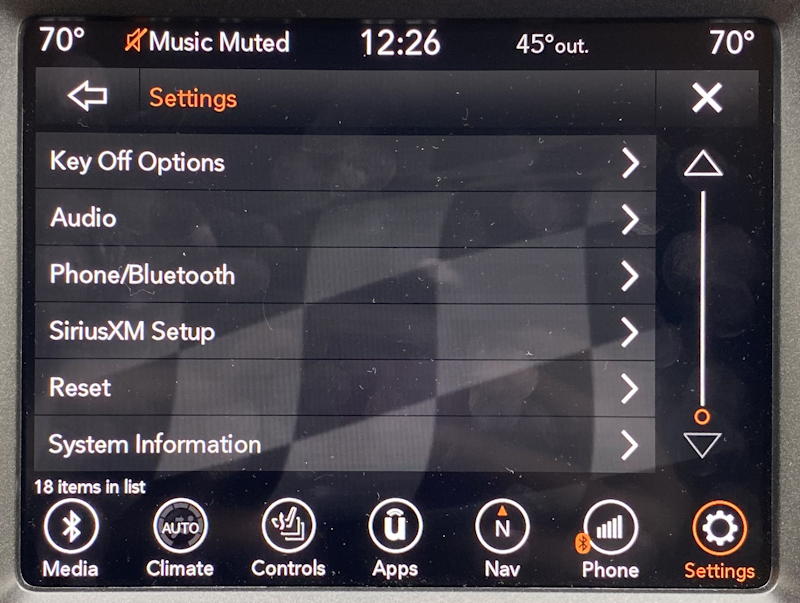 Tap on the "Phone/Bluetooth" option to move into that set of options. Some pretty interesting options, but since this is your friend's car, you probably don't want to change things too much.
Just tap on the "Paired Phones and Audio Devices" option:
Almost there. Now you're going to see a list of all the paired phones that remain connected to this vehicle. Your friend's phone is going to undoubtedly be in the list, but so will your own phone: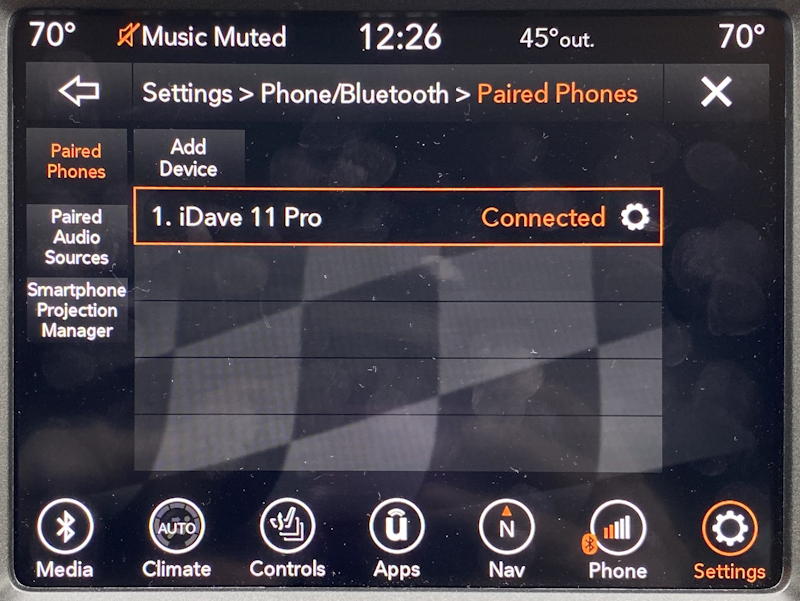 My phone's called "iDave 11 Pro", as you can see, and at this moment it's not only a known phone, but it's currently paired to the Jeep Cherokee UConnect system. This, btw, is on a 2020 Jeep Cherokee Trailhawk, but since you're just borrowing her car, you might not know all the nuances of different Jeeps. It's a cult. 🙂
To delete or forget a smartphone from this list, simply tap on the "Connected" adjacent to your phone.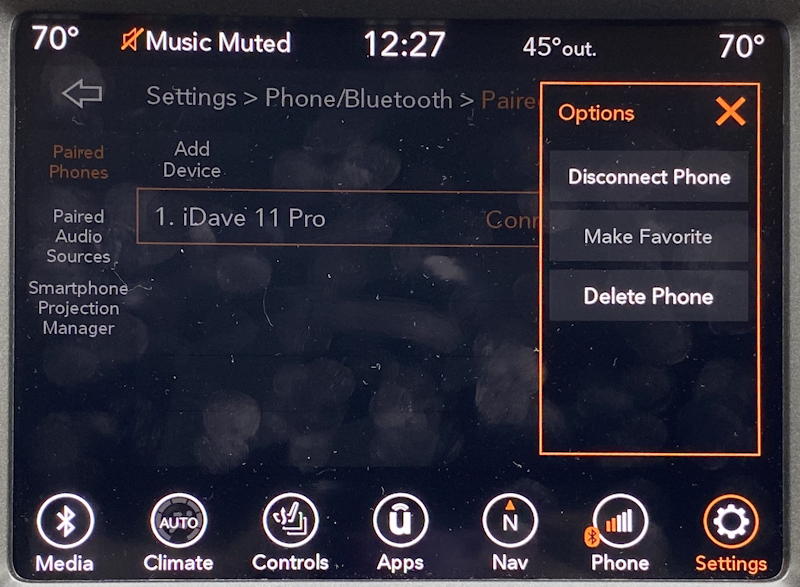 You can make your phone a Favorite (helpful if it is your car and someone else's phone is the default choice when you're both in the car) and you can Disconnect the phone, but that doesn't delete your Contact database from the car's memory. To do that, choose "Delete Phone" from the pop-up window.
Are you sure?
Tap on "Yes" to proceed and… you're done. It'll drop you back on the list of known phones and if you were the only one, it'll be blank like mine is. If not, your friend's phone will remain on the list as is probably appropriate: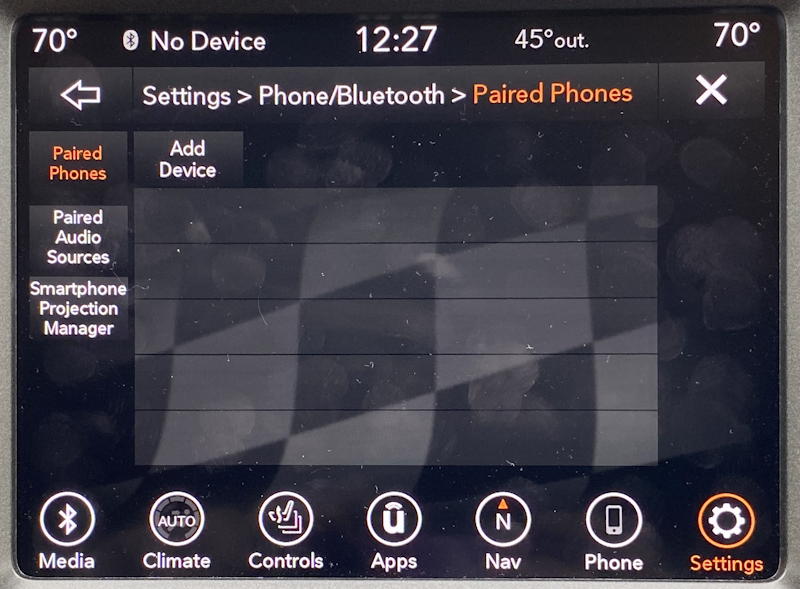 Notice that if you did want to add a phone or two, you can do so from this screen by tapping on "Add Device" near the top.
And that's it. Not too onerous once you know to look in the Settings area, not the Phone area of the UConnect system.
Pro Tip: I've been writing about basic computing, including car systems, for many years. Please check out my computer basics and tutorials to see what other helpful articles I've written!