I want to list some products on Craigslist, but I want to broker the transaction through my PayPal business account so people can pay with credit cards, Venmo, etc. Is that possible?
As one of the largest financial companies on the Web, there's not much you can't do with PayPal at this juncture. Yes, you can definitely use it to complete transactions that you have started through social sites like Pinterest or Craigslist. If it's digital goods you're offering, it's even easier, but either way, if your transaction involves the change of money, PayPal probably has ya covered with one of its many offerings. Oh, and did you realize the Venmo is a part of PayPal?
To demonstrate how to use the new Instant Commerce features in PayPal, I'll demonstrate how I might set up a buy now button for a sofa that I'm selling for $750 plus a $99 delivery fee in the Denver metro area. I'm not actually selling a sofa, but you'll get the idea!
SELL ON SOCIAL / INSTANT COMMERCE WITH PAYPAL
To start, log in to the PayPal website. I use a Desktop web browser for the task but you can do it from your mobile device too. Now go to the App Center (probably a tiny button near the very top of your home page). On that page you'll see a section of apps related to accepting payments:
To make your life easier, click on the heart on the top right of the "Sell on Social" box to have that show up on your home page from now on. Then go to your Home page and it'll show up – no surprise! – as a little box with a few fields to enter:
I'll go ahead and click to upload a photo of my beautiful couch for sale, add a description and enter the base price of the item:
A click on the "Add Details" button and you'll be required to add just a few more snippets of information:
If you're thinking this sure looks like it's designed for a mobile interface then you're right. This process actually works very smoothly on a smartphone whereas on a computing Desktop there's a whole lot of empty space on the sides!
Specify a fuller product description, indicate shipping, and any taxes that might be required. Note that the maximum shipping charge you can levy is $100 so you can't be one of those tricksters who sells a $400 item for $3 with $300 shipping.
Everything filled in as needed? Click on "Create" to produce the item listing in your Instant Commerce area and get a bunch of useful social and shortlinks:
Now you can have some fun. For example, click on the Twitter icon and PayPal will automatically pop up a window with all the details you need, including that shortened URL:
It's not quite perfect (Psst: are you listening, PayPal?) because it could certainly include the photo too, but it's a great shortcut nonetheless if you want to share it on Twitter, Facebook, etc.
What about that QR Code? You can use that to have a visual link directly to your item too:
Or just click on "Get Link" to see your new listing, ready for social and online use: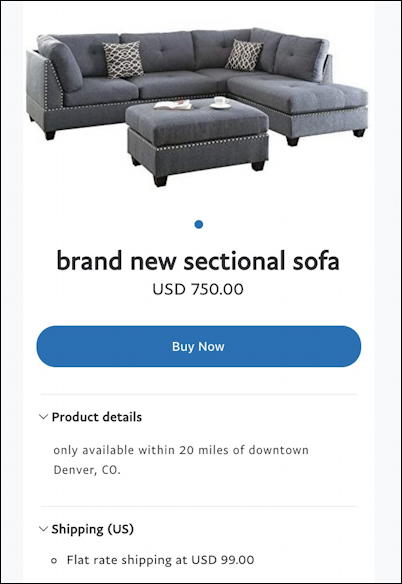 It's important to know that this isn't just a link, however, Instant Commerce is an entire area in PayPal and can be used to manage multiple listings (up to 50 at a time). Try this shortcut to get to your own Instant Commerce area: www.paypal.com/instantcommerce/dashboard. You'll see something like this: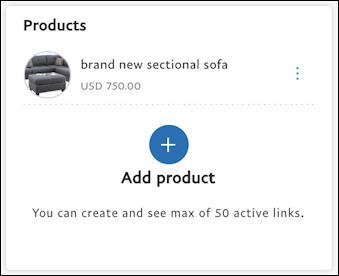 What's important is once you have sold your item or product, you need to delete the listing so it's not sitting in your item list and potentially confusing your customers. That's done by clicking on the three vertical dots to the right of the item, which brings up a menu:
Choose "Delete" and you've deleted this particular item from your "sell on social" instant commerce area on PayPal. That should definitely get you going with your listings on Craigslist, whether you're selling something digital or a physical product. Good luck!
Pro Tip: I've been involved with PayPal since the launch of the service and I've written a lot of PayPal help tutorials here on my site for you to learn everything you can about the popular payment service. Please do check 'em out while you're visiting! Thanks.